PENGGUNAAN METODE PROFILE MATCHING UNTUK PEMILIHAN EOSH CAPTAIN TERBAIK PADA PT.COCA-COLA INDONESIA
Riduan Syaiful Mashyur (1*)

Sistem Informasi STMIK Nusa Mandiri

Frieyadie Frieyadie (2)

Sistem Informasi STMIK Nusa Mandiri

https://orcid.org/0000-0002-8282-0672

(*) Corresponding Author

Keywords:
Decision Support, EOSH., Profile Matching Method
Abstract
Environment, Occupational, Safety and Health (EOSH) Captain is an activity created by the Safety Officer at PT. Coca-Cola Indonesia. To determine the best EOSH Captain for the first time and is still influenced by the Subjective factor in assessing the prospective EOSH Captain, the safety officer is sometimes difficult to determine the best EOSH Captain, due to the lack of criteria so that the inaccuracy of assessment results in errors in determining the selection of EOSH Captain, constraints Another factor is the search for supporting data for the EOSH captain selection criteria is hampered, because the safety officer must focus on the job desk of his work, resulting in the length of the decision-making process. In this study, to overcome the above constraints, a method called the Profile Matching method is used. This Profile Matching method can process and compare the actual data value of a profile to be assessed with the expected profile value so that competency differences can be known. The purpose of this research is to accelerate the decision-making process. The assessment process will be more accurate, resulting in the determination of the selection of EOSH to be more precise and correct. The assessment process will be more accurate, resulting in the determination of the selection of EOSH to be more precise and correct. The results of calculations using the Profile Matching method above have obtained the greatest value and become the best EOSH captain is employee 17.
Downloads
Download data is not yet available.
References
Abadi, I., Setiawan, A., & Rudianto, A. (2017). PROSIDING seminar nasional sisfotek Pengambilan Keputusan dalam Menentukan Rekomendasi Promosi Jabatan Struktural dengan Pendekatan Profile Matching di Biro Perekonomian Propinsi Jawa Barat, 3584, 83–89.

Angeline, M. (2018). SISTEM PENDUKUNG KEPUTUSAN PEMILIHAN KARYAWAN TERBAIK MENGGUNAKAN METODE PROFILE MATCHING. STMB Multismart, II(2), 45–51.

Basri, B. (2017). METODE WEIGHTD PRODUCT (WP) DALAM SISTEM PENDUKUNG KEPUTUSAN PENERIMAAN BEASISWA PRESTASI. Jurnal INSYPRO (Information System and Processing), 2(1). https://doi.org/10.24252/INSYPRO.V2I1.2474

Ernawati, E., Hidayah, N. A., & Fetrina, E. (2017). RANCANG BANGUN SISTEM PENDUKUNG KEPUTUSAN KENAIKAN JABATAN PEGAWAI DENGAN METODE PROFILE MATCHING (Studi Kasus: Kementerian Agama Kantor Wilayah DKI Jakarta). Studia Informatika: Jurnal Sistem Informasi, 10(2), 127–134. https://doi.org/10.15408/SIJSI.V10I2.7760

Fitriani, D. (2019). SISTEM PENDUKUNG KEPUTUSAN PENENTUAN KARYAWAN TERBAIK PADA COLLECTION PT . PANIN BANK MENGGUNAKAN, 3(1), 1–8.

Handayani, R. I. (2017). BERPRESTASI DENGAN METODE PROFILE MATCHING PADA PT . SARANA INTI PERSADA ( SIP ). Jurnal Pilar Nusa Mandiri, 13(1), 28–34.

Kusnadi, K., Martha, D., & Saputra, A. (2017). Penerapan Metode Profile Matching Untuk Penilaian Kenaikan Jabatan Karyawan (Studi Kasus: Pt. Ilham Bangun Mandiri). Jurnal Digit, 5(2), 146–158.

Mashyur, R. S., & Frieyadie, F. (2019). Laporan Akhir Penelitian: Penggunaan Metode Profile Matching Untuk Pemilihan Eosh Captain Terbaik Pada PT.Coca-Cola Indonesia. Jakarta.

Munawir, M. ;, & Ardiansyah, A. ; (2017). Decision Support System Pemilihan Karyawan Berprestasi Dengan Pendekatan Analisa Gap Profile matching Di Kantor Perwakilan Bank Indonesia Provinsi Aceh. Jurnal Teknologi Informasi Dan Komunikasi, 1(1), 7–14.

Nashrullah Irfan, M., Abdillah, G., & Renaldi, F. (2015). Sistem Pendukung Keputusan untuk Rekomendasi Promosi Jabatan ... (Nashrullah dkk.). Sistem Pendukung Keputusan, 5(1), 196–201.

Purwanto, H. (2017). PENERAPAN METODE PROFILE MATCHING DALAM SISTEM PENDUKUNG KEPUTUSAN PENILAIAN KINERJA KARYAWAN PADA PT. HYUNDAI MOBIL INDONESIA CABANG KALIMALANG. Jurnal Techno Nusa Mandiri, 14(1), 15–20.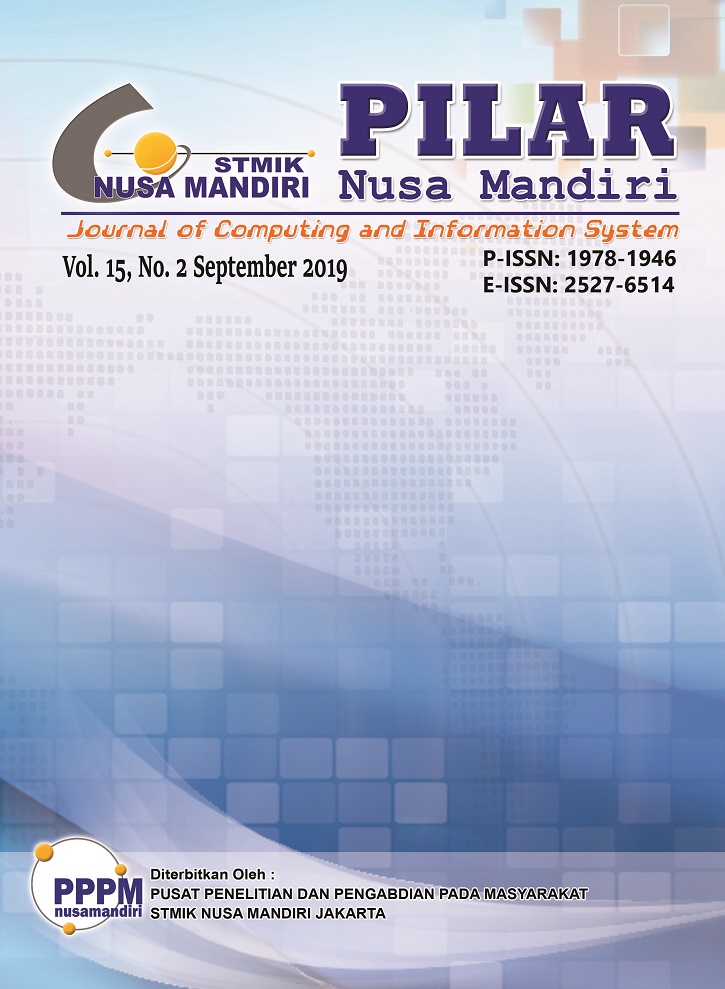 How to Cite
Mashyur, R., & Frieyadie, F. (2019). PENGGUNAAN METODE PROFILE MATCHING UNTUK PEMILIHAN EOSH CAPTAIN TERBAIK PADA PT.COCA-COLA INDONESIA. Pilar Nusa Mandiri: Journal of Computing and Information System, 15(2), 235-240. https://doi.org/10.33480/pilar.v15i2.767
Article Metrics

Abstract viewed = 295 times

PDF downloaded = 272 times
Copyright (c) 2019 Riduan Syaiful Mashyur, Frieyadie Frieyadie
This work is licensed under a Creative Commons Attribution-NonCommercial 4.0 International License.
The Authors submitting a manuscript do so on the understanding that if accepted for publication, copyright of the article shall be assigned to the PILAR Nusa Mandiri journal as the publisher of the journal, and the author also holds the copyright without restriction.
Copyright encompasses exclusive rights to reproduce and deliver the article in all form and media, including reprints, photographs, microfilms, and any other similar reproductions, as well as translations. The reproduction of any part of this journal, its storage in databases, and its transmission by any form or media, such as electronic, electrostatic and mechanical copies, photocopies, recordings, magnetic media, etc. , are allowed with written permission from the PILAR Nusa Mandiri journal.
PILAR Nusa Mandiri journal, the Editors and the Advisory International Editorial Board make every effort to ensure that no wrong or misleading data, opinions, or statements be published in the journal. In any way, the contents of the articles and advertisements published in the PILAR Nusa Mandiri journal are the sole and exclusive responsibility of their respective authors and advertisers.