PENERAPAN METODE FORWARD CHAINING UNTUK DETEKSI KERUSAKAN PADA LAPTOP
Yunita Yunita (1*)

Teknik Informatika STMIK Nusa Mandiri


(*) Corresponding Author

Keywords:
Damage, Expert System, Forward chaining
Abstract
Today, the use of computer technology has developed rapidly. Some people use it not only for the sake of typing, administration or surfing, but also to construct artificial intelligence (AI). One part of artificial intelligence that can be constructed by means of using computer technology is an expert system, which is the transfer of an expert's knowledge into a computer system so that the computer is able to think like an expert in deciding a particular issue. One of them in terms of detecting damage to the Laptop. Inference techniques used track ahead (forward chaining) by searching method (Best First Search) and also use a production rule as representative techniques of knowledge. By means of login as an expert or an administrator or a user allows them to use this system in accordance with their respective needs. Users can use a system like this to consult with a doctor through a series of questions to be answered with yes or no answer to know the diagnosis. While the administrator is given a special authority to regulate the knowledgebase (knowledgebase).
References
Riskadewi dan Hendrik, Antonius. 2005. Penerapan Sistem Pakar Forward Chaining Berbasis Aturan Pada Pengawasan Status Penerbangan.

Arhami, Muhammad. 2005. Konsep Dasar Sistem Pakar. Yogyakarta: ANDI.

Munawar. 2009. Pemodelan Visual dengan UML. Yogyakarta: Graha Ilmu.

Nadhief, A, Pengenalan Troubleshooting Komputer(http://skateboardinfo/direk tori/teks/win/trik/) tanggal akses: 26 September 2014

Yudatama, Uki. 2008. Sistem Pakar Untuk Mendiagnosis Kerusakan Mesin Mobil Panther Berbasis Mobile. Magelang: Universitas Muhammadiyah. Vol. 1 212-218 Nomor 2 Desember 2008.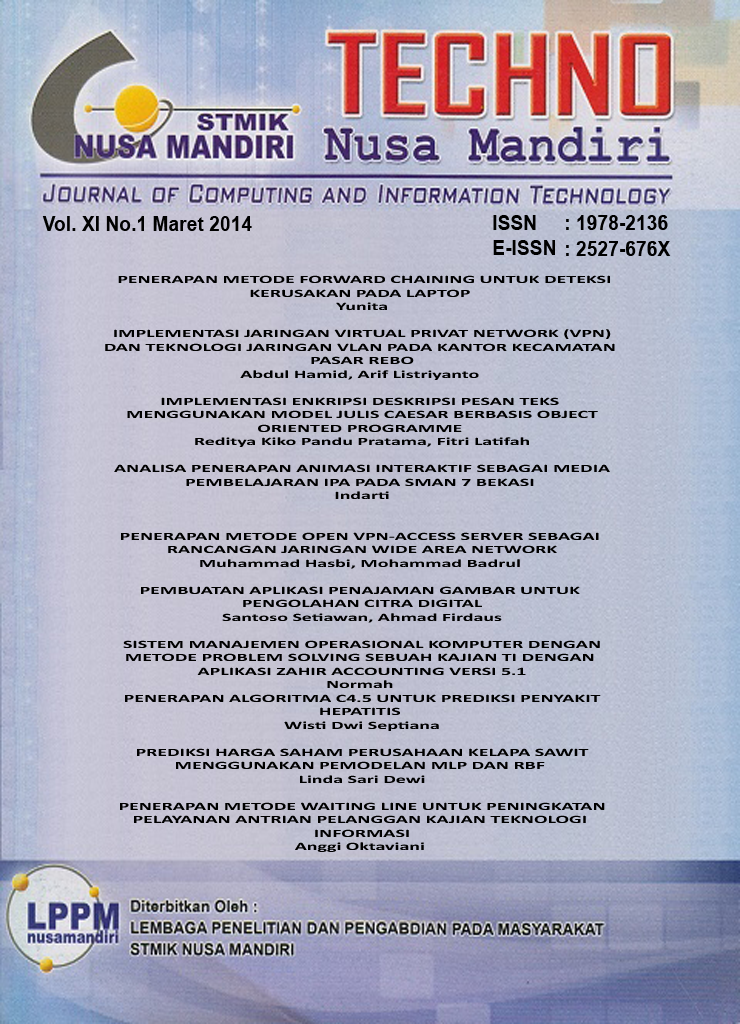 How to Cite
Yunita, Y. (2014). PENERAPAN METODE FORWARD CHAINING UNTUK DETEKSI KERUSAKAN PADA LAPTOP. Jurnal Techno Nusa Mandiri, 11(1), 1-10. https://doi.org/10.33480/techno.v11i1.165
Article Metrics

Abstract viewed = 64 times

PDF downloaded = 695 times