SISTEM MANAJEMEN OPERASIONAL KOMPUTER DENGAN METODE PROBLEM SOLVING SEBUAH KAJIAN TI DENGAN APLIKASI ZAHIR ACCOUNTING VERSI 5.1
Normah Normah (1*)

Teknik Informatika STMIK Nusa Mandiri


(*) Corresponding Author

Keywords:
Computer Operational Management, System, Problem Solving Method.
Abstract
With the business climate an increasingly competitive in Jakarta, PT. Mitrajaya Pasopati take advantage of information technology to conduct its business processes in order to improve the company's competitive advantage. Zahir Accounting is a tool that is chosen and entrusted by PT. Mitrajaya Pasopati in assisting and overseeing the flow of corporate transactions both in the collection of goods, sales, purchasing, accounts payable, up to the relevant reports. However, despite the use of business application software, if viewed from the perspective of operational management computer management, felt and still not up and there are still shortcomings/obstacles, of which there are data management manually in some part related, there are differences in the data, especially on inventory data, which could result in delays in business processes that have an impact on each other. This is because not all parts involved in the system can access the business applications, and not all the relevant sections have decent infrastructure. This if allowed to continue will cause significant problems / effect of the community and the smooth operations of the company. Required an improvement in the operational management of the company computer system at the company, especially the Platinum Book Store, Bookstore & Office Equipment. The author conducted an evaluation using the "Problem Solving" .
References
Chr. Jimmy L. Gaol. 2008. Sistem Informasi Manajemen. Grasindo:Jakarta

Himayati. 2008. Eksplorasi Zahir Accounting, Jakarta: PT. Elex Media Komputindo

Hunsaker, A. 2005.Community Work & Problem Solving. London: McMillan.

Susanto, A.B. dan R. Masri Sareb Putra. 2010. 60 Management Gems, applying Management Wisdom In Life. Jakarta:Gramedia.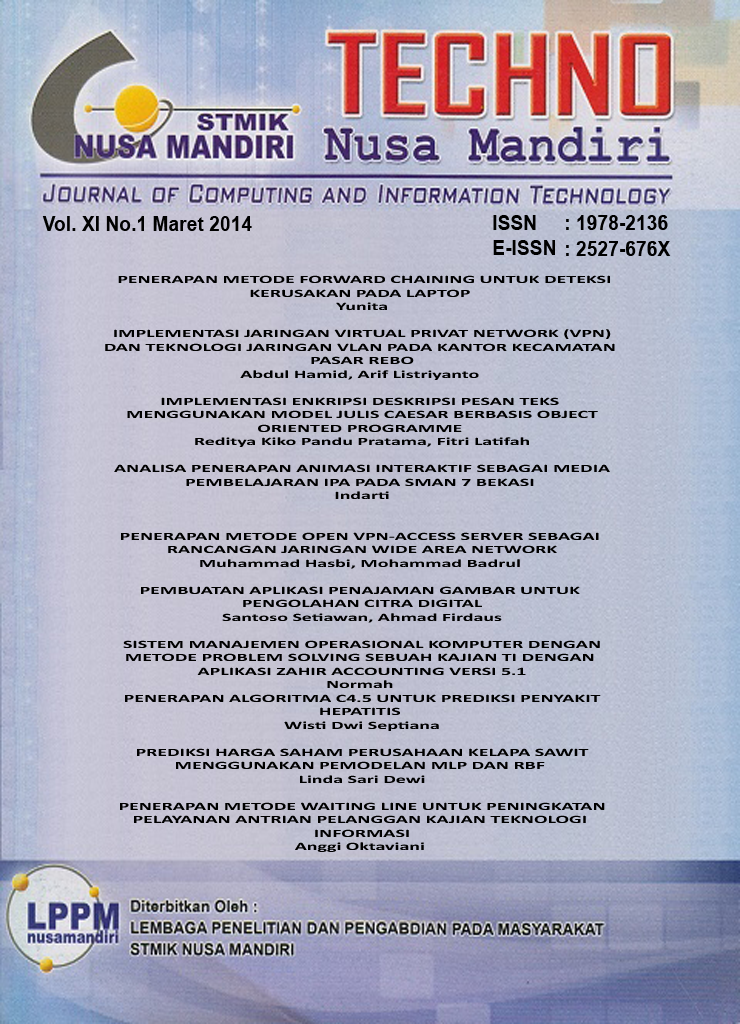 How to Cite
Normah, N. (2014). SISTEM MANAJEMEN OPERASIONAL KOMPUTER DENGAN METODE PROBLEM SOLVING SEBUAH KAJIAN TI DENGAN APLIKASI ZAHIR ACCOUNTING VERSI 5.1. Jurnal Techno Nusa Mandiri, 11(1), 59-68. https://doi.org/10.33480/techno.v11i1.171
Article Metrics

Abstract viewed = 72 times

PDF downloaded = 195 times