LIBRARY INFORMATION SYSTEM (SIIPETAKA) IN SMK KEBAYORAN BARU AL-KAUTSAR
Sistem Informasi Perpustakaan (Siipetaka) Pada SMK Al-Kautsar Kebayoran Baru
Estu Mulia Warna Diyanti (1*)

Sistem Informasi Universitas Bina Sarana Informatika

Duwi Cahya Putri Buani (2)

STMIK Nusa Mandiri Jakarta


(*) Corresponding Author

Keywords:
SMK AL-Kautsar, SIIPETAKA, Waterfall
Abstract
SMK Al-Kautsar Kebayoran Baru Library is a library that supports the teaching and learning process, many of the students and teachers of AL-Kautsar Vocational School want to buy books in the book library, and the service is slow because the system is still conventional. Therefore the AL-Kautsar Vocational Library needs an Information System that is able to solve all the problems needed above. Then made SIIPETAKA or SMK Al-Kautsar Library Information System. SIIPETAKA is a system designed to facilitate the recording of data in the Al-Kautsar Vocational Library, SIIPETAKAN was designed using the Waterfall method or model, the Waterfall Model is one of the models used to use Information Systems. Every step in the waterfall method is easy to follow and using the Waterfall model the program design documentation is well documented. With SIIPETAKA, it is expected that problems that occur such as data loss, it is difficult to find member data and book data can be resolved properly.
References
Diyanti, E. M. W., & Buani, D. C. P. (2019). Laporan Akhir Penelitian Mandiri STMIK Nusa Mandiri Jakarta.
Firman, A., Wowor, H. F., & Najoan, X. (2016). Sistem Informasi Perpustakaan Online Berbasis Web. Jurnal Teknik Elektro Dan Komputer, 5(2), 29–36.
Hendrianto, D. E. (2014). Pembuatan Sistem Informasi Perpustakaan Berbasis Website Pada Sekolah Menegah Pertama Negeri 1 Donorojo Kabupaten Pacitan. Indonesian Journal on Networking and Security, 3(4), 57–64.
Rakhmah, S. N. (2018). SISTEM INFORMASI PERPUSTAKAAN BEBASIS WEB PADA SMK NEGERI 2 KOTA BEKASI. Jurnal INKOFAR, 1(2). https://doi.org/10.33903/JURNAL INKOFAR.V1I2.11
Sahab, A., & D, W. M. P. (2015). PERANCANGAN DAN PENERAPAN SISTEM INFORMASI PERPUSTAKAAN SEKOLAH PADA SMAN 5 KEDIRI Pembahasan. Jurnal Ilmiah DASI, 16(1), 8–11.
Syafarina, G. A. (2016). PERANCANGAN APLIKASI INVENTORY BARANG MATERIALS DAN PRODUCT. Technologia: Jurnal Ilmiah, 7(1), 25–33. Retrieved from http://ojs.uniska-bjm.ac.id/index.php/JIT/article/viewFile/609
Yusri. (2015). Sistem Informasi Perpustakaan Berbasis Web Pada SMP Frater Makasar. Jurnal Sistem Informasi Bisnis, 70–73.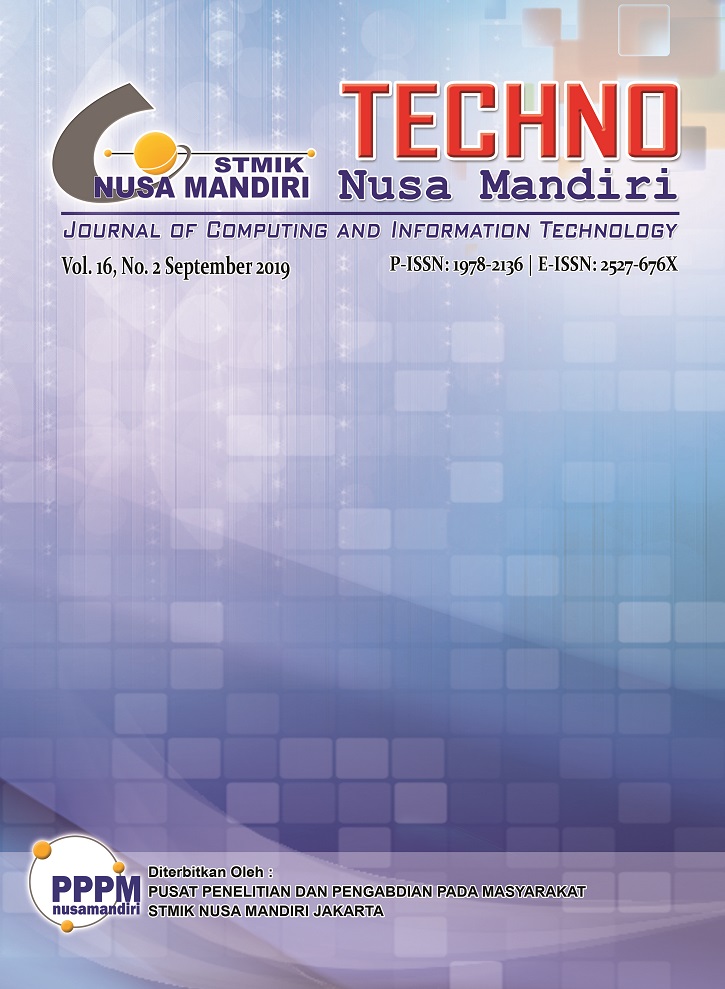 How to Cite
Diyanti, E., & Putri Buani, D. (2019). LIBRARY INFORMATION SYSTEM (SIIPETAKA) IN SMK KEBAYORAN BARU AL-KAUTSAR. Jurnal Techno Nusa Mandiri, 16(2), 133-138. https://doi.org/10.33480/techno.v16i2.739
Article Metrics

Abstract viewed = 135 times

PDF downloaded = 116 times