PERANCANGAN ANIMASI BERKENDARA YANG AMAN DAN NYAMAN
Astriana Mulyani (1*)

Teknik Informatika STMIK Nusa Mandiri

Dimas Armanda (2)

Teknik Informatika STMIK Nusa Mandiri


(*) Corresponding Author

Keywords:
Safety Riding, Animation Education, Accidents
Abstract
The high rate of motorcycle accidents, especially in adolescents is increasing, which at that age adolescents tend to neglect the factor of safety of himself and others. Disciplinary problems in the use of safe driving (safety riding) bad traffic is a phenomenon that occurs in large cities in developing countries. To the knowledge of safe driving, known as Safety riding a provision which must be held before the start of driving on the road. The difficulty of finding material about proper riding safety for teens make teenagers difficult to understand the contents of the content material on safety driving. Based on these problems, the authors create an interactive animated educational program to facilitate teenagers riding safety in understanding how to drive safe and comfortable which is expected to develop discipline in driving especially among teenagers.
References
Al-Fatta, Hanif. 2007. Analisis dan Perancangan Sistem Informasi Untuk Keunggulan Bersaing Perusahaan dan Organisasi Modern. Yogyakarta: Andi.

Binanto, Iwan. 2010. Multimedia Digital Dasar Teori+ Pengembangannya. Yogyakarta: Andi.

Lisana, L. 2011. Pembuatan Aplikasi Multimedia Pembelajaran tentang Cara Berkendara yang Baik. Jurnal Teknologi Informasi, 1(2), 45-49.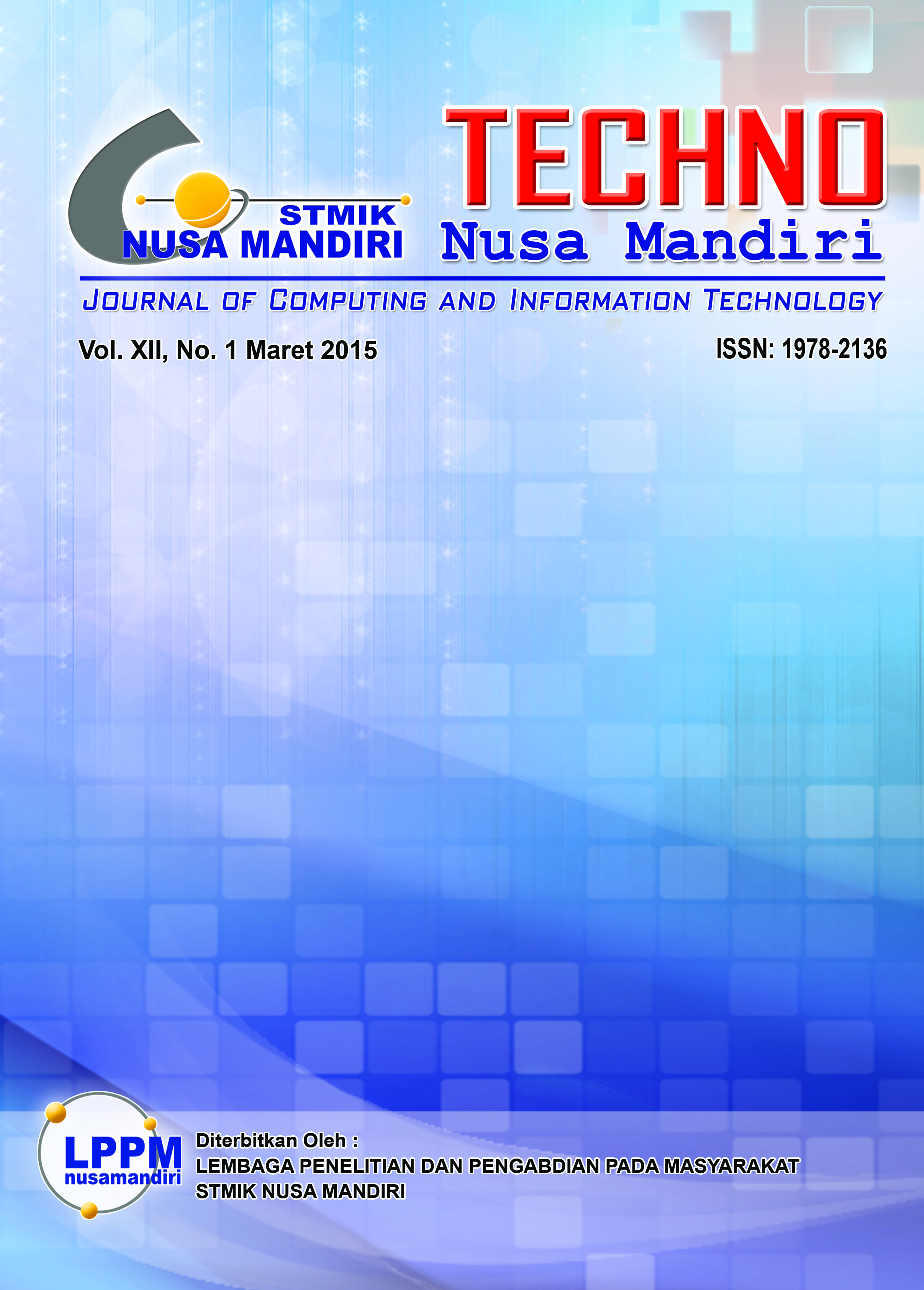 How to Cite
Mulyani, A., & Armanda, D. (2015). PERANCANGAN ANIMASI BERKENDARA YANG AMAN DAN NYAMAN. Jurnal Techno Nusa Mandiri, 12(1), 42-48. Retrieved from http://ejournal.nusamandiri.ac.id/index.php/techno/article/view/495
Article Metrics

Abstract viewed = 66 times

PDF downloaded = 83 times
The copyright of any article in the TECHNO Nusa Mandiri Journal is fully held by the author under the Creative Commons CC BY-NC license.
The copyright in each article belongs to the author.
Authors retain all their rights to published works, not limited to the rights set out on this page.
The author acknowledges that Techno Nusa Mandiri: Journal of Computing and Information Technology (TECHNO Nusa Mandiri) is the first to publish with a Creative Commons Attribution 4.0 International license (CC BY-NC).
Authors can enter articles separately, manage non-exclusive distribution, from manuscripts that have been published in this journal into another version (for example: sent to author affiliation respository, publication into books, etc.), by acknowledging that the manuscript was published for the first time in Techno Nusa Mandiri: Journal of Computing and Information Technology (TECHNO Nusa Mandiri);
The author guarantees that the original article, written by the stated author, has never been published before, does not contain any statements that violate the law, does not violate the rights of others, is subject to the copyright which is exclusively held by the author.
If an article was prepared jointly by more than one author, each author submitting the manuscript warrants that he has been authorized by all co-authors to agree to copyright and license notices (agreements) on their behalf, and agrees to notify the co-authors of the terms of this policy. Techno Nusa Mandiri: Journal of Computing and Information Technology (TECHNO Nusa Mandiri) will not be held responsible for anything that may have occurred due to the author's internal disputes.