SISTEM PENUNJANG KEPUTUSAN KELULUSAN PESERTA PRAJABATAN MENGGUNAKAN SIMPLE ADDITIVE WEIGHTING PADA PUSAT PENGEMBANGAN TENAGA KEPENDIDIKAN
Ibnu Rusdi (1*)

Ilmu Komputer STMIK Nusa Mandiri


(*) Corresponding Author

Keywords:
uzzy Multi-Attribute Decision Making, Metode Simple Additive Weighting, Decision Support System
Abstract
Development and human resource development (HRD ) as the challenges and demands in the era of globalization which makes change very rapidly, an urgent need. Human Resource Development conducted and produced through education and training programs ( training ) which is a very strategic way of improving the quality of human and dignity, dignity and well-being. In the process of training in Pusbangtendik  Pre-service participants consisted of 3 types of them; leadership training ( Echelon 3 and 4); Pre-service training and technical training. All employees who would be prepared civil servants in order to better understand the procedures and policies. SAW method is often also known as the term method weighted summation. The basic concept of the method SAW is looking for a weighted sum of the rating performance at each alternative on all attributes. SAW method requires a process of normalization a decision matrix (X) to a scale that can be compared with all the rating alternatives which exist.
References
Christian W. Dawson, 2009. Project in computing and information system, Second Edition. Addison Wesley

Dr. Eng. Agus Naba. 2010. Belajar Cepat Fuzzy Logic Menggunakan Matlab. Andi Publisher

Kusumadewi, Sri; Purnomo, Hari. 2010. Aplikasi Logika Fuzzy untuk Pendukung Keputusan. Penerbit Graha Ilmu

Kusumadewi, Sri; Hartati, Sri, Rentantyo, wardoyo; Harjoko, Agus. 2006. Fuzzy Multi-Attribute Decision Making ( FUZZY MADM). Penerbit Graha Ilmu

Kusumadewi, Sri; Hartati, Sri. 2006. Neuro-Fuzzy : Integrasi Sistem Fuzzy dan Jaringan Syaraf.Yogyakarta. Graha Ilmu.

Paul Goodwin & George Wright, Decision analysis for management judgment, Chichester, John Wiley & Sons, 2004.

Samuel Lukas, Meiliayana, William Simson. 2009. Penerapan logika fuzzy dalam pengambilan keputusan untuk jalur peminatan mahasiswa.

Setiaji, Pratomo. 2013. Sistem Penunjang Keputusan dengan Metode Simple Additive Weighting. Universitas Muria Kudus.

Sugiyono. 2009. Metode Penelitian Kuantitatif Kualitatif dan R&D.Bandung : Alfabeta

Valerie Belton & Theodore Stewart, Multiple Criteria Decision Analysis: An Integrated Approach. Kluwer Academic Publishers, Boston, 2002.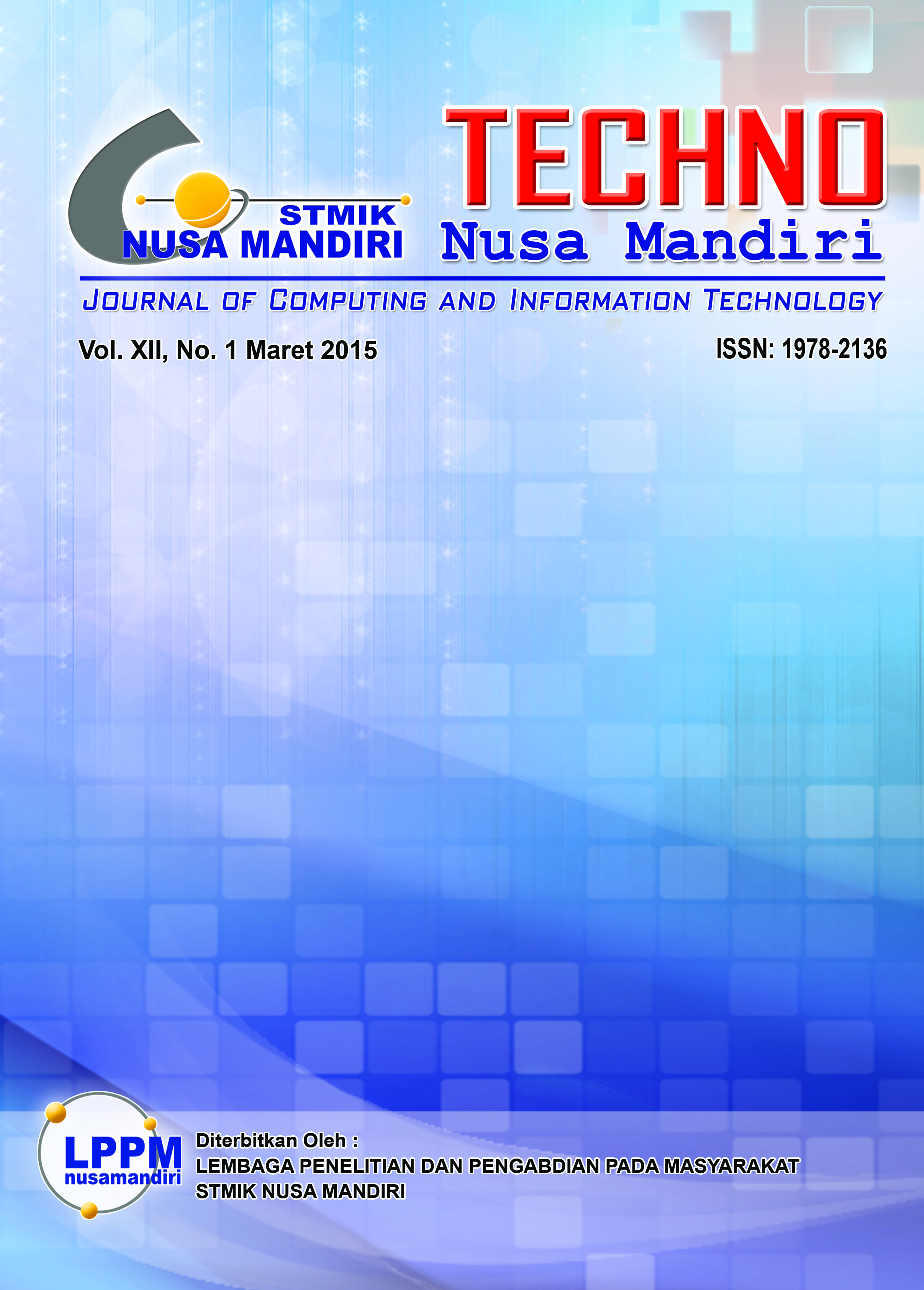 How to Cite
Rusdi, I. (2015). SISTEM PENUNJANG KEPUTUSAN KELULUSAN PESERTA PRAJABATAN MENGGUNAKAN SIMPLE ADDITIVE WEIGHTING PADA PUSAT PENGEMBANGAN TENAGA KEPENDIDIKAN. Jurnal Techno Nusa Mandiri, 12(1), 64-68. Retrieved from http://ejournal.nusamandiri.ac.id/index.php/techno/article/view/498
Article Metrics

Abstract viewed = 50 times

PDF downloaded = 55 times