PREDICTION AND ANALYSIS OF CARDIOVASCULAR DISEASE WITH NEURAL NETWORK ALGORITHM
Prediksi Dan Analisis Penyakit Kardiovaskular Dengan Algoritma Neural Network
Ardi Ramadhan Sukma (1*)

STMIK Nusa Mandiri

Riqadri Halfis (2)

Ilmu Komputer STMIK Nusa Mandiri


(*) Corresponding Author

Keywords:
Algoritma Neural Network, Kardiovaskular, Prediksi Penyakit, CARDIOVASCULAR DISEASE
Abstract
In the medical and health world it is very necessary to predict one of his cardiovascular diseases in patients. On this occasion, there were 220 datasets used in the study and 220 attributes. Prediction is done by using a neural network algorithm. Then do a calculation using Rapidminer from the cardiovascular disease dataset. The dataset will be predicted and analyzed with two trials at Rapidminer to determine the optimal level of prediction. The results of the first trial at Rapidminer are 68.81% accuracy with a prescription value of 65.85%, 79.41% recall and, AUC value of 0.745 and the second trial result is 77.27% accuracy, with a precision value of 77.14%, 79.41% recall and, AUC value of 0.764.
References
Kementerian, B. L. (n.d.). Situasi Kesehatan Jantung. Retrieved from https://www.depkes.go.id/download.php?file=download/pusdatin/infodatin/infodatin-jantung.pdf
Palaniappan, S., & Awang, R. (2008). Intelligent heart disease prediction system using data mining techniques. AICCSA 08 - 6th IEEE/ACS International Conference on Computer Systems and Applications, (December), 108–115. https://doi.org/10.1109/AICCSA.2008.4493524
Prathama, A. Y., Aminullah, A., Saputra, A., Teknik, D., & Mada, U. G. (2017). UNTUK PENENTUAN PROSENTASE BOBOT PEKERJAAN PADA RUMAH SAKIT PRATAMA. 7. https://doi.org/10.22146/teknosains.30139
Ratnakar, S., Rajeswari, K., & Jacob, R. (2013). Prediction of Heart Disease Using Genetic Algorithm. International Journal of Advanced Computational Engineering and Neworking, 1(2), 51–55.
Rodrigo, H., & Tsokos, C. P. (2017). Artificial Neural Network Model for Predicting Lung Cancer Survival. Journal of Data Analysis and Information Processing, 05(01), 33–47. https://doi.org/10.4236/jdaip.2017.51003
Shukla, A. (2010). Real Life Applications of Soft Computing. In Real Life Applications of Soft Computing. https://doi.org/10.1201/ebk1439822876
Sukma, A. R., & Halfis, R. (2019). PREDIKSI DAN ANALISIS PENYAKIT KARDIOVASKULAR DENGAN ALGORITMA NEURAL NETWORK. 16(2), 1–6.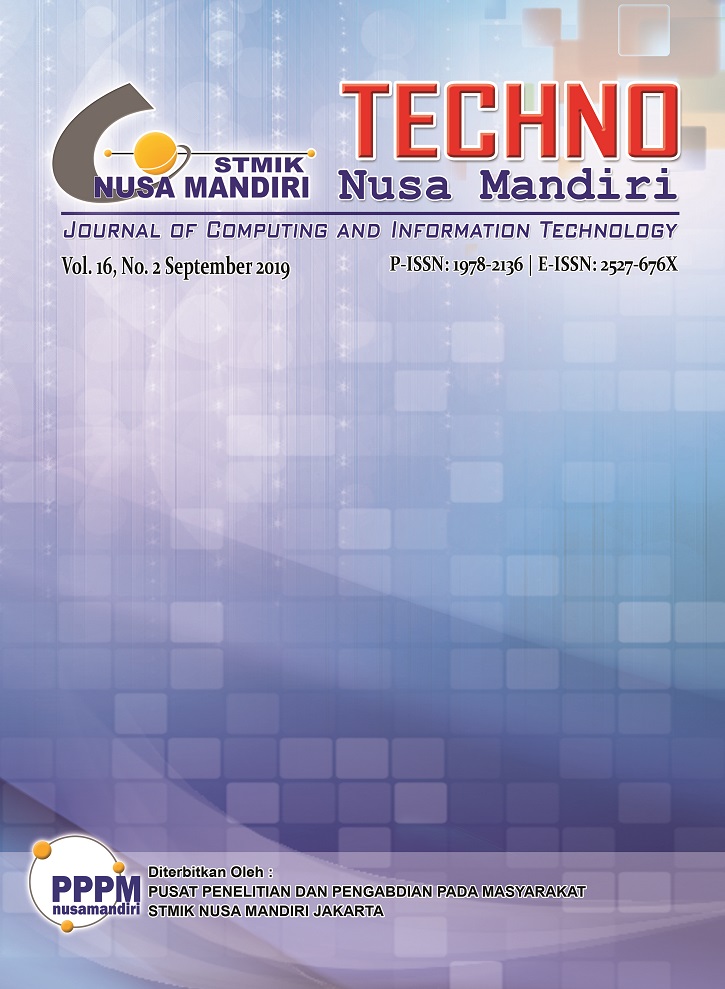 How to Cite
Sukma, A., & Halfis, R. (2019). PREDICTION AND ANALYSIS OF CARDIOVASCULAR DISEASE WITH NEURAL NETWORK ALGORITHM. Jurnal Techno Nusa Mandiri, 16(2), 79-84. https://doi.org/10.33480/techno.v16i2.642
Article Metrics

Abstract viewed = 244 times

PDF downloaded = 253 times