COMPARISON OF DATA MINING CLASSIFICATION ALGORITHM FOR PREDICTING THE PERFORMANCE OF HIGH SCHOOL STUDENTS
Komparasi Algoritma Klasifikasi Data Mining Untuk Memprediksi Kinerja Siswa Tingkat SMA
Tiska Pattiasina (1*)

Pascasarjana STMIK Nusa Mandiri

Didi Rosiyadi (2)

Ilmu Komputer STMIK Nusa Mandiri


(*) Corresponding Author

Keywords:
Data Mining, Classification, Decision Tree, Naive Bayes, K-NN
Abstract
Data Mining is a series of processes to explore added value in the form of unknown information manually from the database. In the world of data mining education can be used to obtain information about student performance. In this study the researchers took research samples from class XI (eleven) students at SMAN 3 Ambon by classifying student performance based on thirteen attributes, namely: age, sex, school organization, extracurricular activities, pocket money, duration of study at home, duration of social media, online game duration, attendance, illness, permits, semester 1 and semester 2 grades. Using the KDD (Knowledge Discovery Database) method and classification algorithm that will be used, namely, decision tree, Naïve Bayes and K-Nearest Neighbor. And then do the test using k-fold cross validation.
References
Cortez, P., & Silva, A. (2008). Using data mining to predict secondary school student performance. 15th European Concurrent Engineering Conference 2008, ECEC 2008 - 5th Future Business Technology Conference, FUBUTEC 2008, 2003(2000), 5–12.
Gorunescu, F. (2011). No Title. In Data Mining : Concepts, Models and Techniques. New York: Springer-Verlag.
Hand, D. J. (2007). Principles of data mining. In Drug Safety (Vol. 30, Issue 7). https://doi.org/10.2165/00002018-200730070-00010
Kuntoro, R. K., & Sudarwanto, R. (2017). Prediction Of Student Performance Using Decision Tree C 4 . 5 Algorithm. 214–219.
Peterson, Penelope L ; Baker, Eva ; McGaw, B. (2010). A Survey on Feature Selection Methods For Imbalanced Datasets. International Encyclopedia of Education. https://www.scholars.northwestern.edu/en/publications/international-encyclopedia-of-education
Rohman, A. (2015). Model Algoritma K-Nearest Neighbor (K-NN) Untuk Prediksi Kelulusan Mahasiswa. Neo Teknika, 1(1), 1–9. https://doi.org/10.1017/CBO9781107415324.004
Siregar, M., & Pusphabuana, A. (2017). No Title. In Data Mining: Pengolahan Data Menjadi Informasi dengan Rapidminer. https://books.google.com/books?hl=en&lr=&id=rTlmDwAAQBAJ&oi=fnd&pg=PR7&dq=Data+Mining+adalah+serangkaian+proses+untuk+menggali+nilai+tambah+berupa+informasi+yang+selama+ini+tidak+diketahui+secara+manual+dari+suatu+basis+data.+Informasi+yang+dihasilkan+dip
Sugianto, C. A. (2015). Penerapan Teknik Data Mining Untuk Menentukan Hasil Seleksi Masuk Sman 1 Cibeber Untuk Siswa Baru Menggunakan Decision Tree. Tedc, 9, 39–43.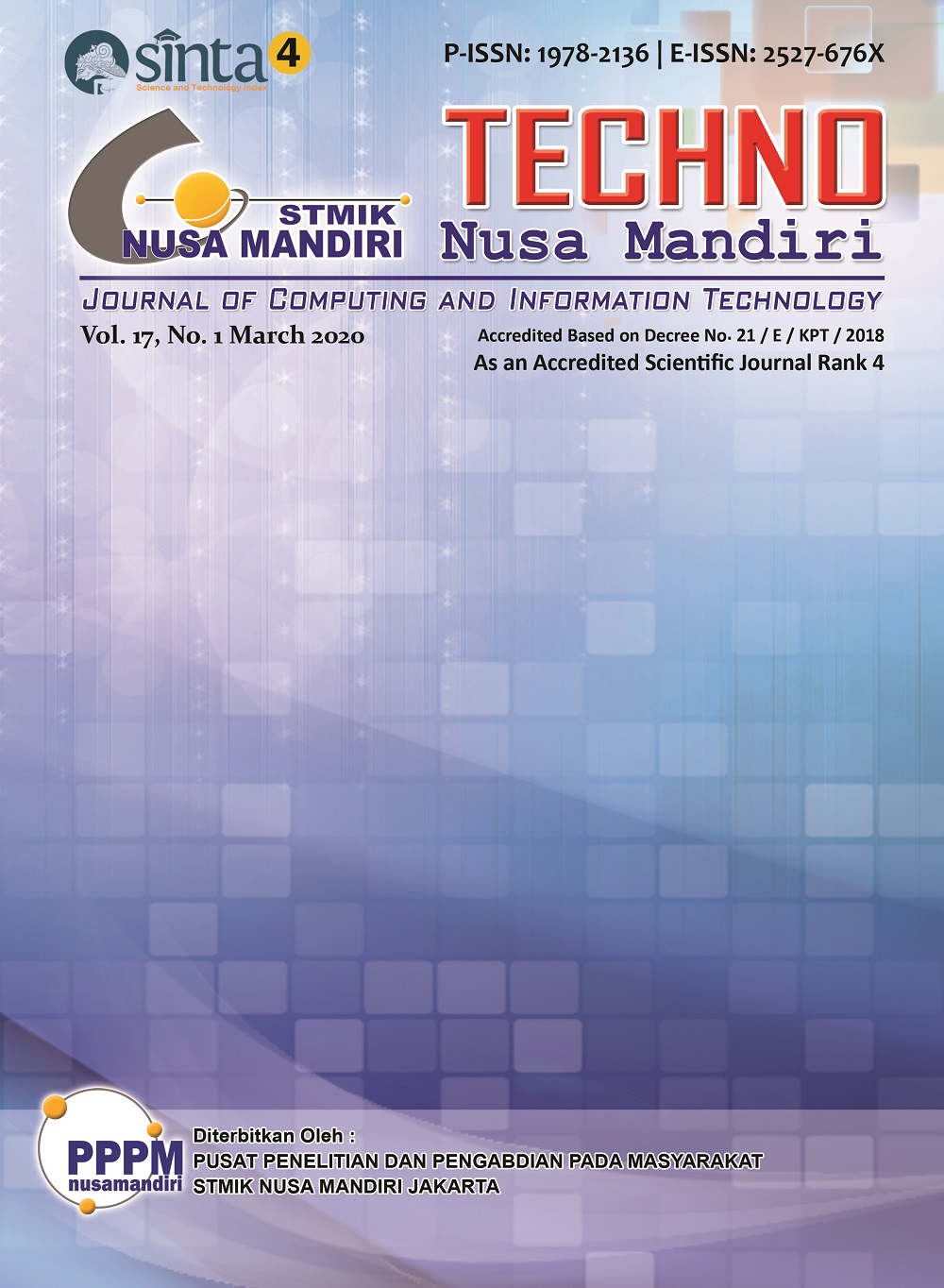 How to Cite
Pattiasina, T., & Rosiyadi, D. (2020). COMPARISON OF DATA MINING CLASSIFICATION ALGORITHM FOR PREDICTING THE PERFORMANCE OF HIGH SCHOOL STUDENTS. Jurnal Techno Nusa Mandiri, 17(1), 22-30. https://doi.org/10.33480/techno.v17i1.1226
Article Metrics

Abstract viewed = 491 times

PDF downloaded = 392 times
The copyright of any article in the TECHNO Nusa Mandiri Journal is fully held by the author under the Creative Commons CC BY-NC license.
The copyright in each article belongs to the author.
Authors retain all their rights to published works, not limited to the rights set out on this page.
The author acknowledges that Techno Nusa Mandiri: Journal of Computing and Information Technology (TECHNO Nusa Mandiri) is the first to publish with a Creative Commons Attribution 4.0 International license (CC BY-NC).
Authors can enter articles separately, manage non-exclusive distribution, from manuscripts that have been published in this journal into another version (for example: sent to author affiliation respository, publication into books, etc.), by acknowledging that the manuscript was published for the first time in Techno Nusa Mandiri: Journal of Computing and Information Technology (TECHNO Nusa Mandiri);
The author guarantees that the original article, written by the stated author, has never been published before, does not contain any statements that violate the law, does not violate the rights of others, is subject to the copyright which is exclusively held by the author.
If an article was prepared jointly by more than one author, each author submitting the manuscript warrants that he has been authorized by all co-authors to agree to copyright and license notices (agreements) on their behalf, and agrees to notify the co-authors of the terms of this policy. Techno Nusa Mandiri: Journal of Computing and Information Technology (TECHNO Nusa Mandiri) will not be held responsible for anything that may have occurred due to the author's internal disputes.