COMPARISON OF DATA MINING CLASSIFICATION ALGORITHM FOR PREDICTING THE PERFORMANCE OF HIGH SCHOOL STUDENTS
Komparasi Algoritma Klasifikasi Data Mining Untuk Memprediksi Kinerja Siswa Tingkat SMA
Tiska Pattiasina (1*)

Pascasarjana STMIK Nusa Mandiri

Didi Rosiyadi (2)

Ilmu Komputer STMIK Nusa Mandiri


(*) Corresponding Author

Keywords:
Data Mining, Classification, Decision Tree, Naive Bayes, K-NN
Abstract
Data Mining is a series of processes to explore added value in the form of unknown information manually from the database. In the world of data mining education can be used to obtain information about student performance. In this study the researchers took research samples from class XI (eleven) students at SMAN 3 Ambon by classifying student performance based on thirteen attributes, namely: age, sex, school organization, extracurricular activities, pocket money, duration of study at home, duration of social media, online game duration, attendance, illness, permits, semester 1 and semester 2 grades. Using the KDD (Knowledge Discovery Database) method and classification algorithm that will be used, namely, decision tree, Naïve Bayes and K-Nearest Neighbor. And then do the test using k-fold cross validation.
References
Cortez, P., & Silva, A. (2008). Using data mining to predict secondary school student performance. 15th European Concurrent Engineering Conference 2008, ECEC 2008 - 5th Future Business Technology Conference, FUBUTEC 2008, 2003(2000), 5–12.
Gorunescu, F. (2011). No Title. In Data Mining : Concepts, Models and Techniques. New York: Springer-Verlag.
Hand, D. J. (2007). Principles of data mining. In Drug Safety (Vol. 30, Issue 7). https://doi.org/10.2165/00002018-200730070-00010
Kuntoro, R. K., & Sudarwanto, R. (2017). Prediction Of Student Performance Using Decision Tree C 4 . 5 Algorithm. 214–219.
Peterson, Penelope L ; Baker, Eva ; McGaw, B. (2010). A Survey on Feature Selection Methods For Imbalanced Datasets. International Encyclopedia of Education. https://www.scholars.northwestern.edu/en/publications/international-encyclopedia-of-education
Rohman, A. (2015). Model Algoritma K-Nearest Neighbor (K-NN) Untuk Prediksi Kelulusan Mahasiswa. Neo Teknika, 1(1), 1–9. https://doi.org/10.1017/CBO9781107415324.004
Siregar, M., & Pusphabuana, A. (2017). No Title. In Data Mining: Pengolahan Data Menjadi Informasi dengan Rapidminer. https://books.google.com/books?hl=en&lr=&id=rTlmDwAAQBAJ&oi=fnd&pg=PR7&dq=Data+Mining+adalah+serangkaian+proses+untuk+menggali+nilai+tambah+berupa+informasi+yang+selama+ini+tidak+diketahui+secara+manual+dari+suatu+basis+data.+Informasi+yang+dihasilkan+dip
Sugianto, C. A. (2015). Penerapan Teknik Data Mining Untuk Menentukan Hasil Seleksi Masuk Sman 1 Cibeber Untuk Siswa Baru Menggunakan Decision Tree. Tedc, 9, 39–43.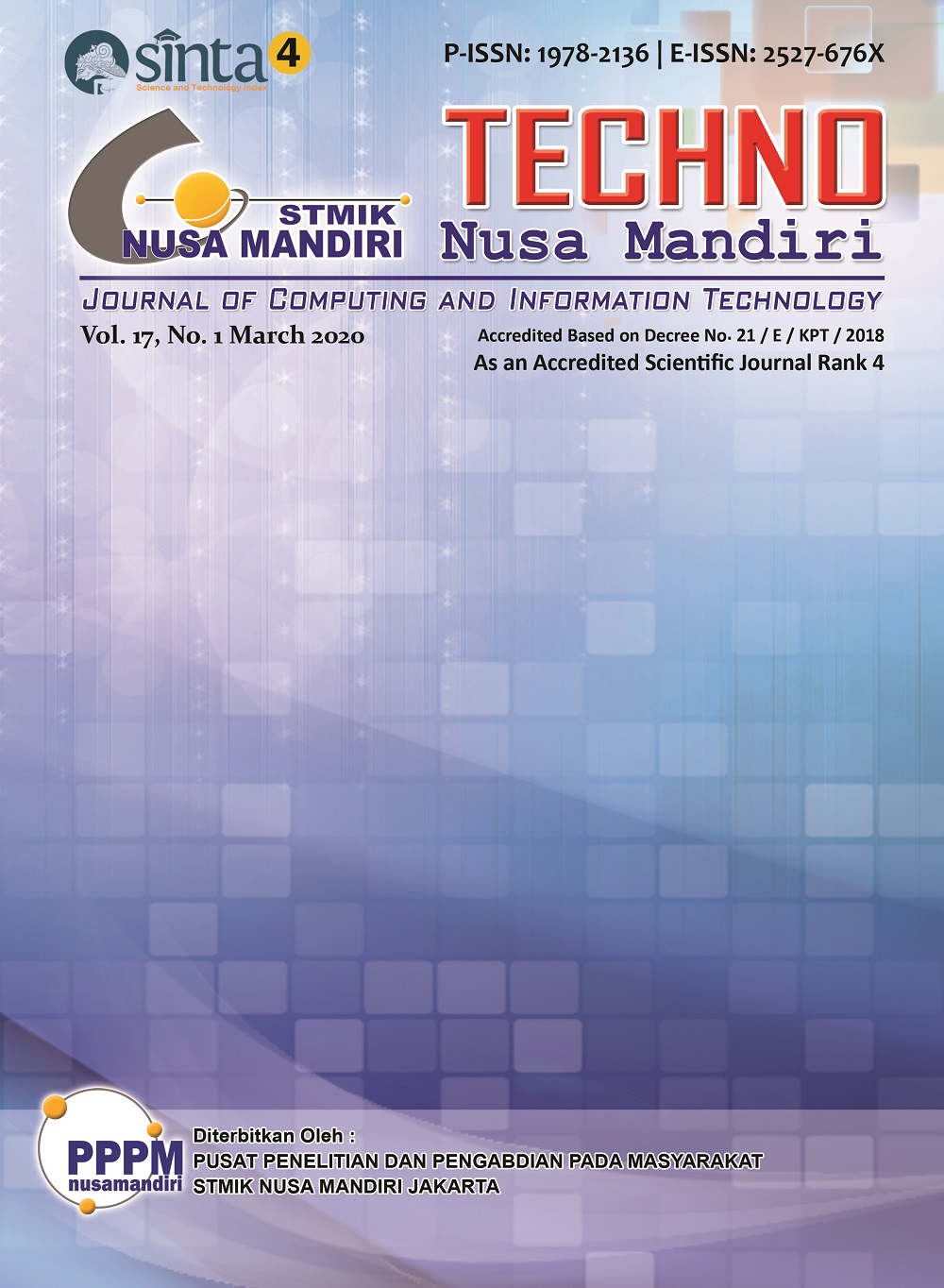 How to Cite
Pattiasina, T., & Rosiyadi, D. (2020). COMPARISON OF DATA MINING CLASSIFICATION ALGORITHM FOR PREDICTING THE PERFORMANCE OF HIGH SCHOOL STUDENTS. Jurnal Techno Nusa Mandiri, 17(1), 22-30. https://doi.org/10.33480/techno.v17i1.1226
Article Metrics

Abstract viewed = 72 times

PDF downloaded = 47 times