A PROTOTYPE OF DIGITAL LIBRARY APPLICATION USING MICROFRAMEWORK FLASK
Ridha Sefina Samosir (1*)

Institut Teknologi dan Bisnis Kalbis

https://orcid.org/0000-0002-5858-5270
Ester Lumba, Miss (2)

Universitas BundaMulia

Poltak Pancarian Situmorang, Mr (3)

Institut Teknologi dan Bisnis Kalbis


(*) Corresponding Author

Keywords:
flask, XP, digital, digital library, prototype
Abstract
Covid-19 encourages the use of Digital Library sources. especially for students who are completing college assignments, students who are preparing their final project, lecturer in compling teaching material, including researchers. On the other hand, technology has developed rapidly. Technological developments have changed the pattern of human life and changed the business models of various organizations in order to survive in this digital era. However, there are still many organizations have not optimized the use of technology. One example is a university that does not yet have a Digital Library. This prompted the research team to conduct research on how to build a Digital Library. This study uses the Extreme programming (XP) software development method. This study aims to design a Digital Library prototype using a Microframework Flask. This research is expected to be a reference or model in developing digital libraries.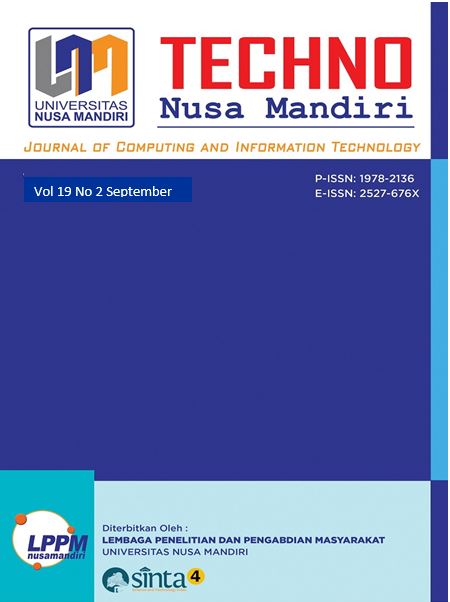 How to Cite
Samosir, R., Lumba, E., & Situmorang, P. (2022). A PROTOTYPE OF DIGITAL LIBRARY APPLICATION USING MICROFRAMEWORK FLASK. Techno Nusa Mandiri, 19(2), 96 - 103. https://doi.org/10.33480/techno.v19i2.3006
Article Metrics

Abstract viewed = 77 times

PDF downloaded = 74 times
Copyright (c) 2022 Ridha Sefina Samosir, Ester Lumba, Miss, Poltak Pancarian Situmorang, Mr
This work is licensed under a Creative Commons Attribution-NonCommercial 4.0 International License.
The copyright of any article in the TECHNO Nusa Mandiri Journal is fully held by the author under the Creative Commons CC BY-NC license.
The copyright in each article belongs to the author.
Authors retain all their rights to published works, not limited to the rights set out on this page.
The author acknowledges that Techno Nusa Mandiri: Journal of Computing and Information Technology (TECHNO Nusa Mandiri) is the first to publish with a Creative Commons Attribution 4.0 International license (CC BY-NC).
Authors can enter articles separately, manage non-exclusive distribution, from manuscripts that have been published in this journal into another version (for example: sent to author affiliation respository, publication into books, etc.), by acknowledging that the manuscript was published for the first time in Techno Nusa Mandiri: Journal of Computing and Information Technology (TECHNO Nusa Mandiri);
The author guarantees that the original article, written by the stated author, has never been published before, does not contain any statements that violate the law, does not violate the rights of others, is subject to the copyright which is exclusively held by the author.
If an article was prepared jointly by more than one author, each author submitting the manuscript warrants that he has been authorized by all co-authors to agree to copyright and license notices (agreements) on their behalf, and agrees to notify the co-authors of the terms of this policy. Techno Nusa Mandiri: Journal of Computing and Information Technology (TECHNO Nusa Mandiri) will not be held responsible for anything that may have occurred due to the author's internal disputes.