SATISFACTION ANALYSIS OF RESPONSIVE WEB DESIGN (RWD) USING PIECES METHOD IN YOBAGI: TECHNOLOGY PLATFORM BASED ON SOCIALPRENEURSHIP
Dwi Yuny Sylfania (1)

Institut Sains dan Bisnis Atma Luhur

Rendy Rian Chrisna Putra (2)

Institut Sains dan Bisnis Atma Luhur

Fransiskus Panca Juniawan (3*)

Universitas Bangka Belitung


(*) Corresponding Author

Keywords:
Technology Platform, Social Entrepreneurship, MSME, Responsive Web, YoBagi
Abstract
The Covid-19 pandemic has had a huge impact on society. There have been layoffs for some people, which will have an impact on their economy, which is getting worse. Another impact was felt by MSMEs where their transactions also decreased. Yobagi is proposed to overcome this problem by becoming a social entrepreneurship-based media platform that becomes an intermediary media for anyone who has the desire to share their skills, knowledge, and experiences. Yobagi is also a marketplace for MSMEs to promote their products or services. The purpose of this research is for people to improve their skills, be able to innovate, so they can run new businesses to improve their economy. Likewise, MSMEs have increased their transactions. The research uses the prototype method which consists of five stages, namely Communication, Quick Plan, Modeling Quick Plan, Construction of Prototype, and Deployment. The result of the research is a web-based Yobagi application that functions well, as evidenced by functional testing using the Blackbox method. Furthermore, the Responsive Web Design feature on the Yobagi system was also tested to test the performance of the features on several different types of smartphones.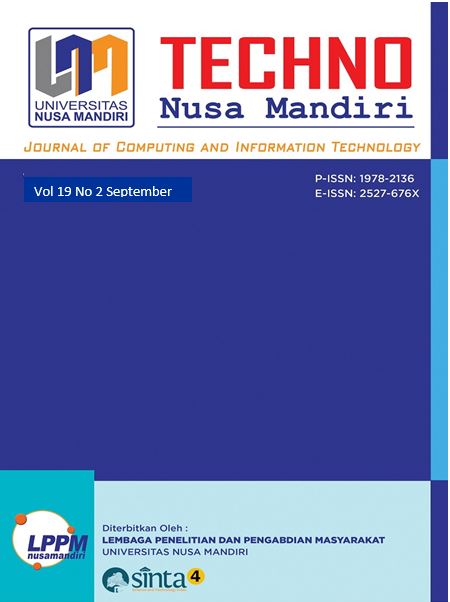 How to Cite
Sylfania, D. Y., Putra, R. R. C., & Juniawan, F. P. (2022). SATISFACTION ANALYSIS OF RESPONSIVE WEB DESIGN (RWD) USING PIECES METHOD IN YOBAGI: TECHNOLOGY PLATFORM BASED ON SOCIALPRENEURSHIP. Techno Nusa Mandiri, 19(2), 111 - 117. https://doi.org/10.33480/techno.v19i2.3435
Article Metrics

Abstract viewed = 78 times

PDF downloaded = 53 times
Copyright (c) 2022 Dwi Yuny Sylfania, Rendy Rian Chrisna Putra, Fransiskus Panca Juniawan
This work is licensed under a Creative Commons Attribution-NonCommercial 4.0 International License.
The copyright of any article in the TECHNO Nusa Mandiri Journal is fully held by the author under the Creative Commons CC BY-NC license.
The copyright in each article belongs to the author.
Authors retain all their rights to published works, not limited to the rights set out on this page.
The author acknowledges that Techno Nusa Mandiri: Journal of Computing and Information Technology (TECHNO Nusa Mandiri) is the first to publish with a Creative Commons Attribution 4.0 International license (CC BY-NC).
Authors can enter articles separately, manage non-exclusive distribution, from manuscripts that have been published in this journal into another version (for example: sent to author affiliation respository, publication into books, etc.), by acknowledging that the manuscript was published for the first time in Techno Nusa Mandiri: Journal of Computing and Information Technology (TECHNO Nusa Mandiri);
The author guarantees that the original article, written by the stated author, has never been published before, does not contain any statements that violate the law, does not violate the rights of others, is subject to the copyright which is exclusively held by the author.
If an article was prepared jointly by more than one author, each author submitting the manuscript warrants that he has been authorized by all co-authors to agree to copyright and license notices (agreements) on their behalf, and agrees to notify the co-authors of the terms of this policy. Techno Nusa Mandiri: Journal of Computing and Information Technology (TECHNO Nusa Mandiri) will not be held responsible for anything that may have occurred due to the author's internal disputes.