UNIFIED THEORY OF ACCEPTANCE AND USE OF TECHNOLOGY (UTAUT) PADA PENGGUNAAN APLIKASI AKUNTANSI TERHADAP KINERJA KARYAWAN
Sari Hartini (1*)

Manajemen Informatika AMIK BSI Jakarta

Karnita Afnisari (2)

Manajemen Informatika AMIK BSI Bekasi


(*) Corresponding Author

Keywords:
Structural Equation Modeling, SEM, unified theory of acceptance and use of technology, UTAUT, Information Systems
Abstract
Rapid technological growth now gives a huge influence, not least in the field of business, coupled with the globalization that requires a company to have a quick way of working to provide services to its customers, and also the updated reports at any time, it is needed by the company to be able to survive and be competitive with other companies. Data loss caused due to an error in the push of a button or the result of a computer virus that is very disturbing that many Perusahaan. Data activity can cause the data search process requires considerable time. In theory, processing and accounting data processing became more effective with the help of a computer, but not necessarily the data manually processing becomes ineffective, so it is very important to evaluate the effectiveness of the accounting system can be assessed from the aspects of data security, time, accuracy, relevance, variety of reports, and comfort physical. During the computer-based accounting system implemented in the Cooperative PT. NISSINMAS does not know the effectiveness of computer-based accounting information system is implemented. Though the importance of knowing the effectiveness of computer-based accounting information system applied by the company, because by knowing the level of effectiveness, the company can measure the success of computer-based accounting information system has been implemented in line with expectations. This is the background to research based on the assessment of the effectiveness of computer-based accounting information systems in cooperative PT. NISSINMAS. This study will examine the effectiveness of the use of information systems user accounting application for enterprises based on the factors that influence the approach of a unified theory of acceptance and use of technology  (UTAUT). Statistical tests performed using Structural Equation Modeling (SEM) using AMOS software.
Downloads
Download data is not yet available.
References
Alshehri Mohammed, Steve Drew and Rayed AlGhamdi 2012. "Analysis of citizen acceptance for e-government services applying the utaut model",IADIS confrences theory and practice

in modern computing and internet application s and research.

Jogiyanto 2003. "Sistem Informasi Berbasis Komputer". Yogyakarta: BPFE

Kadir, Abdul 2003, "Pengenalan Sistem Informasi". Yogyakarta: andi.

Naniek Noviari 2009."Pengaruh kemajuan teknologi terhadap perkembangan akuntansi". jurnal akuntansi Indonesia

Ghozali, Imam. 2008. "Structural Equation Model, Teori, Konsep dan Aplikasi dengan Amos". Penerbit BP Undip

Santoso Singgih 2007. Struktural Equation Modelling (SEM) konsep dan aplikasi dengan AMOS 18. Jakarta :PT. Alex Media Komputindo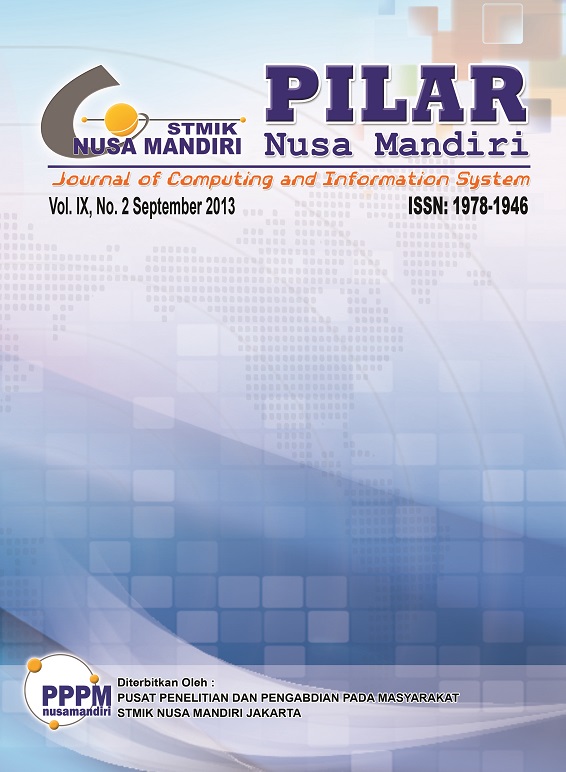 How to Cite
Hartini, S., & Afnisari, K. (2013). UNIFIED THEORY OF ACCEPTANCE AND USE OF TECHNOLOGY (UTAUT) PADA PENGGUNAAN APLIKASI AKUNTANSI TERHADAP KINERJA KARYAWAN. Jurnal Pilar Nusa Mandiri, 9(2), 113-122. https://doi.org/10.33480/pilar.v9i2.134
Article Metrics

Abstract viewed = 49 times

PDF downloaded = 49 times
The Authors submitting a manuscript do so on the understanding that if accepted for publication, copyright of the article shall be assigned to the PILAR Nusa Mandiri journal as the publisher of the journal, and the author also holds the copyright without restriction.
Copyright encompasses exclusive rights to reproduce and deliver the article in all form and media, including reprints, photographs, microfilms, and any other similar reproductions, as well as translations. The reproduction of any part of this journal, its storage in databases, and its transmission by any form or media, such as electronic, electrostatic and mechanical copies, photocopies, recordings, magnetic media, etc. , are allowed with written permission from the PILAR Nusa Mandiri journal.
PILAR Nusa Mandiri journal, the Editors and the Advisory International Editorial Board make every effort to ensure that no wrong or misleading data, opinions, or statements be published in the journal. In any way, the contents of the articles and advertisements published in the PILAR Nusa Mandiri journal are the sole and exclusive responsibility of their respective authors and advertisers.