SISTEM PENDUKUNG KEPUTUSAN SELEKSI PEMILIHAN PERGURUAN TINGGI MENGGUNAKAN METODE TOPSIS
Hylenarti Hertyana

Sistem Informasi STMIK Nusa Mandiri
Keywords:
College Selection, TOPSIS method, Decision Support System
Abstract
High school alumni of the same level often experience difficulties in determining universities to continue their studies. The selection of tertiary institutions for equivalent high school alumni is constrained only by listening to talk, even often because of following friends. This is because there are so many types of criteria from universities that eventually make prospective students confused and choose without consideration. The selection of higher education institutions should be adjusted between the criteria of higher education and the needs and abilities of prospective students. This study uses an experimental model regarding the selection system of higher education selection decisions using the TOPSIS method. The purpose of this study is to help prospective students in the selection of universities to continue their studies. 7 criteria were obtained including Cost (BY) obtained from tuition fees, Accreditation Value (NA) obtained from the value of college accreditation, Achievement (PS) obtained from academic and non academic achievements, Lecturer Education (PD) obtained from education lecturers, facilities (FS) obtained from available facilities, scholarships (BS) obtained from scholarships at tertiary institutions and UKM (UK) obtained from student activity units available at the college. The results of this study can meet the objectives because the results of calculations can be faster in producing information that can help prospective students in choosing a college.
Downloads
Download data is not yet available.
References
Agung, H; Ricky, R. (2016). APLIKASI SISTEM PENDUKUNG KEPUTUSAN UNTUK PEMILIHAN SISWA TELADAN MENGGUNAKAN METODE TOPSIS. Jurnal Ilmiah FIFO, 8, 112.

Budilaksono, Sularso; Suwarno; Herwanto, A. (2016). SISTEM PENDUKUNG KEPUTUSAN PEMILIHAN PERGURUAN TINGGI SWASTA PROGRAM STUDI TEKNIK INFORMATIKA DI PROPINSI DKI JAKARTA DENGAN METODE AHP DAN PROMETHEE. In Seminar Nasional Teknologi Informasi dan Multimedia 2016 (p. 3.3-7-3.3-12). Yogyakarta.

Hertyana, H. (2019). Laporan Akhir Penelitian. Sistem Pendukung Keputusan Seleksi Pemilihan Perguruan Tinggi Menggunakan Metode Topsis. Jakarta.

Kartikadarma, E., & Zami, F. Al. (2011). DESAIN PERANGKAT LUNAK PENDUKUNG KEPUTUSAN PEMILIHAN PERGURUAN TINGGI BAGI SISWA SMA TINGKAT AKHIR. In Seminar Nasional Teknologi Informasi & Komunikasi Terapan 2011 (Semantik 2011) (Vol. 2011).

Kurniawan, E., Mustafidah, H., & Shofiyani, A. (2015). Metode TOPSIS untuk Menentukan Penerimaan Mahasiswa Baru Pendidikan Dokter di Universitas Muhammadiyah Purwokerto ( TOPSIS Method to Determine New Students Admission at Medical School in University of Muhammadiyah Purwokerto). JUITA, III(November), 201–206.

Triono, Agus; Aminudin, N. (n.d.). SISTEM PENDUKUNG KEPUTUSAN PEMILIHAN PERGURUAN TINGGI DENGAN SIMPLE ADDITIVE WEIGHTING ( SAW ), (09), 51–57.

Walidain, Birrul; Ardian, Y. (n.d.). Sistem Pendukung Keputusan Pemilihan Perguruan Tinggi Dan Jurusan Berbasis Web Menggunakan Metode Topsis, 1–8.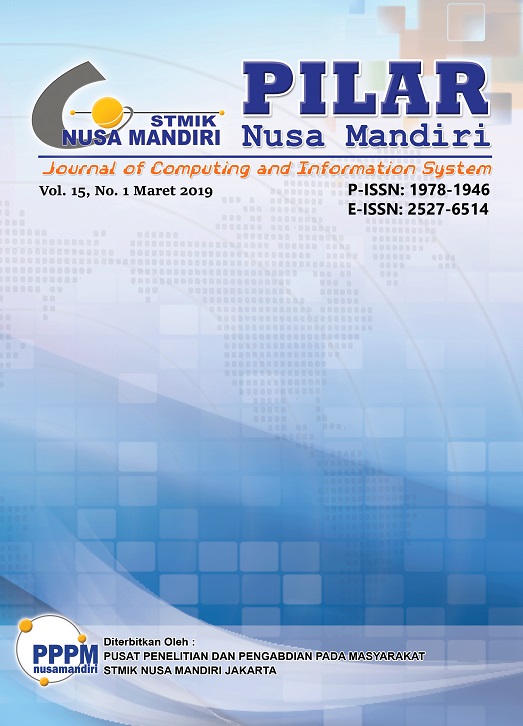 How to Cite
Hertyana, H. (2019). SISTEM PENDUKUNG KEPUTUSAN SELEKSI PEMILIHAN PERGURUAN TINGGI MENGGUNAKAN METODE TOPSIS. Jurnal Pilar Nusa Mandiri, 15(1), 97-102. https://doi.org/10.33480/pilar.v15i1.223
Article Metrics

Abstract viewed = 211 times

PDF downloaded = 116 times