PERANCANGAN APLIKASI LOKASI WISATA KOTA JAKARTA MENGGUNAKAN ALGORITMA SEQUENTIAL SEARCH BERBASIS ANDROID
Mohamad Rizal (1*)

Teknik Informatika STMIK Nusa Mandiri Jakarta


(*) Corresponding Author

Keywords:
Algoritma Sequential Search, Lokasi Wisata, Android
Abstract
Jakarta sebagai ibukota tentunya akan menjadi daya tarik tersendiri untuk dikunjungi oleh para wisatawan, akan tetapi tidak semua tempat wisata yang adak di Jakarta di ketahui oleh para wisatawan, karena kurangnya informasi tentang objek wisata yang ada, dan untuk mencari informasi objek wisata masih banyak para wisatawan yang masih menggunakan peta secara manual, yang tentunya akan meyulitkan, Oleh sebab itu dibutuhkan aplikasi yang menyediakan layanan informasi tempat wisata yang ada di Jakarta, berdasarkan hal tersebut diatas maka aplikasi lokasi wisata kota jakarta berbasis android ini dirancang, dimana aplikasi ini akan mengakses google map untuk menapilkan lokasi wisata yang akan dicari, lokasi pengguna serta tempat wisata yang akan dipilih oleh pengguna, dengan hadirnya aplikasi ini diharapkan dapat memenuhi kebutuhan informasi akan tempat wiata yang ada di Jakarta akan dapat terpenuhi
Downloads
Download data is not yet available.
References
Darma, I., Ngurah, G., Purnomo, S., & Anindito, K. (2012). Perancangan Aplikasi Mobile City Directory Yogyakarta Berbasis Android. In Seminar Nasional Teknologi Informasi dan Komunikasi 2012 (SENTIKA 2012) ISSN: 2089-9815 Yogyakarta, 10 Maret 2012 (pp. 136-142).

Kusuma, W., Yapie, A. K., & Mulyani, E. S. (2013). Aplikasi Location Based Service (LBS) Taman Mini Indonesia Indah (TMII) Berbasis Android. In Seminar Nasional Aplikasi Teknologi Informasi (SNATI) (Vol. 1, No. 1).

Hati, G. M., Suprayogi, A., & Sasmito, B. (2013). Aplikasi Penanda Lokasi Peta Digital Berbasis Mobile GIS pada Smartphone Android. Jurnal Geodesi Undip, 2(4).

Safaat H, Nazaruddin. 2012. Android Pemrograman Aplikasi Mobile Smartphone Dan Tablet PC Berbasis Android. Bandung: Informatika.

Rizal, M. & Latifah, F. (2017). Laporan Akhir Penelitian Mandiri. Jakarta: AMIK BSI Jakarta

Rosa, A. S., & Shalahuddin, M. (2013). Rekayasa perangkat lunak terstruktur dan berorientasi objek. Bandung: Informatika.

Romadhoni, E. N. A., Widiyaningtyas, T., & Pujianto, U. (2015). Implementasi Model Waterfall Pada Pengembangan Sistem Informasi Alumni SMKN 1 Jenangan Ponorogo. SESINDO 2015.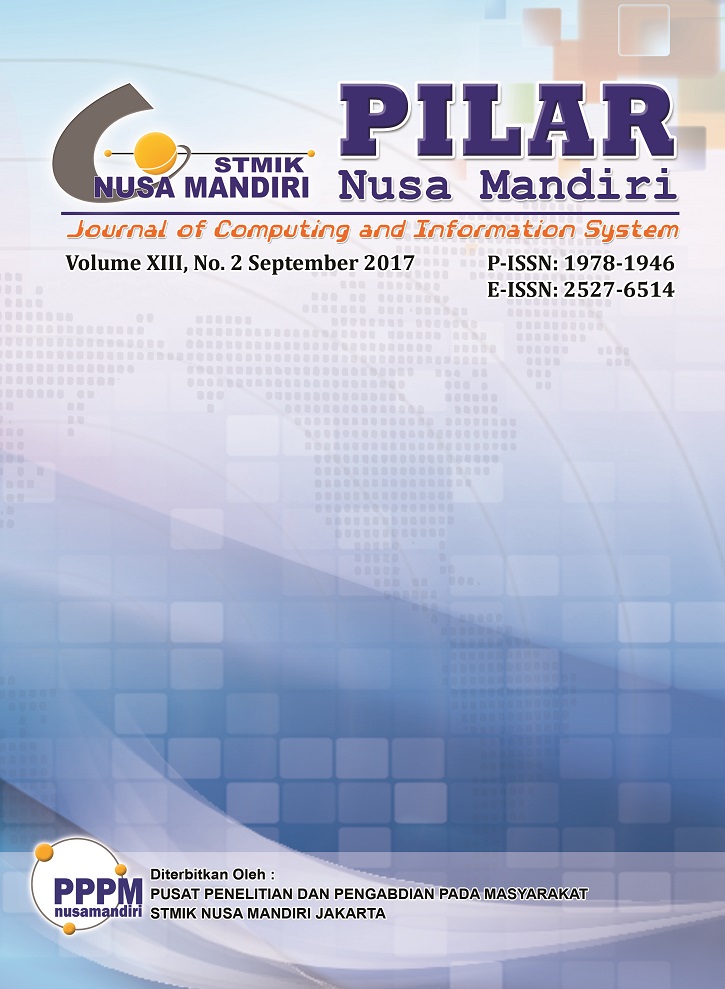 How to Cite
Rizal, M. (2018). PERANCANGAN APLIKASI LOKASI WISATA KOTA JAKARTA MENGGUNAKAN ALGORITMA SEQUENTIAL SEARCH BERBASIS ANDROID. Jurnal Pilar Nusa Mandiri, 13(2), 227-232. Retrieved from http://ejournal.nusamandiri.ac.id/index.php/pilar/article/view/245
Article Metrics

Abstract viewed = 275 times

PDF downloaded = 263 times
The Authors submitting a manuscript do so on the understanding that if accepted for publication, copyright of the article shall be assigned to the PILAR Nusa Mandiri journal as the publisher of the journal, and the author also holds the copyright without restriction.
Copyright encompasses exclusive rights to reproduce and deliver the article in all form and media, including reprints, photographs, microfilms, and any other similar reproductions, as well as translations. The reproduction of any part of this journal, its storage in databases, and its transmission by any form or media, such as electronic, electrostatic and mechanical copies, photocopies, recordings, magnetic media, etc. , are allowed with written permission from the PILAR Nusa Mandiri journal.
PILAR Nusa Mandiri journal, the Editors and the Advisory International Editorial Board make every effort to ensure that no wrong or misleading data, opinions, or statements be published in the journal. In any way, the contents of the articles and advertisements published in the PILAR Nusa Mandiri journal are the sole and exclusive responsibility of their respective authors and advertisers.