PERANCANGAN WEB PERPUSTAKAAN PADA SMP TARUNA BHAKTI DEPOK
Yoyok Maryono (1*)

Manajemen Informatika AMIK BSI Jakarta

Ida Darwati (2)

Manajemen Informatika AMIK BSI Jakarta


(*) Corresponding Author

Keywords:
Sistem Informasi, E-Perpustakaan, Waterfall Model
Abstract
The school library is a place that provides textbooks and readings for students and teachers to support the teaching and learning process. The system of borrowing and returning books in libraries still using the manual system is feared that there will be mistakes when recording book lending, the number of books available, the difficulties in finding books and what information books are available. Implementation of web-based libraries is expected to facilitate students / teachers easy to find out what books are available, librarians become more helpful in monitoring the stock of books and the process of borrowing and return of books, so as to be able to solve the problems that are feared occurred.
Downloads
Download data is not yet available.
References
Arif, S. N., Wanda, A. P., & Masudi, A. (2013). Aplikasi Administrasi Perpustakaan Berbasis Web SMK Swasta Brigjend Katamso Medan. Jurnal SAINTIKOM Vol, 12(1).

Apriyani, M. E., & Dzikri, A. (2013). Pemanfaatan Sistem Informasi Terintegrasi untuk Pengembangan Perpustakaan di Politeknik Negeri Batam. Jurnal Integrasi, 5(1), 91-95.

Dwijati, S. (2006). Upaya meningkatkan kualitas jasa layanan informasi di perpustakaan. Buletin Perpustakaan Universitas Airlangga, 1(2), 16-20.

Fadillah, N. A., Charibaldi, N., & Jayadianti, H. (2010). Penerapan Teknologi Semantic Web Pada Aplikasi Pencarian Koleksi Perpustakaan (Studi Kasus: Perpustakaan Fti Upn" Veteran" Yogyakarta). In Seminar Nasional Informatika 2010. " Veteran" University of National Development Yogyakarta.

Jaenuri, M. (2013). Perancangan Pengolahan Data Perpustakaan Madrasah Aliyah Negeri Lasem Berbasis Intranet. IJNS-Indonesian Journal on Networking and Security, 2(3).

Kasaedja, B. A., Sengkey, R., & Lantang, O. A. (2014). Rancang Bangun Web Service Perpustakaan Universitas Sam Ratulangi. E-JOURNAL TEKNIK ELEKTRO DAN KOMPUTER, 3(3), 38-50.

Maryono, Y., & Darwati, I. (2017). Laporan Akhir Penelitian Mandiri. Jakarta: AMIK BSI Jakarta

Pratidina, I. N. (2013, March). Sistem Informasi Perpustakaan Sekolah Menengah Pertama Negeri Dua Karanganyar. In Seruni-Seminar Riset Unggulan Nasional Informatika (Vol. 1, No. 1).

Soleh, O., Sholihat, R. I., Nurdiansyah, F., & Savitri, A. (2014). APLIKASI PENDATAAN DAN PENCATATAN PADA PERPUSTAKAKAN SMP NEGERI 3 CIKUPA TANGERANG. SEMNASTEKNOMEDIA ONLINE, 2(1), 3-05.

Sari, W., & Marlini, M. (2012). Penerapan Fungsi Manajemen Dalam Pengelolaan Perpustakaan di SMK Tamansiswa Padang. Ilmu Informasi Perpustakaan dan Kearsipan, 1(1), 39-48.

Setyawan, E., & Purnama, B. E. (2012). Pembangunan Sistem Informasi Perpustakaan Sekolah Dasar Negeri (SDN) Pacitan. Speed-Sentra Penelitian Engineering dan Edukasi, 4(3).

Sukamto, R,A. dan M. Shalahuddin. (2013). Rekayasa Perangkat Lunak Terstruktur dan Berorientasi Objek. Bandung: Informatika

Wiradani, O., & Ardoni, A. (2013). Desain Katalog Online dalam Kepuasan Pemustaka di Perpustakaan Universitas Negeri Padang. Ilmu Informasi Perpustakaan dan Kearsipan, 2(1), 622-629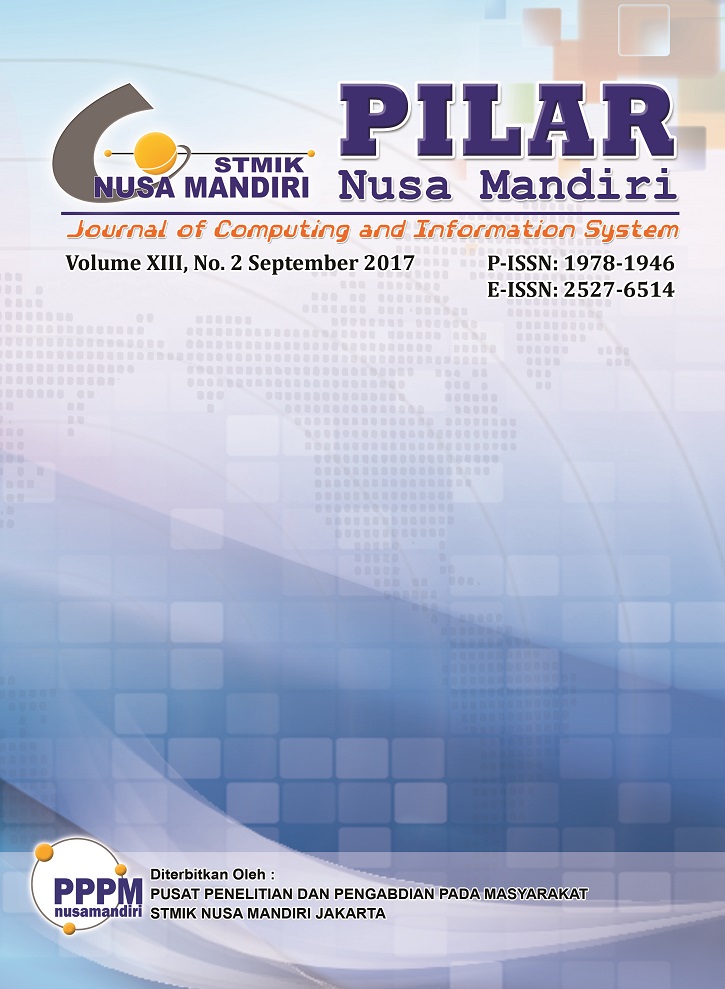 How to Cite
Maryono, Y., & Darwati, I. (2017). PERANCANGAN WEB PERPUSTAKAAN PADA SMP TARUNA BHAKTI DEPOK. Pilar Nusa Mandiri: Journal of Computing and Information System, 13(2), 239-244. Retrieved from http://ejournal.nusamandiri.ac.id/index.php/pilar/article/view/247
Article Metrics

Abstract viewed = 524 times

PDF downloaded = 606 times
The Authors submitting a manuscript do so on the understanding that if accepted for publication, copyright of the article shall be assigned to the PILAR Nusa Mandiri journal as the publisher of the journal, and the author also holds the copyright without restriction.
Copyright encompasses exclusive rights to reproduce and deliver the article in all form and media, including reprints, photographs, microfilms, and any other similar reproductions, as well as translations. The reproduction of any part of this journal, its storage in databases, and its transmission by any form or media, such as electronic, electrostatic and mechanical copies, photocopies, recordings, magnetic media, etc. , are allowed with written permission from the PILAR Nusa Mandiri journal.
PILAR Nusa Mandiri journal, the Editors and the Advisory International Editorial Board make every effort to ensure that no wrong or misleading data, opinions, or statements be published in the journal. In any way, the contents of the articles and advertisements published in the PILAR Nusa Mandiri journal are the sole and exclusive responsibility of their respective authors and advertisers.