RANCANG BANGUN SISTEM INFORMASI PERSEDIAAN BARANG BERBASIS WEB DENGAN METODE FAST(FRAMEWORK FOR THE APPLICATIONS)
Ani Oktarini Sari

Manajemen Informatika AMIK BSI Jakarta

Elan Nuari

Manajemen Informatika AMIK BSI Jakarta
Keywords:
Information System, Inventory, FAST Method.
Abstract
Penggunaan teknologi sistem informasi  menjadi sangat berguna bagi perusahaan yang membutuhkan aliran informasi yang akurat, terpercaya, cepat, relevan dan detail.   NetZAP adalah Layanan provider dari PT. Solusi Aksesindo Pratama perusahaan yang bergerak dibidang jasa internet dan penyedia sparepart jaringan. Sistem informasi Persediaan barang yang ada pada PT. Solusi Aksesindo Pratama masih dilakukan secara manual, mulai dari pencatatan barang masuk, permintaan barang dari bagian sales, proses barang keluar oleh bagian gudang sampai kepada pembuatan laporan, sehingga memungkinkan pada saat proses berlangsung terjadi kesalahan dalam pencarian data-data yang diperlukan. Solusi yang terbaik untuk memecahkan permasalahan-permasalahan yang ada adalah dengan membuat aplikasi persediaan barang berbasis web karena lebih baik daripada pencatatan sistem yang manual. Rancang Bangun sistem informasi persediaan barang berbasis website menggunakan metode pengembangan sistem yaitu FAST (Framework for the Application System Thinking) terdiri dari fase-fase Scope Definition, Problem Analysis, Requirements Analysis, Logical Design dan Physical Design. Perancangan Sistem Informasinya menggunakan PHP dan HTML serta MYSQL sebagai databasenya.
Downloads
Download data is not yet available.
References
Arifudzaki, B., Somantri, M., & FR, A. (2010). Aplikasi Sistem Informasi Persediaan Barang pada Perusahaan Ekspor Hasil Laut Berbasis Web. TRANSMISI, 138-144.

Hamdani, D. S., & Darma, J. (2017). Sistem Informasi Monitoring Persediaan Barang Menggunakan Metode Fifo (First In First Out) Pada Pd. Mulia Agung Bandung. Jurnal Bisnis LPKIA.

Sari, A. O., & Nuari, E. (2017). Laporan Akhir Penelitian. Jakarta: AMIK BSI JAKARTA.

Sari, D. K., & Effendi, R. (2014). Peranan Sistem Informasi Akuntansi dalam Pengendalian Persediaan Barang Dagang pada CV. Graha Gallery Palembang.

Sarwindah. (2016). Sistem Informasi Manajemen Pemesanan Buku Pada Toko Buku Nuris. TEKNOSI, Vol. 02, No. 02.

Whitten, J. L., & Bentley, L. (2007). System Analysis and Design for Global Enterprise : Seventh Edition. New York: McGraw Hill.

Wijaya, A., Arifin, M., & Soebijono, T. (2013). Sistem Informasi Perencanaan Persediaan Barang. JSIKA, 14-20.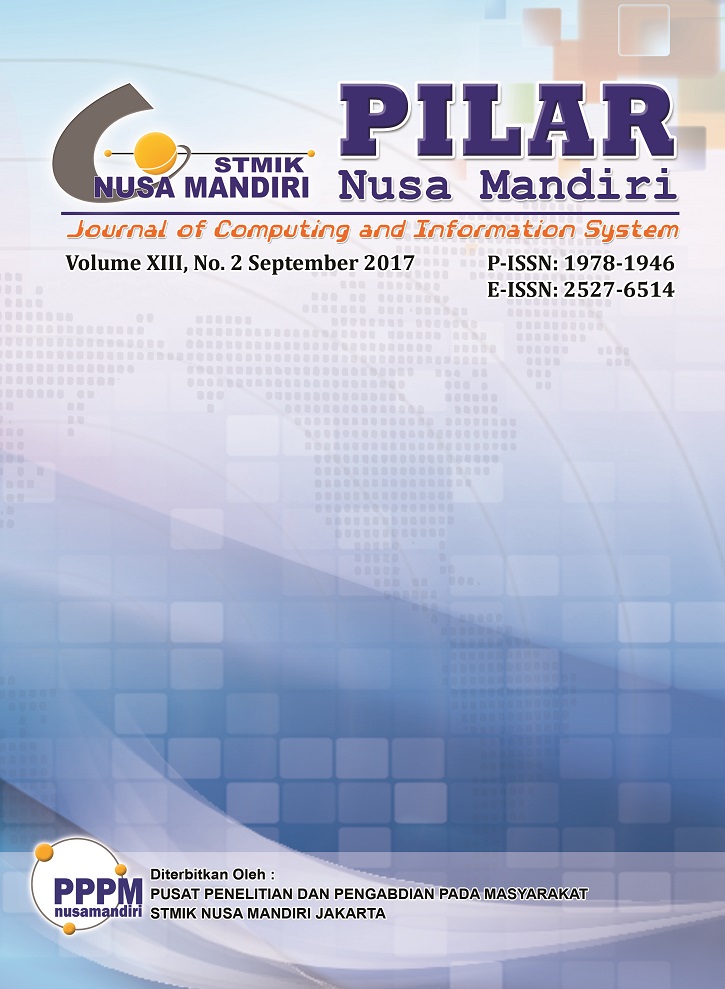 How to Cite
Sari, A., & Nuari, E. (2017). RANCANG BANGUN SISTEM INFORMASI PERSEDIAAN BARANG BERBASIS WEB DENGAN METODE FAST(FRAMEWORK FOR THE APPLICATIONS). Jurnal Pilar Nusa Mandiri, 13(2), 261-266. Retrieved from http://ejournal.nusamandiri.ac.id/index.php/pilar/article/view/248
Article Metrics

Abstract viewed = 1381 times

PDF downloaded = 2222 times