PENERAPAN METODE WATERFALL PADA PENGEMBANGAN SISTEM INFORMASI REKAM MEDIS KLINIK RAWAT INAP NAJA SHAFANA PURWOKERTO
Eka Rahmawati

Program Pascasarjana Magister Ilmu Komputer STMIK Nusa Mandiri

Ragil Wijianto

Program Pascasarjana Magister Ilmu Komputer STMIK Nusa Mandiri
Keywords:
Sistem Informasi, Rekam Medis, Rawat Inap, Klinik Pratama Rawat Inap Naja Shafana
Abstract
Computer is the one of technology that can make people activity easier. To maximize the computer utilization it need a computerization system. Like on Klinik Pratama Rawat Inap Naja Shafana that give health service. The service that given are outpatient, inpatient and emergency unit. Until now, medical records procedure at Klinik Pratama Rawat Inap Naja Shafana still done by hand, one of them is on outpatient procedure. The registration of medical patient data was written on paper that susceptible from damage and data loss. Besides that, the history of medical patient start form anamnesia, diagnose and therapy wrote on paper too. The Medical patient checkup data of inpatient still on a paper. The data have been random archived, so it need long time for searching data and arrange the report. As a health unit that serve general society, Klinik Pratama Rawat Inap Naja Shafana need an information system that can accelerate performance and increase redundancy, data loss and data detriment. The information system also can make archived and data searched easily and can block access from uncompetent people. Therefore, it's necessary to make medical records information system on Klinik Pratama Rawat Inap Naja Shafana. A computerization system besides accelerate performance also can make data reporting easier.
Downloads
Download data is not yet available.
References
Ernawati, S. (2017). IMPLEMENTASI MODEL WATERFALL PADA SISTEM INFORMASI PEREKAMAN DATA MEDIS PASIEN RAWAT JALAN (STUDI KASUS : UPTD PUSKESMAS SEMPLAK BOGOR). Jurnal Techno Nusa Mandiri, 14(2), 125–130. https://doi.org/10.33480/TECHNO.V14I2.529

Hidayat, R., Marlina, S., & Utami, L. D. (2017). Perancangan Sistem Informasi Penjualan Barang Handmade Berbasis Website Dengan Metode Waterfall, 175–183.

Kurniadi, D., & Mulyani, A. (2015). Prototipe perangkat lunak sistem kendali peralatan elektronik berbasis komputer. Jurnal Wawasan Ilmiah.

Pujiastuti, E. (2015). Prototipe Peningkatan Pelayanan Rawat Jalan Dengan Pengujian FGD Dan ISO 9126 Pada Klinik Eka Anugerah. IJSE-Indonesian Journal on Software Engineering, 1(1), 62–69.

Saifuddin, & Handoko. (2018). PEMANFAATAN DATABASE MYSQL UNTUK PROSES KOMPUTERISASI PEMINJAMAN DAN PENEMBALIAN ALAT LABORATORIUM DI SMK BINAWIYATA SRAGEN. Jurnal IT CIDA, 2(1), 67–73.

Sihotang, F. P. (2015). Analisis dan Perancangan Sistem Informasi Rekam Medis Pada Puskesmas Simpang Timbangan Indralaya, 1(2), 149–163.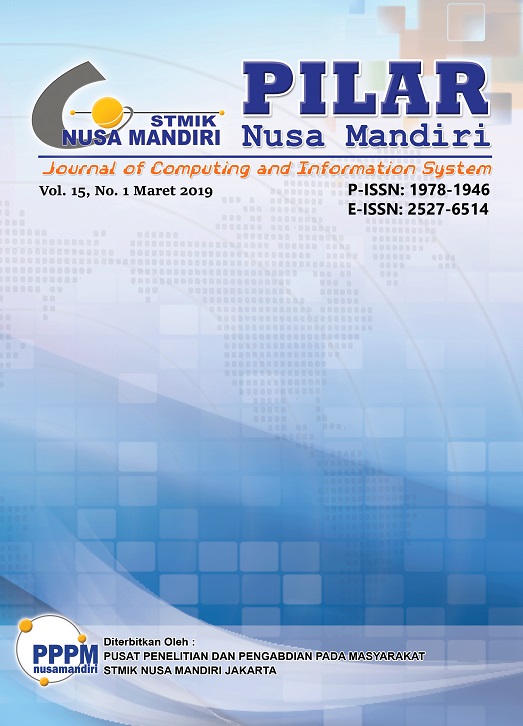 How to Cite
Rahmawati, E., & Wijianto, R. (2019). PENERAPAN METODE WATERFALL PADA PENGEMBANGAN SISTEM INFORMASI REKAM MEDIS KLINIK RAWAT INAP NAJA SHAFANA PURWOKERTO. Jurnal Pilar Nusa Mandiri, 15(1), 53-60. https://doi.org/10.33480/pilar.v15i1.63
Article Metrics

Abstract viewed = 117 times

PDF downloaded = 106 times