PENERAPAN DATA MINING MENGGUNAKAN ALGORITMA K-MEANS UNTUK MENGETAHUI MINAT CUSTOMER DI TOKO HIJAB
Yulianti Yulianti (1*)

Ilmu Komputer STMIK Nusa Mandiri

Dwi Yuni Utami (2)

Teknik Komputer Universitas Bina Sarana Informatika

Noer Hikmah (3)

Sistem Informasi Universitas Bina Sarana Informatika

Fuad Nur Hasan (4)

Ilmu Komputer Universitas Bina Sarana Informatika


(*) Corresponding Author

Keywords:
Hijab, Customer Interest, K-Means Method
Abstract
Hijab is not a foreign thing for the population in Indonesia, because most of the population of Indonesia is Muslim. Today, many business people, especially hijab sellers, provide a variety of brands and models in the hijab they sell. Therefore sellers are required to be able to think intelligently in making a sales strategy that will certainly be useful to know clearly which products are most in demand by customers, and also to increase sales in their stores. Then there needs to be an alternative that can realize the recording of sales transaction data more quickly and structured. In this study the authors applied the k-means algorithm to determine customer interest in the products they sell. In the calculation that has been done by using two parameters, namely the transaction and the number of sales and passing three iterations with the results of iterations one gets a ratio of 0.374324132, the iteration two gets the ratio 0.543018325, and the iteration three gets the same ratio value as second iteration. So it can be concluded that the hijab that is most desirable by the customers is the hijab with the brand Rabbani, Elzatta, and Zoya, the low-interest hijab branded by Dian Pelangi, Kami Idea, and Meccanism. And the hijab with those who are not high and also not low is the hijab under the brand Ria Miranda, Jenahara, Shasmira, and Shafira.
Downloads
Download data is not yet available.
References
Agustin, F. E. M., Fitria, A., & S, A. H. (2015). IMPLEMENTASI ALGORITMA K-MEANS UNTUK MENENTUKAN KELOMPOK PENGAYAAN MATERI MATA PELAJARAN UJIAN NASIONAL (STUDI KASUS: SMP NEGERI 101 JAKARTA). Jurnal Teknik Informatika, 8(1), 73–78.
Dahlan, M., Jauharul, M., & Utsalina, D. S. (2017). SISTEM INFORMASI PERAMALAN PENJUALAN KRIPIK PISANG MENGGUNAKAN METODE DOUBLE EXPONENTIAL SMOOTHING BERBASIS WEB PADA TOKO TIGA PUTRA DI LUMAJANG. Seminar Nasional Sistem Informasi, (14 September), 676–686.
Hafidhuddin, D. (2011). Peran Strategis Organisasi Zakat Dalam Menguatkan Zakat Di Dunia (The Strategic Role of Zakat Organization in Strengthening Zakah in the World). Jurnal Ekonomi Islam Al-Infaq, 2(1, Maret 2011), 1–4.
Istiani, A. N. (2015). Konstruksi Makna Hijab Fashion Bagi Moslem Fashion Blogger. Jurnal Kajian Komunikasi, 3(1), 48–55. https://doi.org/10.24198/jkk.vol3n1.6
Metisen, B. M., & Sari, H. L. (2015). Analisis Clustering Menggunakan Metode K-Means Dalam Pengelompokkan Penjualan Produk Pada Swalayan Fadhila. Jurnal Media Infotama, 11(2, September 2015), 110–118.
Rollick, A. (2017). 10 Merek Jilbab Ternama di Indonesia. Retrieved February 3, 2019, from https://jurnalbumi.com/top/merek-jilbab-ternama-di-indonesia/
Sari, A. M. (2017). APLIKASI SITUS WEB PENJUALAN HIJAB ONLINE. Paradigma - Jurnal Komputer Dan Informatika, 19(2), 113–117. https://doi.org/https://doi.org/10.31294/p.v19i2.2290
Sulindawati, N. L. G. E. (2016). Pengembangan Model Pembelajaran. Seminar Nasional Riset Inovatif (Senari), 323–334.
Sutanto, P., Setiawan, A., & Setiabudi, D. H. (2017). Perancangan Sistem Forecasting di Perusahaan Kayu UD . 3G dengan Metode ARIMA. Jurnal Infra, 05(01), 325–330.
Yulianti, Y., Utami, D. Y., Hikmah, N., & Hasan, F. N. (2019). PENERAPAN DATA MINING MENGGUNAKAN ALGORITMA K-MEANS UNTUK MENGETAHUI MINAT CUSTOMER DI TOKO HIJAB. STMIK Nusa Mandiri.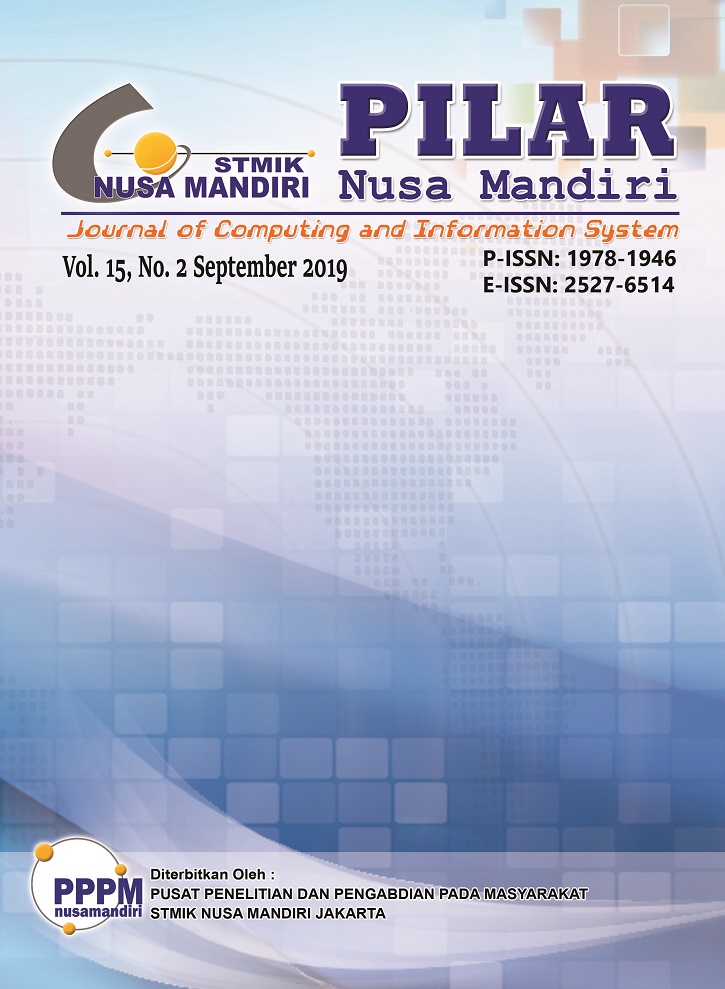 How to Cite
Yulianti, Y., Utami, D., Hikmah, N., & Hasan, F. (2019). PENERAPAN DATA MINING MENGGUNAKAN ALGORITMA K-MEANS UNTUK MENGETAHUI MINAT CUSTOMER DI TOKO HIJAB. Jurnal Pilar Nusa Mandiri, 15(2), 241-246. https://doi.org/10.33480/pilar.v15i2.650
Article Metrics

Abstract viewed = 395 times

PDF downloaded = 368 times
Copyright (c) 2019 Yulianti Yulianti, Dwi Yuni Utami, Noer Hikmah, Fuad Nur Hasan
This work is licensed under a Creative Commons Attribution-NonCommercial 4.0 International License.
The Authors submitting a manuscript do so on the understanding that if accepted for publication, copyright of the article shall be assigned to the PILAR Nusa Mandiri journal as the publisher of the journal, and the author also holds the copyright without restriction.
Copyright encompasses exclusive rights to reproduce and deliver the article in all form and media, including reprints, photographs, microfilms, and any other similar reproductions, as well as translations. The reproduction of any part of this journal, its storage in databases, and its transmission by any form or media, such as electronic, electrostatic and mechanical copies, photocopies, recordings, magnetic media, etc. , are allowed with written permission from the PILAR Nusa Mandiri journal.
PILAR Nusa Mandiri journal, the Editors and the Advisory International Editorial Board make every effort to ensure that no wrong or misleading data, opinions, or statements be published in the journal. In any way, the contents of the articles and advertisements published in the PILAR Nusa Mandiri journal are the sole and exclusive responsibility of their respective authors and advertisers.