ESTIMASI MEDIA ONLINE DALAM PROSES BISNIS PEMASARAN DAN JASA DI KOTA TASIKMALAYA MENGGUNAKAN METODE DISCRETE
Iqbal Dzulfiqar Iskandar

Sistem Informasi Kota Tasikmalaya Universitas Bina Sarana Informatika
Keywords:
Discrete, Estimasi, Korelasionanl, Proses Bisnis, Tasikmalaya
Abstract
Online media is used by many organizations as a helping tool to reach the goal in the business process especially marketing or introducing a product that is marketed. Therefore, this research is trying to explain how massive the role of online media is, in the business process in the town of Tasikmalaya based on a statistic number scale from the data that refer to quantitative methodology, Discrete Data, and Correlational analyses method. Meanwhile. The result of this research reveals Online media is, towards business process marketing and service in the town of the Tasikmalaya area positively affected business process marketing and service. These results are supported by the results of data processing. From 78 organizations, the positive rate of online media on marketing and services is 95% greater than the positive level, which is only 5%. sig. (2-sided) of 0,000, meaning that α=0.05 is greater than the value of Sig. (2-sided) or [0.05> 0,000]. This shows that the variable X has an influence on variable Y. The results of the analysis of bivariate people, obtained the final value r =1, for the estimated value. This number defines the variable X which has a very strong attachment relationship to a variable.
Downloads
Download data is not yet available.
References
Alfadin, M. R., Hidayat, T., Arifin, M. Z., & Kusumaningrum, R. (2018). Kajian pemilihan antara taksi berbasis aplikasi online dan taksi konvensional kasus kota surabaya. Journal Mahasiswa Teknik Sipil, 1(2), 1–10. Retrieved from http://sipil.studentjournal.ub.ac.id/index.php/jmts/article/view/728
Basri, H., & Eko Indrajit, R. (2017). Implementasi Information Retrivals Untuk Meningkatkan Pemasaran Produk. Jurnal Pilar Nusa Mandiri, 13(2), 249–254.
Emzir. (2015). Metodologi Penelitian Kuantitatif dan Kualitatif untuk Pendidikan (1st ed.). Depok: Rajawali Pers.
Helmi, A. T., Aknuranda, I., & Saputra, M. C. (2018). Analisis Dan Pemodelan Proses Bisnis Menggunakan Business Process Improvement (BPI) Pada Lembaga Bimbingan Belajar (Studi Kasus : Lembaga Bimbingan Belajar Prisma). Jurnal Pengembangan Teknologi Informasi Dan Ilmu Komputer (J-PTIIK) Universitas Brawijaya, 2(10).
Iskandar, I. D. (2019). Laporan Akhir Penelitian: Estimasi Media Online Dalam Proses Bisnis Pemasaran Dan Jasa Di Kota Tasikmalaya Menggunakan Metode Discrete. Tasikmalaya.
Nugroho, S., Akbar, S., & Vusvitasari, R. (2008). Kajian Hubungan Koefisien Korelasi Pearson (r), Spearman-rho (?), Kendall-Tau (?), Gamma (G) , dan Somers. GRADIEN : Jurnal Ilmiah MIPA, 4(2), 372–381. Retrieved from https://ejournal.unib.ac.id/index.php/gradien/article/view/279
Palinkas, L. A., Horwitz, S. M., Green, C. A., Wisdom, J. P., Duan, N., & Hoagwood, K. (2015). Purposeful Sampling for Qualitative Data Collection and Analysis in Mixed Method Implementation Research. Administration and Policy in Mental Health and Mental Health Services Research, 42(5), 533–544. https://doi.org/10.1007/s10488-013-0528-y
Pemerintah Kota Tasikmalaya. (2018). Kondisi ekonomi kota tasikmalaya. Tasikmalaya: Pemerintah Kota Tasikmalaya.
Pramono, B. A. (2018). Desain Dan Implementasi Augmented Reality Berbasis Web Pada Aplikasi Furniture Shopping Manager Sebagai Alat Bantu Belanja Online. Jurnal Transformatika, 10(1), 26. https://doi.org/10.26623/transformatika.v10i1.67
Priambada, S. (2017). Potensi Media Sosial Bagi Usaha Kecil Dan Menengah (UKM) di Malang Raya. Seminar Nasional Sistem Informasi Indonesia, (November), 1–8.
Ratih Purbasari, Chandra Wijaya, Ning Rahayu, E. M. (2018). CREATIVE INDUSTRY MAPPING IN EAST PRIANGAN REGION: IDENTIFYING OF LOCAL COMPETITIVE ADVANTAGE. Jurnal Pemikiran Dan Penelitian Administrasi Bisnis Dan Kewirausahaan, 3(1), 1–11. https://doi.org/https://doi.org/10.24198/adbispreneur.v3i1.16083
Riduwan, R., & Sunarto, H. (2014). Pengantar Statistika Pendidikan, Sosial, Ekonomi, Komunikasi, dan Bisnis. Bandung: Alfabeta.
Sari, R. A. (2017). Pengaruh Karakteristik Perusahaan, Disclosure, Terhadap Corporate Social Responsibility Manufaktur, Pada Perusahaan Yang Terdaftar Di Bursa Efek Indonesia. Jurnal Nominal, I(I), 124–140.
Setyawarno, D. (2016). Panduan statistik terapan untuk penelitian pendidikan. In PANDUAN STATISTIK TERAPAN UNTUK PENELITIAN PENDIDIKAN (pp. 1–116). Yogyakarta: Universitas Negri Yogyakarta.
Siaga, Y. S., Januar, J., & Kusmiati, A. (2016). Penerapan dan Pemanfaatan Media Online dalam Pengembangan Sistem Pemasaran UMKM ( Agroindustri ) di Kabupaten Jember, (1), 433–441.
Sugianto, A. (2016). Jenis-Jenis Data Variabel (Variabel Diskrit dan Variabel Kontinyu). Researchgate, (August), 1–5.
Suprihadi, S., Tanone, R., & Suharyadi, S. (2016). Proses Bisnis E-Catalogue Baru Sebagai Kerangka Kebutuhan Informasi Pengolahan Produksi Komoditi. In Prosiding Konser Karya Ilmiah Nasional 2016 (pp. 243–254). Salatiga: Fakultas Pertanian dan Bisnis Universitas Kristen Satya Wacana.
Susanti, V., Hadi, C., & Si, M. (2013). Kepercayaan Konsumen dalam Melakukan Pembelian Gadget secara Online. Psikologi Industri Dan Organisasi, 02(01), 55–33.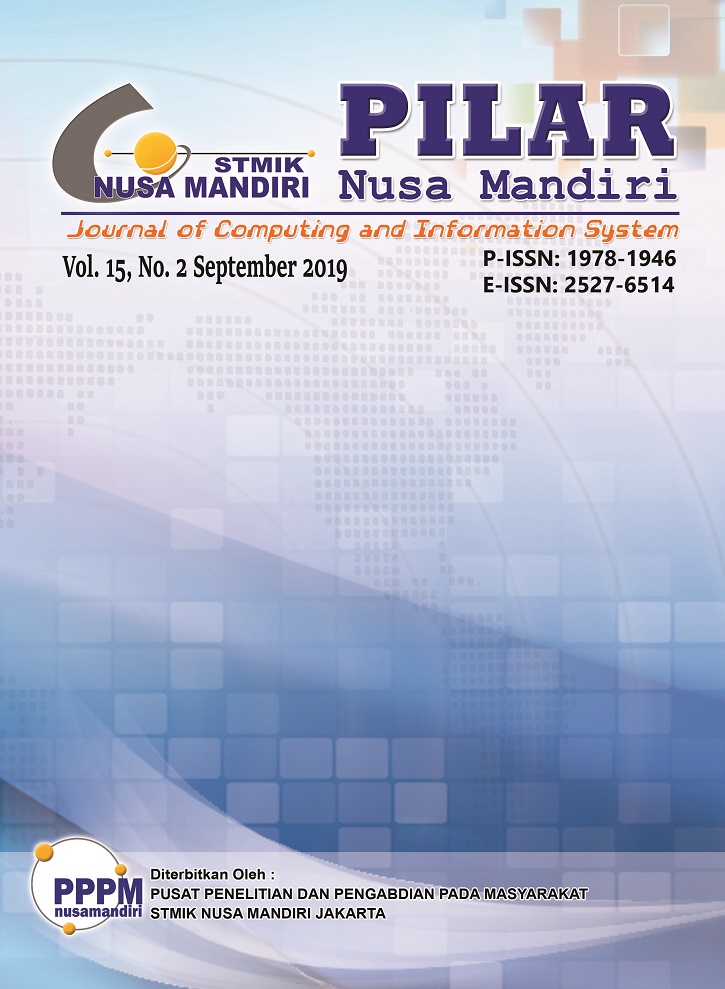 How to Cite
Iskandar, I. (2019). ESTIMASI MEDIA ONLINE DALAM PROSES BISNIS PEMASARAN DAN JASA DI KOTA TASIKMALAYA MENGGUNAKAN METODE DISCRETE. Jurnal Pilar Nusa Mandiri, 15(2), 261-266. https://doi.org/10.33480/pilar.v15i2.664
Article Metrics

Abstract viewed = 40 times

PDF downloaded = 41 times
Copyright (c) 2019 Iqbal Dzulfiqar Iskandar
This work is licensed under a Creative Commons Attribution-NonCommercial 4.0 International License.