PERANCANGAN SISTEM INFORMASI PENGAJUAN PINJAMAN BERBASIS WEB MENGGUNAKAN METODE SIMPLE ADDITIVE WEIGHTING
Titis Widyastuti (1*)

Sistem Informasi Universitas Mercu Buana

Nia Rahma Kurnianda (2)

Sistem Informasi Universitas Mercu Buana


(*) Corresponding Author

Keywords:
Cooperatives, Information Systems, SAW
Abstract
Dalam usaha meningkatkan jumlah anggota yang bergabung dalam naungan koperasi karyawan, koperasi UMB bermaksud melakukan peningkatan pelayanan pada produk simpan pinjam. Namun produk tersebut memiliki rentang waktu pelayanan yang sangat panjang dan antrian yang cukup besar. Sebelum peminjaman disetujui terdapat verifikasi berkas atas aplikasi anggota terlebih dahulu. Pendataan dan pencatatan atas peminjaman dan pembayaran pinjaman pun masih dilakukan secara sederhana yaitu dengan metode tulis tangan. Hal ini menyebabkan rawan terjadinya human error dan dokumen tidak terkontrol. Oleh karena itu, kami merancang sebuah sistem informasi pengajuan pinjaman bagi anggota untuk menyelesaikan permasalahan tersebut. Untuk mendukung usaha koperasi karyawan memberikan kemudahan dalam mengajukan pinjaman, rancangan ini kami buat menggunakan basis web dan berorientasi obyek. Sistem ini nantinya akan memberikan kemudahan bagi anggota untuk mengajukan pinjaman dari manapun dan kapanpun, memberikan keleluasaan bagi anggota untuk mengetahui status peminjaman yang diajukan dan pengembalian hutang yang telah dibayarkan. Selain itu dari sisi koperasi pegawai UMB, benefit yang diterima adalah kemudahan dan kecepatan dalam hal verifikasi berkas serta kerapihan administrasi peminjaman uang. Selain itu dalam pembuatan laporan juga menjadi fitur utama dari sistem yang kami rancang ini. Dalam menghasilkan rekomendasi peminjaman yang disetujui kami menggunakan variasi metode SAW. Hasil kalkulasi dari fitur rekomendasi ini akan menjadi dasar bagi pelayanan verifikasi berkas yang lebih cepat.
Downloads
Download data is not yet available.
References
Astuti, D., & Devitra, J. (2017). Dui Astuti, Joni Devitra. Jurnal Manajemen Sistem Informasi, 2(2), 513–532.
Christin, H. De, Djamain, Y., Informatika, J. T., & Informatika, J. T. (2015). Sistem Pendukung Keputusan Penerimaan Pegawai Baru PT.PLN (Persero) Kantor Pusat dengan Menggunakan Metode Simple Additive Weighting (SAW). Jurnal Teknologi Dan Informasi, 5(1), 39–47.
Journal, C., Utomo, Y. B., & Ipmawati, J. (2016). Sistem Pendukung Keputusan Penentuan Penerima Kredit Usaha ( Studi Kasus : Adira Finance Kediri ). Citec Journal, 3(4), 295–306.
Rudiarto, S. (2018). IMPLEMENTASI ALGORITMA K-MEANS. Jurnal Ilmu Teknik Dan Komputer, 2(1), 1–8.
Saw, D. M. (2019). Penyeleksian jurusan terfavorit pada smk sirajul falah dengan metode saw. Jurnal PILAR Nusa Mandiri, 15(1), 1–6.
Subiantara, D., Sulistiowati, & Vivine, N. (2015). RANCANG BANGUN APLIKASI SIMPAN PINJAM ISSN 2338-137X. Jurnal Sistem Informasi Dan Komputerisasi Akuntansi, 4(2), 1–8.
Waluya, D., & Dimas, F. (2017). Perancangan Sistem Informasi Akuntansi Koperasi dan UMKM Berbasis. Jurnal Riset Akuntansi Dan Keuangan, 5(2), 1423–1440.
Wati, Y. A., & Sadikin, M. (2019). KEPUTUSAN PRIORITAS PERBAIKAN MOLD MENGGUNAKAN METODE SAW ( SIMPLE ADDITIVE WEIGHTING ). Jurnal Ilmu Teknik Dan Komputer, 3(1), 1–10.
Widyastuti, T. (2019). Laporan Akhir Penelitian - Analisa Perancangan Sistem Informasi Pengajuan Pinjaman Menggunakan Metode Simple Additive Weighting (Studi Kasus : Koperasi Karyawan Universitas Mercu Buana). Jakarta.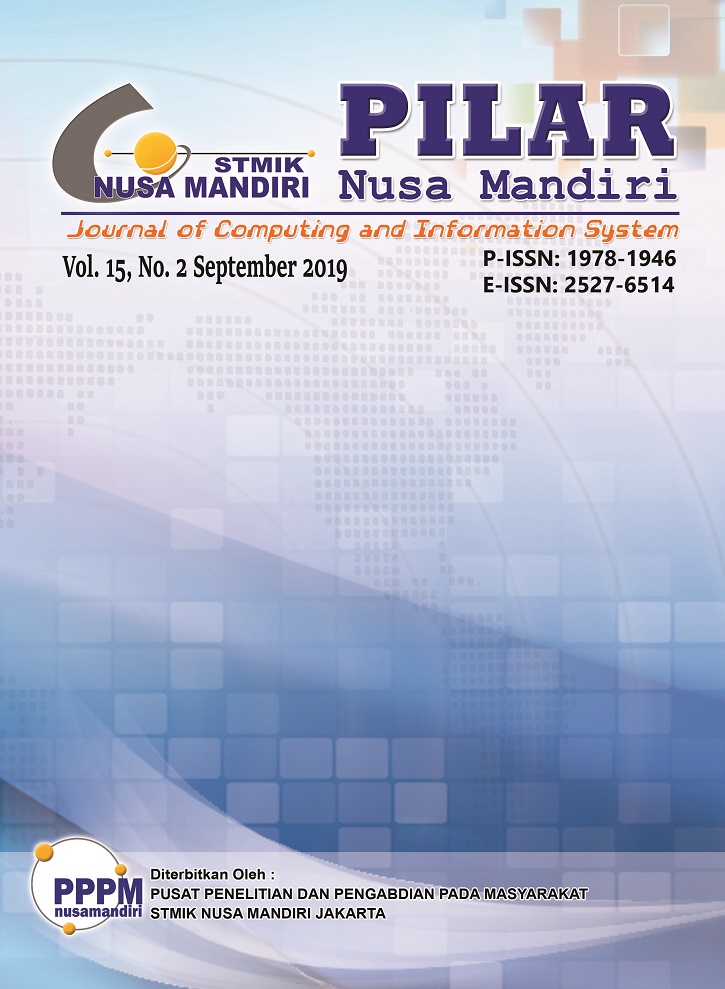 How to Cite
Widyastuti, T., & Kurnianda, N. (2019). PERANCANGAN SISTEM INFORMASI PENGAJUAN PINJAMAN BERBASIS WEB MENGGUNAKAN METODE SIMPLE ADDITIVE WEIGHTING. Jurnal Pilar Nusa Mandiri, 15(2), 219-226. https://doi.org/10.33480/pilar.v15i2.716
Article Metrics

Abstract viewed = 283 times

PDF downloaded = 303 times
Copyright (c) 2019 Titis Widyastuti, Nia Rahma Kurnianda
This work is licensed under a Creative Commons Attribution-NonCommercial 4.0 International License.
The Authors submitting a manuscript do so on the understanding that if accepted for publication, copyright of the article shall be assigned to the PILAR Nusa Mandiri journal as the publisher of the journal, and the author also holds the copyright without restriction.
Copyright encompasses exclusive rights to reproduce and deliver the article in all form and media, including reprints, photographs, microfilms, and any other similar reproductions, as well as translations. The reproduction of any part of this journal, its storage in databases, and its transmission by any form or media, such as electronic, electrostatic and mechanical copies, photocopies, recordings, magnetic media, etc. , are allowed with written permission from the PILAR Nusa Mandiri journal.
PILAR Nusa Mandiri journal, the Editors and the Advisory International Editorial Board make every effort to ensure that no wrong or misleading data, opinions, or statements be published in the journal. In any way, the contents of the articles and advertisements published in the PILAR Nusa Mandiri journal are the sole and exclusive responsibility of their respective authors and advertisers.