LEARNING MODEL OF COOPERATIVE LEARNING TYPE TEAM GAMES TOURNAMENT BASED ON E-LEARNING IN SMK NUSAJAYA TANGERANG
Model Pembelajaran Cooperative Learning Tipe Team Games Tournament Berbasis E-Learning Pada SMK Nusajaya Tangerang
Ajay Supriadi (1)

Universitas Raharja

Fifit Alfiah (2*)

Universitas Raharja

Mochamad Fiqri Nur Fauzan (3)

STMIK Raharja


(*) Corresponding Author

Keywords:
E-Learning, COOPERATIVE LEARNING, Model Pembelajaran
Abstract
This research is motivated by gaps in teaching and learning at Nusajaya Vocational School, Tangerang. This study aims to make Cooperative Learning Type Team Learning Games based on E-learning that can increase student interest and learning attitudes at Nusajaya Tangerang Vocational School. The results of this study are e-learning that can attract students' interests and attitudes to learning. In e-learning not only contains learning material content but there is a menu for interaction with students and an interesting menu for students, then this research is a Research and Development (R & D) research on the application quality testing process using Black box testing. So that the testing of this system shows results that are very feasible to use, after being used in two-stage learning, namely cycle 1 is 68.53% and cycle 2 gets results that increase 12.94% on student interests and attitudes to 81.47%.
References
Agus, S. (2009). Cooperative Learning, Teori dan Aplikasi Paikem. Surabaya: Pustaka Pelajar.
Dewi, R. S., Marchada, R. R., & Rifai, A. (2016). Analisa Pieces Penerapan Digital Monitoring Informasi Penyewaan Ruko Pasar 8 Pada Pt . Alam Sutera Realty , Tbk. Seminar Nasional Teknologi Informasi Dan Komunikasi 2016 (SENTIKA 2016), 2016(Sentika), 18–19.
Fuad, M., & Ghufron, A. (2014). Pengembangan E-Learning dengan Pendekatan Teori Kognitif Multimedia Pembelajaran di Jurusan Tkj SMK Muhammadiyah 2 Yogyakarta. Jurnal Inovasi Teknologi Pendidikan, 1(1), 28–39.
Husain, A. I., Husain, A. I., & Husain, A. I. (2015). Penerapan Model Pembelajaran Kooperatif Tipe Team Games Tournament Dalam Meningkatkan Hasil Belajar Elektronika Analog Siswa Kelas X Tkj 1 Di Smk Negeri 1 Sidenreng Cooperative Learning Model Application Type Games Team Tournament Results Increase in Anal, 3, 170–174.
Juwita, L., Sari, N. P. W. P., & Septianingrum, Y. (2017). The Effect of Team Game Tournament (TGT) Cooperative Learning Method Application Towards Learning Motivation and Achievement. Indonesian Nursing Journal of Education and Clinic (INJEC), 2(2), 154–163. https://doi.org/http://dx.doi.org/10.24990/injec.v2i2.142
Kariyana, I. K. (2013). IMPLEMENTASI PEMBELAJARAN KOOPERATIF TGT UNTUK MENINGKATKAN AKTIVITAS DAN HASIL BELAJAR DRIBBLING SEPAKBOLA. Jurnal Pendidikan Jasmani, Olahraga Dan Kesehatan Undiksha, 1(5). Retrieved from https://ejournal.undiksha.ac.id/index.php/JJP/article/view/1797
Kurnia, R. D., Ruskan, E. L., & Ibrahim, A. (2014). Pengembangan Model Pembelajaran Berbasis Cooperative Learning dalam Meningkatkan Motivasi Belajar Mahasiswa dan Peningkatan Mutu Lulusan Alumni Fasilkom Unsri Berbasis E-Learning (studi kasus: matakuliah pemrograman web). JSI: Jurnal Sistem Informasi (E-Journal), 6(1), 645–654.
Pratiwi Hartono, N., Saptaning Wilujeng, C., & Andarini, S. (2015). Pendidikan Gizi tentang Pengetahuan Pemilihan Jajanan Sehat antara Metode Ceramah dan Metode Komik. Indonesian Journal of Human Nutrition, 2(2), 76–84. https://doi.org/10.21776/ub.ijhn.2015.002.02.2
Pratiwi, Y., & Mulyani, S. (2015). Upaya Peningkatan Prestasi Belajar Dan Interaksi Sosial Siswa Dengan Menggunakan Metode Pembelajaran Teams Games Tournament ( Tgt ) Dilengkapi Media Peta Konsep Pada Materi Kelarutan Dan Hasil Kali Kelarutan Siswa Kelas Xi Ipa Sma Batik 1 Surakarta Tahun , 4(1), 182–188.
Rijal, S., & Bachtiar, S. (2015). Hubungan antara Sikap, Kemandirian Belajar, dan Gaya Belajar dengan Hasil Belajar Kognitif Siswa. Jurnal Bioedukatika, 3(2), 15–20.
Rohmah, E. A., & Wahyudin. (2016). Pengaruh Model Pembelajaran Kooperatif Tipe Teams Games Tournament (TGT) Berbantuan Media Game Online terhadap Pemahaman Konsep dan Penalaran Matematis Siswa. Eduhumaniora, 8(2), 126.
Supriadi, A., Alfiah, F., & Fauzan, M. F. N. (2019). Laporan Akhir Penelitian: Model Pembelajaran Cooperative Learning Tipe Team Games Tournament Berbasis E-Learning Pada Smk Nusajaya Tangerang. Tangerang.
Susilowati, D. (2013). Studi Komparasi Hasil Belajar Akuntansi Dengan Penerapan Metode Pembelajaran Teams Games Tournament (TGT) Dengan Metode Ceramah Bervariasi Pada Kompetensi Dasar Jurnal Khusus Siswa Kelas Xii Ips Sma Muhammadiyah 01 Pati. Economic Education Analysis Journal, 2(3).
Veloo, A., & Chairhany, S. (2013). Fostering Students' Attitudes and Achievement in Probability Using Teams-games-tournaments. Procedia - Social and Behavioral Sciences, 93, 59–64. https://doi.org/10.1016/j.sbspro.2013.09.152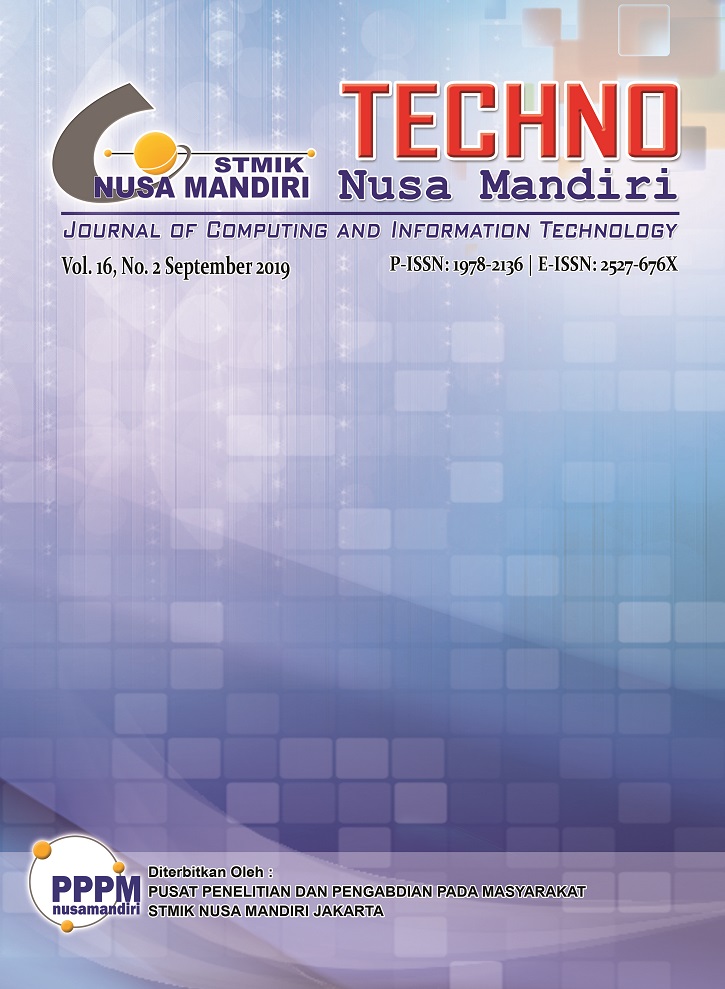 How to Cite
Supriadi, A., Alfiah, F., & Nur Fauzan, M. (2019). LEARNING MODEL OF COOPERATIVE LEARNING TYPE TEAM GAMES TOURNAMENT BASED ON E-LEARNING IN SMK NUSAJAYA TANGERANG. Jurnal Techno Nusa Mandiri, 16(2), 105-112. https://doi.org/10.33480/techno.v16i2.398
Article Metrics

Abstract viewed = 206 times

PDF downloaded = 155 times