APPLICATION OF INDONESIA SATU: INDONESIAN MULTICULTURAL DIGITATION OF ALTERNATIVE MEDIA STRENGTHENING OF NATIONAL CHARACTER EDUCATION
Aplikasi Indonesia Satu: Digitasi Multikultural Indonesia Alternatif Media Penguatan Pendidikan Karakter Bangsa
Rahmawati Febrifyaning Tias (1)

Teknik Informatika Universitas Bhayangkara Surabaya, Indonesia

Syariful Alim (2)

Teknik Informatika Universitas Bhayangkara Surabaya, Indonesia

Rani Purbaningtyas (3*)

Teknik Informatika Universitas Bhayangkara Surabaya, Indonesia

https://orcid.org/0000-0002-2459-999X

(*) Corresponding Author

Keywords:
Multikulturalisme, Indonesia, Waterfall Model, Augmented Reality (AR) technology
Abstract
Indonesia has much cultural diversity which not all are known and understood by Indonesian themselves. So that instead of strengthening the nation character's identity, sometimes this will only weaken the nation's character.  Therefore, it is deemed necessary to develop Indonesia Satu application. Namely, mobile-based applications that integrate cultural diversity in Indonesia by combining Augmented Reality (AR) technology. This application was developed by referring to the waterfall model. The Indonesia Satu application has also gone through a black-box testing method based on system testing, performance testing, installation and load testing also easy use testing. The test results show, in general, this application has been feasible for used. However, for further development, we need to consider data storage so that this application can be optimized.
References
Bassil, Y. (2012). A Simulation Model for the Waterfall Software Development Life Cycle.
Feriyanto. (2018). Nilai-nilai Perdamaian pada Masyarakat Multikultural. Hanifiya: Jurnal Studi Agama-Agama, 1(1), 20–28.
Hartono, Y. (2011). PEMBELAJARAN YANG MULTIKULTURAL UNTUK MEMBANGUN KARAKTER BANGSA. AGASTYA: JURNAL SEJARAH DAN PEMBELAJARANNYA, 1(1). https://doi.org/10.25273/ajsp.v1i1.125
Iskandar, B., & Hamdani, A. U. (2017). DESAIN DAN PENGUJIAN SISTEM INFORMASI JASA PENGIRIMAN BARANG STUDI KASUS : PT. XYZ. SEMNASTEKNOMEDIA ONLINE, 5(1), 1-2–67.
Julaiha, S. (2014). Internalisasi Multikulturalisme dalam Pendidikan Islam. Dinamika Ilmu, 14(1), 109–122. https://doi.org/10.21093/DI.V14I1.11
Kosim, M. (2012). URGENSI PENDIDIKAN KARAKTER. KARSA: Journal of Social and Islamic Culture, 19(1), 84–92. https://doi.org/10.19105/karsa.v19i1.78
Lestari, G. (2016). BHINNEKHA TUNGGAL IKA: KHASANAH MULTIKULTURAL INDONESIA DI TENGAH KEHIDUPAN SARA. Jurnal Ilmiah Pendidikan Pancasila Dan Kewarganegaraan, 28(1). https://doi.org/10.17977/JPPKN.V28I1.5437
Nugroho, A., & Pramono, B. A. (2017). APLIKASI MOBILE AUGMENTED REALITY BERBASIS VUFORIA DAN UNITY PADA PENGENALAN OBJEK 3D DENGAN STUDI KASUS GEDUNG M UNIVERSITAS SEMARANG. Jurnal Transformatika, 14(2), 86. https://doi.org/10.26623/transformatika.v14i2.442
Purbaningtyas, R. (2019). Penerapan Fuctional Testing pada Uji Kelayakan Aplikasi Mobile Smart Malnutrition Detection. Techno.COM, 18(3), 251–263.
Sutjipto, S., Wibowo, U. B., & Hastutiningsih, A. D. (2017). IMPLEMENTASI KURIKULUM MULTIKULTURAL DI SEKOLAH DASAR. Jurnal Pendidikan Dan Kebudayaan, 2(1), 1. https://doi.org/10.24832/jpnk.v2i1.618
Tias, R. F., Alim, S., & Purbaningtyas, R. (2019). Laporan Akhir Penelitian: Aplikasi Indonesia Satu: Digitasi Multikultural Indonesia Alternatif Media Penguatan Pendidikan Karakter Bangsa. Surabaya.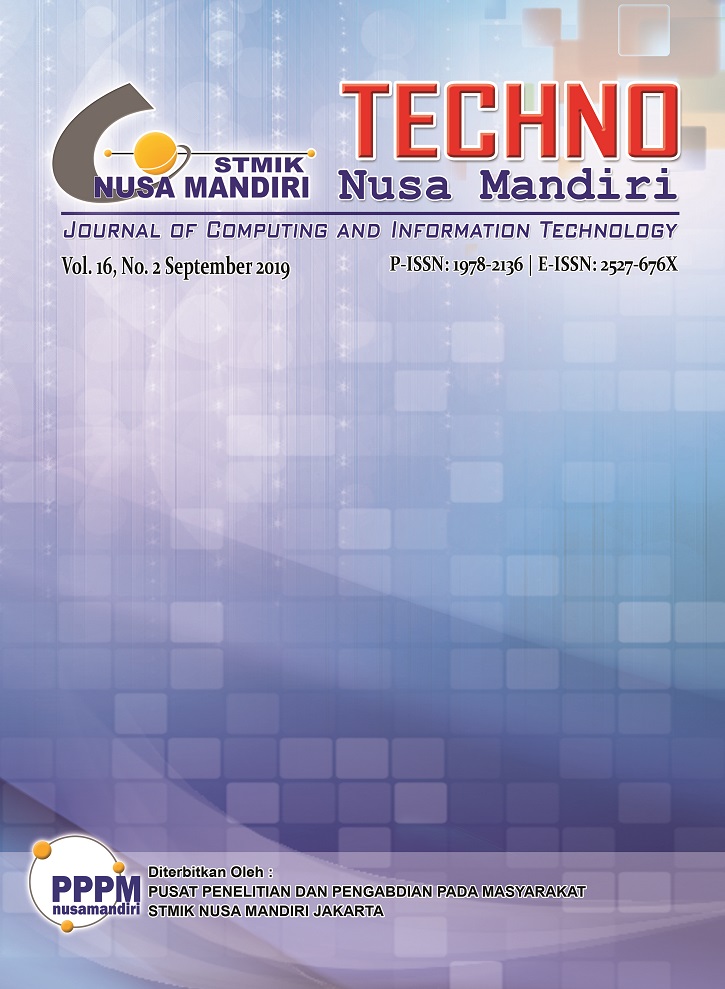 How to Cite
Tias, R., Alim, S., & Purbaningtyas, R. (2019). APPLICATION OF INDONESIA SATU: INDONESIAN MULTICULTURAL DIGITATION OF ALTERNATIVE MEDIA STRENGTHENING OF NATIONAL CHARACTER EDUCATION. Jurnal Techno Nusa Mandiri, 16(2), 113-120. https://doi.org/10.33480/techno.v16i2.738
Article Metrics

Abstract viewed = 127 times

PDF downloaded = 123 times