SISTEM REKOMENDASI PERTANIAN PADA ARSITEKTUR AGRIBUSINESS E-MARKETPLACE
Erna Piantari (1*)

Pendidikan Ilmu Komputer Universitas Pendidikan Indonesia

Herdi Ashaury (2)

Teknik Informatika Universitas Jenderal Achmad Yani

Enjun Junaeti (3)

Pendidikan Ilmu Komputer Universitas Pendidikan Indonesia


(*) Corresponding Author

Keywords:
E-Commerce, Agriculture, Recommendation System, Requirement Analyst
Abstract
Currently the development of information technology has driven the development of e-commerce which is quite promising in Indonesia. This development has brought an era of new digital-based creative developments. Agriculture as one of the economic and community welfare bases in Indonesia needs to be developed and supported with digital finance. Several agricultural markets have been established in Indonesia to help farmers to participate in digital economic activities. Some e-commerce systems that have been built in Indonesia only help the downstream process or the marketing process. While farmers need information that can help them for agricultural purposes. Machine learning technology uses data collected in the agricultural marketplace system to be used in building a social assessment system. Recommendations for agricultural activities are adjusted to the cost of agriculture, location of agriculture, pricing of agricultural commodities at the time of receipt and timing of agricultural activities. In this research an analysis and design of an agricultural e-commerce system will be provided to provide farmers to sell their agricultural products at competitive prices and help farmers to obtain information that can be used to plan further agricultural activities.
Downloads
Download data is not yet available.
References
Fanani Ardian. (2019). Harga Buah Naga di Banyuwangi Anjok, Ini Penyebabnya. Detik.Com. https://finance.detik.com/berita-ekonomi-bisnis/d-4394385/harga-buah-naga-di-banyuwangi-anjlok-ini-penyebabnya
Piantari, E., Ashaury, H., Enjun, & Nagalla, V. H. (2019). An Architecture of Market-Place Platform for Agribusiness In Indonesia. 2019 7th Mathematics, Science, and Computer Science Education International Seminar (MSCEIS).
Rastegari, H., & Md. Sap, M. (2008). Data mining and e-commerce : methods, applications, and challenges. Jurnal Teknologi Maklumat, 20(2), 116–128.
Savla, A., Israni, N., Dhawan, P., Mandholia, A., Bhadada, H., & Bhardwaj, S. (2015). Survey of classification algorithms for formulating yield prediction accuracy in precision agriculture. ICIIECS 2015 - 2015 IEEE International Conference on Innovations in Information, Embedded and Communication Systems, 1–7. https://doi.org/10.1109/ICIIECS.2015.7193120
Wang, C., & Tong, H. (2010). Research on psychological dimensions of e-commerce customer satisfaction. Proceedings of the International Conference on E-Business and E-Government, ICEE 2010, 2105–2108. https://doi.org/10.1109/ICEE.2010.532
Yu, H., Huang, X., Hu, X., & Wan, C. (2009). Knowledge management in e-commerce: A data mining perspective. 2009 International Conference on Management of E-Commerce and e-Government, ICMeCG 2009, 152–155. https://doi.org/10.1109/ICMeCG.2009.109
Zong, J., & Zhu, Q. (2012). Apply grey prediction in the agriculture production price. Proceedings - 2012 4th International Conference on Multimedia and Security, MINES 2012, 396–399. https://doi.org/10.1109/MINES.2012.78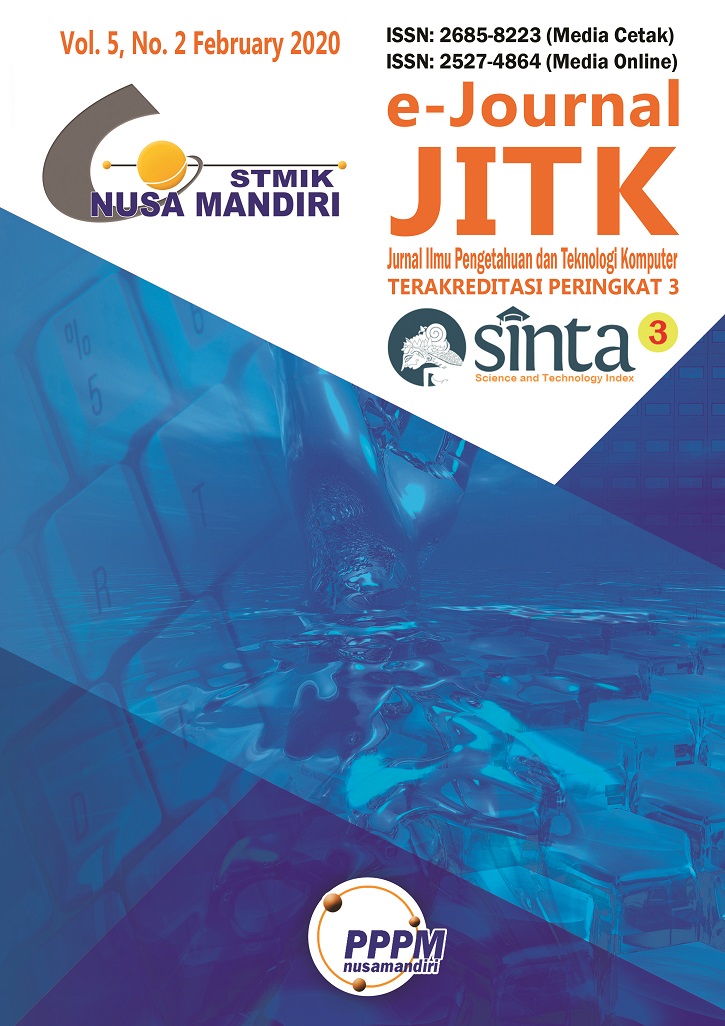 How to Cite
[1]
E. Piantari, H. Ashaury, and E. Junaeti, "SISTEM REKOMENDASI PERTANIAN PADA ARSITEKTUR AGRIBUSINESS E-MARKETPLACE", jitk, vol. 5, no. 2, pp. 245-250, Feb. 2020.
Article Metrics

Abstract viewed = 466 times

PDF downloaded = 463 times