PEMANFAATAN APLIKASI MOBILE BERBASIS IOS DALAM MENUNJANG USAHA WEDDING ORGANIZER
Nur Ani (1)

Ilmu Komputer Universitas Mercubuana

Muhammad Rizky Novaldi (2)

Ilmu Komputer Universitas Mercubuana

Muhamad Ega (3)

Ilmu Komputer Universitas Mercubuana

Tio Mafaza (4*)

Tio Mafaza


(*) Corresponding Author

Keywords:
Mobile Application, Pieces, Prototype Model, Wedding Organizer
Abstract
Everyone wants to make their wedding receptions a very special day and give a moment that will not be forgotten in his life, so that the preparation and planning are ripe in making a plan to Provide the required results. But such high activity and mobility are a constraint to prepare such an important event that it does not maximize what is planned. PT H2O Planner is one of the wedding organizer who currently wants to improve the quality of the service provided. By providing mobile-based applications as one of the media in offering the services provided. PlanYourDays is a mobile based application created based on the needs of PT H2O Planner, using the prototype development method in the creation of this application. So that the application is produced according to the needs and desires of PT H2O Planner and can answer the problems of activity and mobility One obstacle in preparing for a wedding.
Downloads
Download data is not yet available.
References
Ani, N., & Noprisson, H. (2018). Consumer-level Factors of Purchase Intention in Online Travel Booking Application Based on Product Perspective, 3(7), 205–212.
Ani, N., Novaldi, M. R., Ega, M., & Mafaza, T. (2019). Laporan Akhir Penelitian : PEMANFAATAN APLIKASI MOBILE SEBAGAI SOLUSI. Jakarta.
Apriyanti, N. A., Mubarak, A., Arief, A., Studi, P., Program, T., Teknik, S., … Selatan, K. T. (2017). PERANCANGAN APLIKASI WEDDING ORGANIZER BERBASIS ANDROID PADA LILIAN WEDDING GALERY, 01(2), 88–93.
Gata, W., & Wardhana, N. K. (2017). EVALUASI PERKULIAHAN MENGGUNAKAN METODE FRAMEWORK PIECES PADA UNIVERSITAS MERCUBUANA. JURNAL ILMU PENGETAHUAN DAN TEKNOLOGI KOMPUTER.
Google, Temasek, & Bain & Company. (2019). e-Conomy SEA 2019. Retrieved from https://www.thinkwithgoogle.com/intl/en-apac/tools-resources/research-studies/e-conomy-sea-2019-swipe-up-and-to-the-right-southeast-asias-100-billion-internet-economy/
Informasi, S., Margonda, J., & Kusnadi, Y. (2018). APLIKASI SISTEM INFORMASI PEMESANAN PAKET PERNIKAHAN BERBASIS WEB ( Studi Kasus : SANGGAR LARAS WEDDING BOGOR ). Jurnal Teknologi Informatika & Komputer, 4(2), 19–24.
Natsir, M. (2016). Pengembangan Prototype Sistem Kriptografi Untuk Enkripsi Dan Dekripsi Data Office Menggunakan Metode Blowfish Dengan Bahasa Pemrograman Java. Jurnal Sistem Informasi (JSI), 6(2), 87–105.
Putra, M. (2018). Implementasi Network Attached Storage ( NAS ) Menggunakan Synology Disk Station Manager ( DSM 5 . 2 ) Untuk Optimalisasi Data Sharing Center. Jurnal Teknik Komputer AMIK BSI (JTK), IV(2), 39–47. https://doi.org/10.31294/jtk.v4i2.3508
Rosi Subhiyakto, E., & Wahyu Utomo, D. (2017). Analisis Dan Perancangan Aplikasi Pemodelan Kebutuhan Perangkat Lunak Menggunakan Metode Prototyping. Seminar Nasional Multi Disiplin Ilmu & Call For Papers UNISBANK Ke-3(SENDI_U 3) 2017, (207), 57–62.
Setiawan, R. (2018). Perancangan Elektronik Marketplace Event Organizer, (1), 247–254.
Sofian, J., & Solihin, H. H. (2018). Pembangunan Aplikasi M-Wedding Sebagai Solusi Usaha Wedding Organizer. Jurnal Teknologi Dan Informasi, 8(2). https://doi.org/10.34010/jati.v8i2.1038
Suryn, W. (2014). Software Quality Engineering: A Practitioner's Approach. Software Quality Engineering: A Practitioner's Approach (Vol. 9781118592). https://doi.org/10.1002/9781118830208
Syahputra, A. K., & Kurniawan, E. (2018). Perancangan Aplikasi Pemesanan Dan Pembayaran Berbasis Desktop Pada Percetakan UD. Azka Gemilang Menggunakan Metode Prototype. Seminar Nasional Raya (SENAR), 9986(September), 105–110.
Taniah, A. W., & Harjunawati, S. (2017). Perancangan Sistem Informasi Transaksi Penyewaan Wedding Organizer Pada Cv.Denis Citra Mandiri Bekasi. Jurnal Ilmu Pengetahuan Dan Teknologi Komputer, 3(1), 59–64.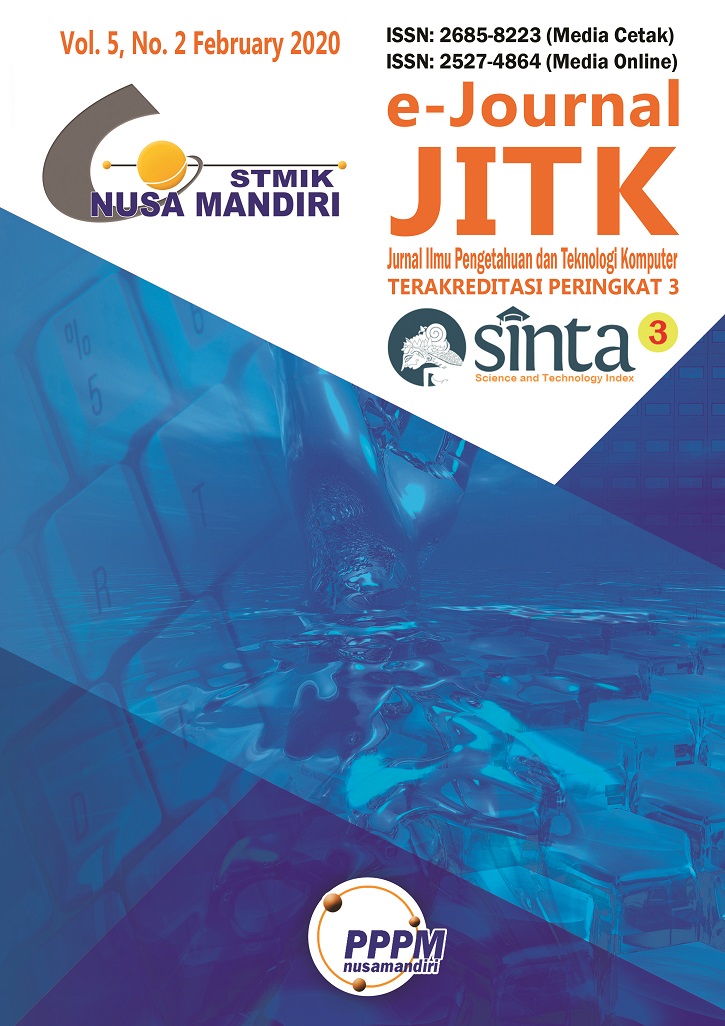 How to Cite
[1]
N. Ani, M. Novaldi, M. Ega, and T. Mafaza, "PEMANFAATAN APLIKASI MOBILE BERBASIS IOS DALAM MENUNJANG USAHA WEDDING ORGANIZER", jitk, vol. 5, no. 2, pp. 251-258, Feb. 2020.
Article Metrics

Abstract viewed = 296 times

PDF downloaded = 276 times