KAJIAN METODE METODE STEGANOGRAFI PADA DOMAIN SPASIAL
Gunawan Wibisono (1*)

Universitas Teknologi Yogyakarta

Tri Waluyo (2)

Universitas Teknologi Yogyakarta

Erik Iman Heri Ujianto (3)

Universitas Teknologi Yogyakarta


(*) Corresponding Author

Keywords:
LSB, PVD, Spatial, Steganography
Abstract
This paper contains a review of the spatial domain steganographic literature. The purpose of this paper is to provide knowledge about techniques or methods that exist in the spatial domain of steganography. Steganography is the science or technique for hiding secret messages in other messages so that the existence of the secret message cannot be accessed by others who do not have authority. There are several popular spatial domains of steganographic techniques, namely LSB (Least Significant Bit), which is mapping secret message bits in the rightmost bit (LSB) of each color pixel and PVD (Pixel Value Differencing) which in this method offers a larger message storage capacity , with better image quality compared to other methods in the spatial domain. Because privacy issues continue to develop along with various digital communication technologies, and increasingly strong security threats, steganography can play a role in society to maintain the confidentiality of both picture, voice and video messages. For this reason it is important for us to be aware of steganographic technology and its implications.
Downloads
Download data is not yet available.
References
Anti, U. A., Kridalaksana, A. H., & Khairina, D. M. (2017). Steganografi Pada Video Menggunakan Metode Least Significant Bit (LSB) Dan End Of File (EOF). Informatika Mulawarman : Jurnal Ilmiah Ilmu Komputer, 12(2), 104. https://doi.org/10.30872/jim.v12i2.658
Anwar, N. (2018). PERANCANGAN STEGANOGRAFI HIDDEN MESSAGE DENGAN METODE LEAST SIGNIFICANT BIT INSERTION (LSB) BERBASIS MATLAB. Jurnal Algoritma, Logika Dan Komputasi, 1(1). https://doi.org/10.30813/j-alu.v1i1.1107
Darmawan, & Bayu Atmaja, I. D. M. (n.d.). ANALISIS DAN PERBANDINGAN TEKNIK WATERMARKINGCITRA DIGITAL MENGGUNAKAN METODE BLOCK BASEDDCT DAN LSB.
David, Murtado, A., & Kasma, U. (2012). Steganografi Pada Citra Bmp 24-Bit Menggunakan Metode Least Significant Bit. Universitas Brawijaya, 2(1), 71–80.
Hazra, T. K., Haldar, M., Mukherjee, M., & Chakraborty, A. K. (2018). A Survey on Different Techniques for Covert Communication Using Steganography. 20(2), 42–52. https://doi.org/10.9790/0661-2002024252
Hussain, M., Wahab, A. W. A., Idris, Y. I. Bin, Ho, A. T. S., & Jung, K. H. (2018). Image steganography in spatial domain: A survey. Signal Processing: Image Communication, 65, 46–66. https://doi.org/10.1016/j.image.2018.03.012
Kaur, R. K. B. (2015). A Study and Review of Techniques of Spatial Steganography. International Journal of Science and Research (IJSR), 4(4), 3198–3203.
Masruri, N. H., Kusrini, K., & Sunyoto, A. (2019). Meningkatkan Keamanan Pesan Menggunakan Enkripsi Arnold Cat Map Dan Steganografi Pixel Value Differencing. Semnasinotek, 3(1), 113–118. Kediri: Universitas Nusantara PGRI Kediri.
Murdani. (2017). Perancangan Aplikasi Keamanan Data Teks Menggunakan Algoritma Merkle Hellman Knapsack. Jurnal Pelita Informatika, 16(3), 302–305.
Nichal, P. A., Jadhav, M. A., Pingale, M. K., Mohite, M. C., & Ponde, M. S. (2015). A Novel Steganography Scheme via the use of Alpha channel. IJIREEICE, 3(4), 18–21. https://doi.org/10.17148/ijireeice.2015.3404
Nurdin, A. P. N. (2017). Analisa Dan Implementasi Kriptografi Pada Pesan Rahasia Menggunakan Algoritma Cipher Transposition. Jesik, 3(Januari-Juni 2017 ISSN:2447-5290), 1–11.
Rahim, R. (2016). PENYISIPAN PESAN DENGAN ALGORITMA PIXEL VALUE DIFFERENCING DENGAN ALGORITMA CAESAR CIPHER PADA PROSES STEGANOGRAFI. TIMES, 5(1), 6–11.
Sharma, S., & Kumar, U. (2015). Review of Transform Domain Techniques for Image Steganography. International Journal of Science and Research (IJSR) ISSN (Online Index Copernicus Value Impact Factor, 4(5), 194–197.
Singh, J., Kaur, G., & Garcha, M. K. (2015). Review of Spatial and Frequency Domain Steganographic Approaches. International Journal of Engineering Research & Technology (IJERT), 4(06), 1122.
Singh, N. (2017). Survey Paper on Steganography. International Refereed Journal of Engineering and Science (IRJES), 6(1), 68–71.
Suhardi. (2016). Aplikasi Kriptografi Data Sederhana Dengan Metode Exlusive-or ( Xor ). Teknivasi, 03, 23–31.
Supriyadi, S. (2017). Community of Practitioners: Solusi Alternatif Berbagi Pengetahuan antar Pustakawan. Lentera Pustaka: Jurnal Kajian Ilmu Perpustakaan, Informasi Dan Kearsipan, 2(2), 83. https://doi.org/10.14710/lenpust.v2i2.13476
Syahril, M., & Jaya, H. (2019). Aplikasi Steganografi Pengamanan Data Nasabah di Standard Chartered Bank Menggunakan Metode Least Significant Bit dan RC4. Seminar Nasional Sains & Teknologi Informasi (SENSASI), 505–509.
Syawal, M. F., Fikriansyah, D. C., & Agani, N. (2016). Implementasi Teknik Steganografi Menggunakan Algoritma Vigenere Cipher Dan Metode LSB. Jurnal TICOM, 4(3), 91–99.
T, A. M., & Purwoko, B. (2017). Studi Kepustakaan Mengenai Landasan Teori Dan Praktik Konseling Expressive Writing. Jurnal BK Unesa, 8(1), 1–8.
Yatini, I., & Nurwiyati, F. W. (2015). Algoritma Least Significant Bit Untuk Analisis Steganografi. Seminar Nasional Informatika.
Zainal, J., Pagar, A., & Bandarlampung, N. K. (2016). Implementasi Teknik Steganografi Least Significant Bit ( Lsb ) Dan Kompresi Untuk Pengamanan Data Pengiriman Surat Elektronik. 10(2), 1–7.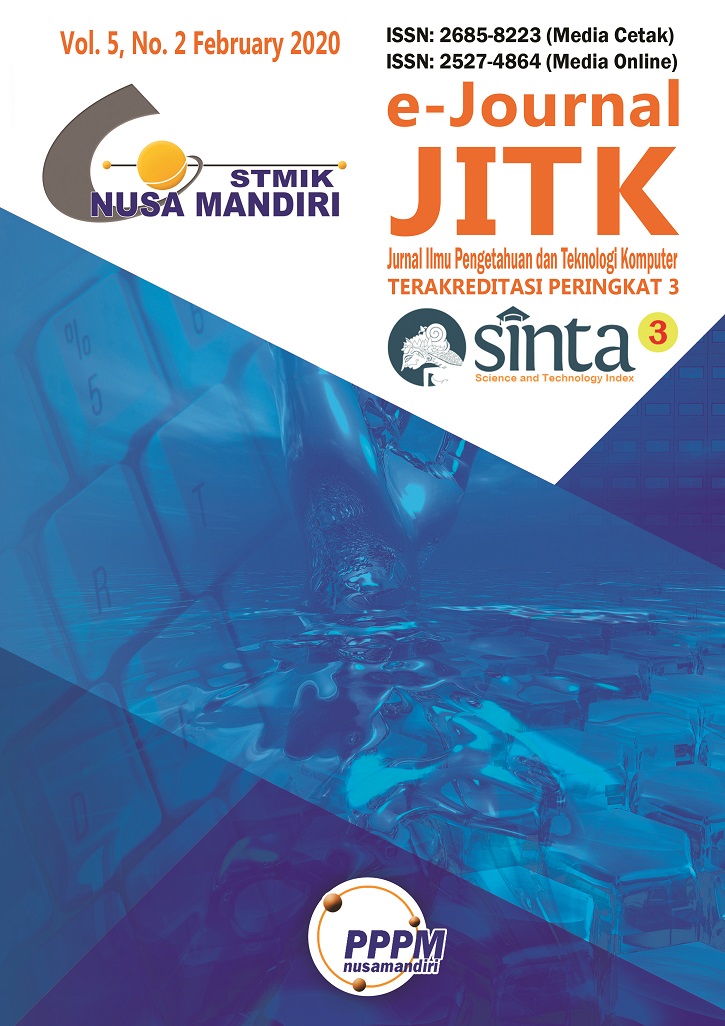 How to Cite
[1]
G. Wibisono, T. Waluyo, and E. Ujianto, "KAJIAN METODE METODE STEGANOGRAFI PADA DOMAIN SPASIAL", jitk, vol. 5, no. 2, pp. 259-264, Feb. 2020.
Article Metrics

Abstract viewed = 327 times

PDF downloaded = 182 times