IMPLEMENTATION OF ELECTRE ALGORITHM IN DECISION SUPPORT SYSTEM FOR SELECTING EXEMPLARY STUDENT
Eka Pandu Cynthia (1*)

UIN Sultan Syarif Kasim Riau

Edi Ismanto (2)

Universitas Muhammadiyah Riau


(*) Corresponding Author

Keywords:
Algoritma ELECTRE, Exemplary Student, Decision Support System
Abstract
One of the activities undertaken by the school to reward students for increasing motivation and enthusiasm for learning is the process of selecting exemplary students. Based on the observation of one of the junior high schools in Pekanbaru, the problem of difficulty in selecting the model students was obtained. This is because there are so many aspects and components of assessment that must be considered and taken into account by the school, both in terms of academic and non-academic students. Decision support system (SPK) plays an important role in supporting a decision, this research makes a model design in the form of a decision support system by applying the ELECTRE (Elimination Et Choix Traduisant La Relite) algorithm. The ELECTRE method is one of the Multi-Attribute Decision Making (MADM) methods that can provide decision recommendations based on the complexity of the attributes or criteria used in a decision support system. In this study, there are 8 components of the criteria used in the process of selecting exemplary students, namely the average report card, ranking, absenteeism, morals, achievements, organization, attitudes, and points of the violation. Based on the test results of the model built, it was found that the ELECTRE algorithm was able to select and rank 6 alternative model students based on assessment components and predetermined criteria. With the results of student A obtaining the highest aggregate value (2), followed by students B, C, D, E, and F with aggregate value 1 and finally student G with aggregate value 0. So student A can be proposed as a model student
Downloads
Download data is not yet available.
References
D. Setiyawan, "Sistem Pendukung Keputusan Penentuan Siswa Teladang Di SMA Negeri 7 Semarang Menggunakan Metode Fuzzy AHP," Universitas Dian Nuswantoro Semarang, 2014.
S. Pojoh, O. A. Lantang, and P. D. K. Manembu, "Sistem Pendukung Keputusan untuk Menentukan Siswa Berprestasi yang Layak Menjadi Siswa Teladan," J. Tek. Inform., vol. 8, no. 1, 2016, doi: 10.35793/jti.8.1.2016.12823.
K. C. Pradewa, "Sistem Pendukung Keputusan Pemberian Predikat Siswa Teladang Dengan Metode TOPSIS Berbasis Web," Universitas Nusantara PGRI Kediri, 2016.
R. Adawiyah, "Sistem Pendukung Keputusan Penentuan Siswa Teladan Dengan Menggunakan Metode TOPSIS," in Seminar Nasional Informatika, 2015, pp. 603–607.
D. Prabawati, "Pembangunan Sistem Pemilihan Siswa Berprestasi Menggunakan Multiattribute Decision Making Dengan Metode Penyelesaian Weighted Product (Studi Kasus : LPIA Surapati Core Bandung)," Universitas Pendidikan Indonesia, 2012.
E. Fitriatun, "Prototipe Sistem Pendukung Keputusan Pemilihan Siswa Siswi Teladan Di Tingkat Sekolah Menengah Atas dengan metode SAW (Simple Additive Weighting)," Universitas Muhammadiyah Ponorogo, 2016.
E. Kurniadi, "Sistem Informasi Penentuan Siswa Berprestasi Dengan Metode Simple Additive Weighting (SAW)," J. Inf. Syst., vol. 1, no. 2, pp. 1–7, 2016, doi: 10.1017/CBO9781107415324.004.
A. J. Ternando, R. Efendi, and E. P. Purwandari, "Sistem Pendukung Keputusan Dalam Pemilihan Penginapan di Kota Bengkulu Menggunakan Metode Simple Additive Weighting (SAW)," J. Rekursif, vol. 6, no. 1, pp. 24–35, 2018, [Online]. Available: https://ejournal.unib.ac.id/index.php/rekursif/article/view/4360.
B. Sinaga and H. M. Zebua, "Sistem Pendukung Keputusan Siswa Berprestasi Menggunakan Metode Analytic Hiearchy Process (AHP) Pada SMK Singosari Delitua," J. Mantik Penusa, vol. 16, no. 2, pp. 1–11, 2014, doi: 10.1183/09031936.00190208.
S. Budiono, "Sistem Pendukung Keputusan Pemilihan Siswa Terbaik Menggunakan Metode WP (Studi Kasus di SMP Ma'arif NU Benjeng)," Universitas Muhammadiyah Gresik, 2019.
Supriatin, "Penerapan algoritma electre dalam menentukan lokasi shetler trans jogja," TEKNOMATIKA, vol. 9, no. 2, pp. 39–47, 2017, [Online]. Available: http://teknomatika.stmikayani.ac.id/wp-content/uploads/2017/07/4.-PENERAPAN-ALGORITMA-ELECTRE-DALAM-MENENTUKAN-LOKASI-SHETLER-TRANS-JOGJA-SUPRIATIN.pdf.
A. P. Windarto and W. P. Mustika, "Penerapan Algoritma ELECTRE pada Pemilihan Cream Pelembab Berdasarkan Konsumen," J. Media Inform. Budidarma, vol. 4, no. 1, p. 229, 2020, doi: 10.30865/mib.v4i1.1966.
Y. B. C. B. Irawan, "Sistem Pendukung Pengambilan Keputusan Pemilihan Faskes BPJS Tingkat I Menggunakan Metide ELECTRE," Universitas Sanata Dharma, 2017.
F. Setiawan, F. Indriani, and Muliadi, "Implementasi Metode Electre Pada Sistem Pendukung Keputusan SNMPTN Jalur Undangan," Kumpul. J. Ilmu Komput., vol. 02, no. 02, pp. 88–101, 2015, [Online]. Available: http://klik.ulm.ac.id/index.php/klik/article/download/29/27.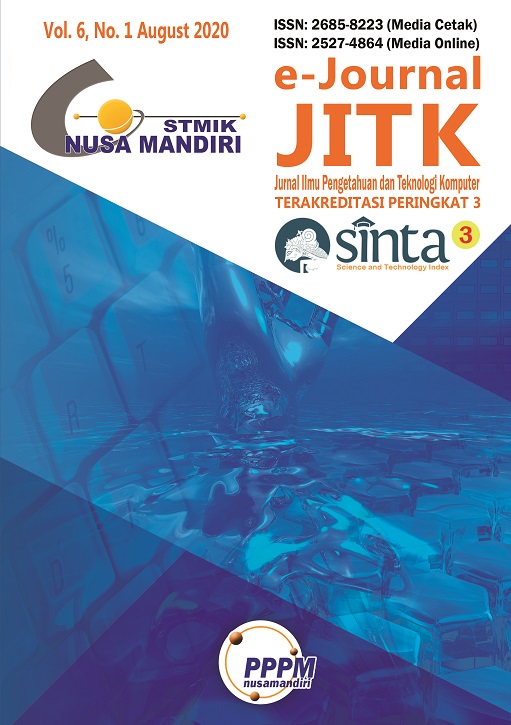 How to Cite
[1]
E. Cynthia and E. Ismanto, "IMPLEMENTATION OF ELECTRE ALGORITHM IN DECISION SUPPORT SYSTEM FOR SELECTING EXEMPLARY STUDENT", jitk, vol. 6, no. 1, pp. 47-54, Aug. 2020.
Article Metrics

Abstract viewed = 177 times

PDF downloaded = 130 times