MOBILE WEB APPLICATION PURWOKERTO TRADITIONAL FOOD GAME CLASIFICATION USING MOBILENET V2
Novian Adi Prasetyo (1*)

Institut Teknologi Telkom Purwokerto


(*) Corresponding Author

Keywords:
web mobile, computer vision, traditional food
Abstract
Indonesia is a large country where there are thousands of aspects of culture, language and tourism. All of these aspects are an identity for the Indonesian state and each region within it. Culinary is one aspect that is included in the field of tourism. In Indonesia, each region has a special food that is an icon of the area. With so many foods from foreign countries entering Indonesia, this is feared will make the younger generation lose their identity about the regional heritage in special foods. Current technological developments have become excellent in various fields to solve the challenges that exist in the surrounding environment, it does not rule out the possibility that technology can be used to preserve the special foods that exist in each region. Based on the problems outlined above, this research will build a mobile web-based application for the introduction of local specialties through imagery and implement computer vision to mobile devices with CNN MobileNet V2 architecture. In this study a mobile web application was produced that was able to recognize Purwokerto's special foods that could be run well on various devices and operating systems.
Downloads
Download data is not yet available.
References
N. Sari, "Pengembangan Ekonomi Kreatif Bidang Kuliner Khas Daerah Jambi," J. Sains Sosio Hum., vol. 2, pp. 51–60, 2018.
N. D. Pratama, Y. A. Sari, and P. P. Adikara, "Analisis Sentimen Pada Review Konsumen Menggunakan Metode Naive Bayes Dengan Seleksi Fitur Chi Square Untuk Rekomendasi Lokasi Makanan Tradisional," J. Pengemb. Teknol. Inf. dan Ilmu Komput. Univ. Brawijaya, vol. 2, no. 9, pp. 2982–2988, 2018.
A. Tamara and A. Suyanto, "Analisis Faktor-Faktor Yang Membentuk Perubahan Minat Konsumen Dari Makanan Tradisional Menjadi Makanan Korea Di Indonesia," Almana J. Manaj. dan Bisnis, vol. 3, 2019.
N. S. Lestari and Christina, "Doclang, Makanan Tradisional Yang Mulai Tersisihkan Nurul," Khasanah Ilmu J. Pariwisata dan Budaya, vol. 9, no. 1, 2018.
K. A. Putri, "Peningkatan Minat Terhadap Makanan Tradisional Melalui Modifikasi Topping Kue Lupis Bakar Kekinian." 2019.
A. Michele, V. Colin, and D. D. Santika, "MobileNet Convolutional Neural Networks and Support Vector Machines for Palmprint Recognition," Procedia Comput. Sci., vol. 157, pp. 110–117, 2019.
G. Ciocca, P. Napoletano, and R. Schettini, "CNN-based features for retrieval and classification of food images," Comput. Vis. Image Underst., vol. 176–177, no. February, pp. 70–77, 2018.
I. Anwar and N. U. Islam, "Learned features are better for ethnicity classification," Cybern. Inf. Technol., vol. 17, no. 3, pp. 152–164, 2017.
S. W. Cho, N. R. Baek, M. C. Kim, J. H. Koo, J. H. Kim, and K. R. Park, "Face detection in nighttime images using visible-light camera sensors with two-step faster region-based convolutional neural network," Sensors (Switzerland), vol. 18, no. 9, 2018.
T. Liu and T. Stathaki, "Faster R-CNn for robust pedestrian detection using semantic segmentation network," Front. Neurorobot., vol. 12, no. October, pp. 1–10, 2018.
X. Cao et al., "Region based CNN for foreign object debris detection on airfield pavement," Sensors (Switzerland), vol. 18, no. 3, pp. 1–14, 2018.
M. Rahnemoonfar and C. Sheppard, "Deep count: Fruit counting based on deep simulated learning," Sensors (Switzerland), vol. 17, no. 4, pp. 1–12, 2017.
G. Liu, S. Mao, and J. H. Kim, "A Mature-Tomato Detection Algorithm Using Machine Learning and Color Analysis," Sensors, vol. 19, no. 9, p. 2023, 2019.
N. Sofia, "CONVOLUTIONAL NEURAL NETWORK," 2018. [Online]. Available: https://medium.com/@nadhifasofia/1-convolutional-neural-network-convolutional-neural-network-merupakan-salah-satu-metode-machine-28189e17335b. [Accessed: 09-Jul-2020].
Y. I. Chandra, "PERANCANGAN APLIKASI RESEP MAKANAN TRADISIONAL INDONESIA MENGGUNAKAN PENDEKATAN AGILE PROCESS DENGAN MODEL EXTREME PROGRAMMING BERBASIS ANDROID," Proceeding Semin. Nas. APTIKOM 2016, pp. 28–29, 2016.
F. Indriani and I. Budiman, "K-MODES CLUSTERING UNTUK MENGETAHUI JENIS MASAKAN DAERAH YANG POPULER PADA WEBSITE RESEP ONLINE ( STUDI KASUS : MASAKAN BANJAR DI COOKPAD.COM)," J. Teknol. Inf. dan Ilmu Komput., vol. 4, no. 4, pp. 290–296, 2017.
T. Listyorini and R. Meimaharani, "APLIKASI WISATA KULINER KOTA KUDUS BERBASIS ANDROID," Semin. Nas. Teknol. Inf. 2017, pp. 1–7, 2017.
M. Sandler, A. Howard, M. Zhu, A. Zhmoginov, and L. C. Chen, "MobileNetV2: Inverted Residuals and Linear Bottlenecks," Proc. IEEE Comput. Soc. Conf. Comput. Vis. Pattern Recognit., pp. 4510–4520, 2018.
Y. He, Z. Pan, L. Li, Y. Shan, D. Cao, and L. Chen, "Real-Time Vehicle Detection from Short-range Aerial Image with Compressed MobileNet," 2019 Int. Conf. Robot. Autom., pp. 8339–8345, 2019.
T. Mudumbi, N. Bian, Y. Zhang, and F. Hazoume, "An Approach Combined the Faster RCNN and Mobilenet for Logo Detection," J. Phys. Conf. Ser., 2019.
N. A. Prasetyo and S. Suyoto, "Design Mobile App for Increase the Visitor Museum using Gamification Method," TELKOMNIKA, vol. 16, no. 6, pp. 2791–2798, 2018.
A. G. Howard et al., "MobileNets: Efficient Convolutional Neural Networks for Mobile Vision Applications," arXiv 2017, 2017.
R. A. Zulfikar and A. A. Supianto, "RANCANG BANGUN APLIKASI ANTRIAN POLIKLINIK BERBASIS MOBILE," J. Teknol. Inf. dan Ilmu Komput., vol. 5, no. 3, pp. 361–370, 2018.
R. R. Sani and D. Kurniawan, "Rancang Bangun Sistem Try Out Berbasis Paperless untuk Evaluasi Hasil Belajar Siswa dengan MVC," J. Teknol. Inf. danIlmu Komput., vol. 6, no. 3, 2019.
C. Kartiko, "Evaluasi Kualitas Aplikasi Web Pemantau Menggunakan Model Pengujian Perangkat Lunak ISO / IEC 9126," J. Nas. Tek. Elektro dan Teknol. Inf., vol. 8, no. 1, pp. 16–23, 2019.
S. A. T. Bawono, M. A. Safi'ie, A. Purbayu, A. Purnomo, and T. Nawastu, "PENGEMBANGAN EVSHER ( EVENT PUBLISHER ) BERBASIS ANDROID," SIMETRIS J. Tek. MESIN, ELEKTRO DAN ILMU Komput., vol. 10, no. 1, pp. 57–64, 2019.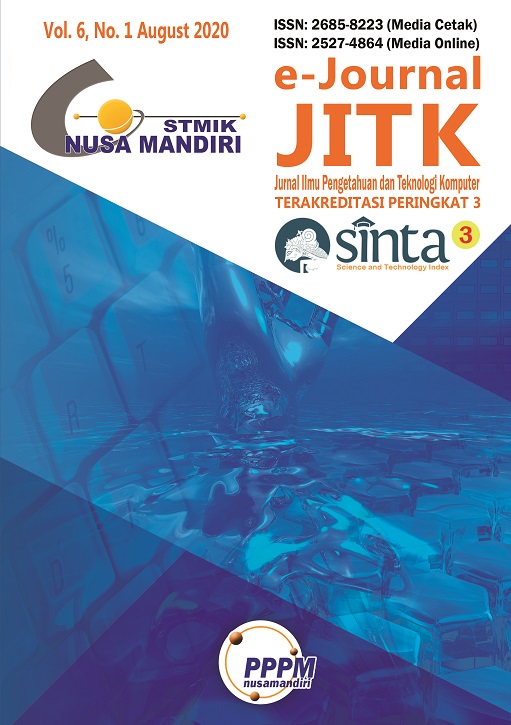 How to Cite
[1]
N. Prasetyo, "MOBILE WEB APPLICATION PURWOKERTO TRADITIONAL FOOD GAME CLASIFICATION USING MOBILENET V2", jitk, vol. 6, no. 1, pp. 33-40, Aug. 2020.
Article Metrics

Abstract viewed = 142 times

PDF downloaded = 138 times