PROTOTYPE OF MOBILE EDUCATION TECHNOLOGY WITH MULTIMEDIA FOR AUTISTS CARE PROGRAM
Ridha Sefina Samosir (1*)

Institut Teknologi dan Bisnis Kalbis

Erwin Syahrani (2)

Institut Teknologi dan Bisnis Kalbis

Ester Lumba (3)

Institut Teknologi dan Bisnis Kalbis

Dyah Kusumawati (4)

Institut Teknologi dan Bisnis Kalbis


(*) Corresponding Author

Keywords:
autisme multimedia, mobile, education, autism, prototyping
Abstract
Autism is a neurobiological development disorder in children. This disorder causes difficulties for children to communicate and establish relationships with the environment. The impact, they cannot properly interact with other people or their surroundings, because of their inability to understand what other people mean. Parents or families who have family members with autism need the convenience and wide openness of information regarding education paths, pathways of care and treatment, lines of work, pathways of therapy, and other path information. Includes information about autism such as symptoms, characteristics of autism, and how to deal with tantrums. All information needed by all these parties should be easily accessible. This study proposes an educational technology that contains information needed by patients and their families. This educational technology is mobile-based and equipped with multimedia features so that educational materials are easier to understand.  The method used for system development is prototyping. The output of this research is a prototype design of mobile-based educational technology with additional multimedia features.
Downloads
Download data is not yet available.
References
K. Mulyadi and R. Sutadil, Autismem is Curable, Benar Autisme dapat Disembuhkan, Revisi. Jakarta: PT.Elex Media Komputindo, 2016.
H. Fahri and K. Samsudin, "Mobile Learning Environment System (MLES): The Case of Android-based Learning Application on Undergraduates' Learning," Int. J. Adv. Comput. Sci. Appl., vol. 3, no. 3, pp. 1–5, 2012, DOI: 10.14569/ijacsa.2012.030311.
R. E. Mayer, "Using multimedia for e-learning," J. Comput. Assist. Learn., vol. 33, no. 5, pp. 403–423, 2017, DOI: 10.1111/jcal.12197.
I. K. B. Ardana, L. G. S. Kartika, and I. B. Suradarma, "RANCANG BANGUN APLIKASI MEDIA PEMBELAJARAN PERKAWINAN AGAMA HINDU DALAM MANAWA DHARMASASTRA BERBASIS WINDOWS PHONE," JOSIKOM J. Online Sist. Komput., vol. 1, no. 1, pp. 1–6, 2015.
M. Ali, "Pengembangan Media Pembelajaran Interaktif Mata Kuliah Medan Elektromagnetik," J. Edukasi@Elektro, vol. 5, no. 1, pp. 11–18, 2009.
H. Sutopo and R. W. Pamungkas, "Developing Mathematics Mobile Game to Enhance Learning for Children," in IEEE International Conference on Computational Science and Engineering, 2017, pp. 191–197, DOI: https://doi.org/10.1109/CSE-EUC.2017.41.
S. Amami Pramuditya, M. S. Noto, and D. Syaefullah, "Game Edukasi Rpg Matematika," Eduma Math. Educ. Learn. Teach., vol. 6, no. 1, p. 77, 2017, DOI: 10.24235/eduma.v6i1.1701.
R. Kurniawan, R. Rakhmawati, I. Muhimmah, and D. P. E. Jalaputra, "Desain Kerangka Kerja Permainan Digital Sebagai Media Terapi Kemampuan Sosial Anak Autis," J. Nas. Tek. Elektro dan Teknol. Inf., vol. 8, no. 3, p. 225, 2019, doi: 10.22146/jnteti.v8i3.517.
S. Anwar, F. E. Schadaw, and Althafani, "Perancangan Animasi Interaktif Pengenalan Bahasa Sunda Untuk Anak-Anak Metode ADDIE," J. Ilmu Pengetah. Dan Teknol. Komput., vol. 3, no. 2, pp. 195–202, 2018, [Online]. Available: http://ejournal.nusamandiri.ac.id/ejurnal/index.php/jitk/article/view/644/404.
S. Sabharwal, P. Kaur, and R. Sibal, "Empirical and Theoretical Validation of a Use Case Diagram Complexity Metric," Int. J. Inf. Technol. Comput. Sci., vol. 9, no. 11, pp. 35–47, 2017, DOI: 10.5815/ijitcs.2017.11.04.
M. A. Assaf, Y. Badr, H. El Khoury, and K. Barbar, "Generating Database Schemas from Business Artifact Models," Int. J. Inf. Technol. Comput. Sci., vol. 10, no. 2, pp. 10–17, 2018, DOI: 10.5815/ijitcs.2018.02.02.
L. Kurniawati, A. Safitri, and D. D. Akbar, "User Centere Design (Ucd) Untuk Rancang Bangun Sistem Informasi Pengolahan Data Simpan Pinjam Pada Koperasi," J. Ilmu Pengetah. dan Teknol. Komput., vol. 4, no. 1, pp. 1–8, 2018, [Online]. Available: http://ejournal.nusamandiri.ac.id/ejurnal/index.php/jitk/article/view/839/491.
M. Warna, H. Dan, B. Pada, and A. Usia, "Mengenal warna, angka, huruf dan bentuk pada anak usia dini melalui animasi interaktif," J. Ilmu Pengetah. dan Teknol. Komput., vol. 3, no. 2, pp. 203–210, 2018.
K. R. Purba, Liliana, and Y. N. P. Kwarrie, "Development of interactive learning media for simulating human blood circulatory system," Proc. - 2017 Int. Conf. Soft Comput. Intell. Syst. Inf. Technol. Build. Intell. Through IOT Big Data, ICSIIT 2017, vol. 2018-Janua, pp. 275–278, 2017, doi: 10.1109/ICSIIT.2017.68.
C. Ordonez and L. Bellatreche, "Enhancing ER diagrams to view data transformations computed with queries," CEUR Workshop Proc., vol. 2324, 2019.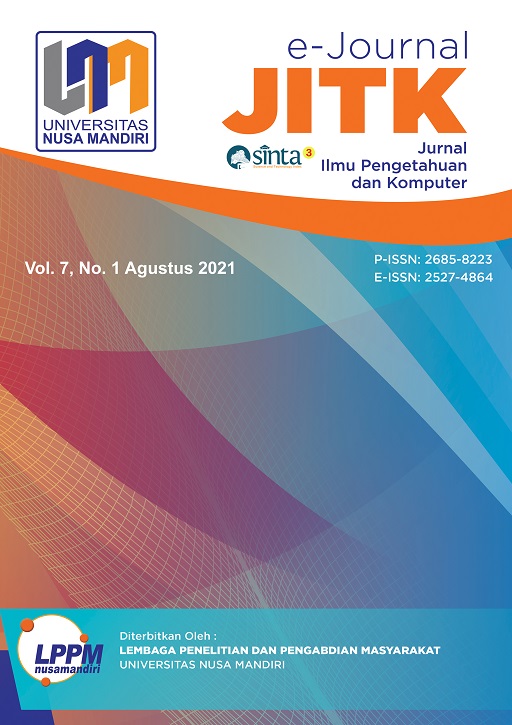 How to Cite
[1]
R. Samosir, E. Syahrani, E. Lumba, and D. Kusumawati, "PROTOTYPE OF MOBILE EDUCATION TECHNOLOGY WITH MULTIMEDIA FOR AUTISTS CARE PROGRAM", jitk, vol. 7, no. 1, pp. 15-22, Aug. 2021.
Article Metrics

Abstract viewed = 120 times

PDF downloaded = 64 times
Copyright (c) 2021 Ridha Sefina Samosir, Erwin Syahrani, Ester Lumb, Dyah Kusumawati
This work is licensed under a Creative Commons Attribution-NonCommercial 4.0 International License.