APRIORI ALGORITHM IMPLEMENTATION TO DETERMINE PURCHASE PATTERNS OF RAW MATERIALS AT PT PENJALINDO NUSANTARA
Dedi Rozaq Prastyo (1)

Universitas Mercu Buana

Sri Dianing Asri (2*)

Universitas Mercu Buana


(*) Corresponding Author

Keywords:
data mining, apriori algorithm, raw materials, Web-Based
Abstract
PT. Penjalindo Nusantara is a manufacturing company in the packaging field where production depends on customer demand or what is commonly known as job orders so that timely production work and availability of sufficient materials are mandatory for the company. There was a problem in the implementation of the raw material supply strategy by PT. Penjalindo Nusantara caused delays in the supply of raw material stocks. The solution to this problem is to apply the Apriori algorithm to find out what raw materials are being purchased simultaneously so that it can be the basis for implementing a purchasing strategy in supporting the effectiveness of procurement of raw material stocks and also saving time in sending raw materials by suppliers. This research uses a Web-based data mining application to find the raw material purchase pattern. The result of this research is obtained 11 patterns of purchasing raw materials using a minimum value of 90% support and a minimum of 100% confidence with a lift ratio of 1 as a reference for determining which raw materials will be purchased at the same time.
Downloads
Download data is not yet available.
References
K. Hidayat, J. Efendi, and R. Faridz, "Analisis Pengendalian Persediaan Bahan Baku Kerupuk Mentah Potato Dan Kentang Keriting Menggunakan Metode Economic Order Quantity (EOQ)," Performa Media Ilm. Tek. Ind., vol. 18, no. 2, pp. 125–134, 2020.
N. Wahyu and E. P. Ningrum, "Penerapan Pengendalian Internal Melalui Pengelolaan Persediaan Bahan Baku (Studi Kasus Pada CV. Cipta Gemilang Karya Mandiri)," CAKRAWALA, vol. 1, no. 1, 2018.
F. Sulaiman and Nanda, "PENGENDALIAN PERSEDIAAN BAHAN BAKU DENGAN MENGGUNAKAN METODE EOQ PADA UD. ADI MABEL," TEKNOVASI, vol. 2, no. 1, pp. 1–11, 2015.
T. Pujadi, "Model Pemesanan Bahan Baku menggunakan Peramalan Time Series dengan CB Predictor," ComTech Comput. Math. Eng. Appl., vol. 5, no. 2, pp. 954–962, 2014.
N. Apriyani and A. Muhsin, "Analisis Pengendalian Persediaan Bahan Baku Dengan Metode Economic Order Quantity Dan Kanban Pada Pt Adyawinsa Stamping Industries," Opsi, vol. 10, no. 2, p. 128, 2017.
P. B. I. S. Putra, N. P. S. M. Suryani, and S. Aryani, "Analysis of Apriori Algorithm on Sales Transactions to Arrange Placement of Goods on Minimarket," IJEET Int. J. Eng. Emerg. Technol., vol. 3, no. 1, pp. 13–17, 2018.
Munarwan, A. Sinaga, and U. Nugraha, "Implementation of Apriori Algorithm for Determining Purchase Patterns in One Transaction," Int. J. Eng. Technol., vol. 7, no. 4.33, pp. 204–207, 2018.
D. S. Wijaya and D. Fitrianah, "Data Mining Analysis with Association Rules Method to Determine the Result of Fish Catch using FP-Growth Algorithm," Int. J. Comput. Appl., vol. 181, pp. 7–15, 2018.
Y. Nawawi and I. Suharjo, "Implementasi Data Mining Menentukan Rekomendasi Penempatan Buku Berdasarkan Pola Peminjaman Dengan Menggunakan Association Rule," J. Multimed. Artif. Intell., vol. 4, no. 1, 2020.
A. Junaidi, "Implementasi Algoritma Apriori dan FP-Growth Untuk Menentukan Persediaan Barang," J. SISFOKOM, vol. 8, no. 1, 2019.
D. A. O. Turang and S. R. Astari, "SISTEM MANAJEMEN INVENTORY MENGGUNAKAN ALGORITMA DIFFERENTIAL EVOLUTION," Semin. Nas. Inform. 2018 (semnasIF 2018), 2018.
P. H. Simbolon, "Implementasi Data Mining Pada Sistem Persediaan Barang Menggunakan Algoritma Apriori ( Studi Kasus : Srikandi Cash Credit Elektronic dan Furniture )," J. Ris. Komput., vol. 6, no. 4, pp. 401–406, 2019.
G. A. Syaripudin and E. Faizal, "Implementasi Algoritma Apriori Dalam Menentukan Persediaan Obat," JIKO (Jurnal Inform. dan Komputer), vol. 2, no. 1, 2017.
S. Wahyuni, Suherman, and L. P. Harahap, "Implementasi Data Mining dalam Memprediksi Stok Barang Menggunakan Algoritma Apriori," J. Tek. DAN Inform., vol. 5, no. ISSN 2089-5490, 2018.
F. Kurniawan, B. Umayah, J. Hammad, S. M. S. Nugroho, and M. Hariadi, "Market Basket Analysis to Identify Customer Behaviors by Way of Transaction Data," Knowl. Eng. Data Sci., vol. 1, no. 1, pp. 20–25, 2018.
M. T. Permatasari and H. D. Purnomo, "Penerapan Algoritma Apriori Untuk Mengetahui Pola Penempatan Buku dan Rekomendasi Persediaan Buku di Perpustakaan Daerah Kota Salatiga," 2019.
R. Wahyuning, A. M. Kom, L. S. M. Kom, H. Wijaya, and T. Informatika, "Penerapan Association Rule Pada Data Persediaan Bahan Baku Di Pro Ab Chicken Jambi," Fortech, vol. 1, no. 1, pp. 43–48, 2017.
L. Kurniawati, A. E. Kusuma, and B. Dewansyah, "Implementasi Algoritma Apriori Untuk Menentukan Persediaan Spare Part Compressor," Comput. Eng. Sci. Syst. J., vol. 4, no. 1, p. 6, 2019.
D. R. Prastyo, "Implementasi Algoritma Apriori Untuk Menentukan Pola Pembelian Bahan Baku di PT Penjalindo Nusantara," Jakarta, 2020.
S. Anggraeni, M. A. Iha, W. Erawati, and S. Khairunnas, "Analysis of Sales by Using Apriori and FP-Growth at PT. Panca Putra Solusindo," Ris. dan E-Jurnal Manaj. Inform. Komput., vol. 3, no. 2, pp. 41–46, Mar. 2019.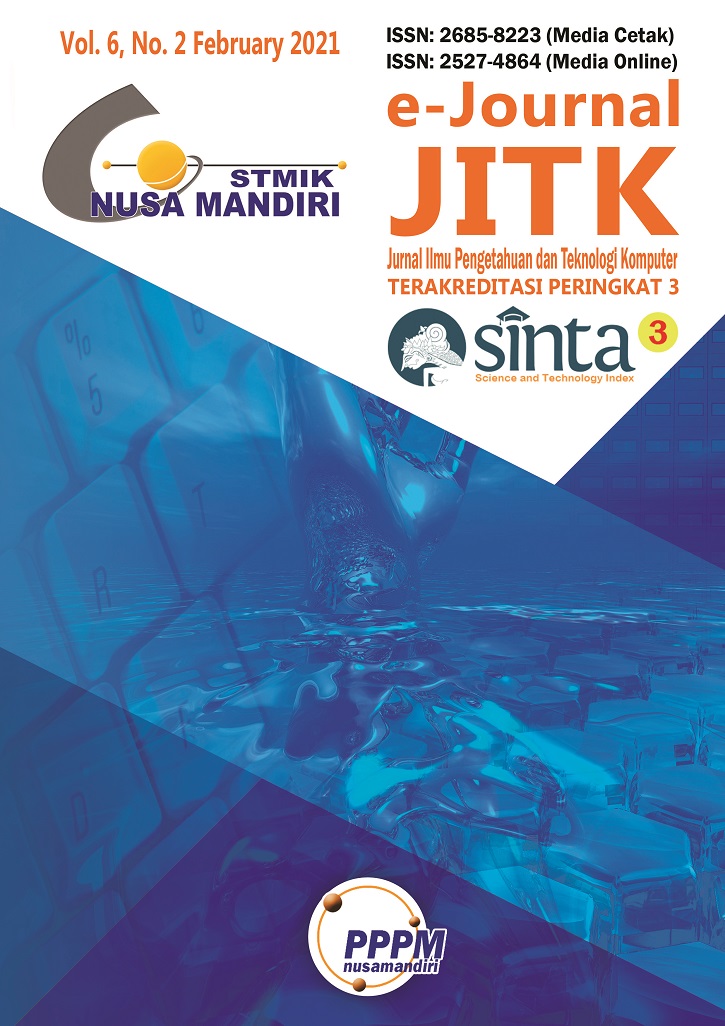 How to Cite
[1]
D. Prastyo and S. Asri, "APRIORI ALGORITHM IMPLEMENTATION TO DETERMINE PURCHASE PATTERNS OF RAW MATERIALS AT PT PENJALINDO NUSANTARA", jitk, vol. 6, no. 2, pp. 151-158, Feb. 2021.
Article Metrics

Abstract viewed = 192 times

PDF downloaded = 103 times
Copyright (c) 2021 Dedi Rozaq Prastyo, Sri Dianing Asri
This work is licensed under a Creative Commons Attribution-NonCommercial 4.0 International License.