PERANCANGAN N-CLUSTERING HIGH AVAILABILITY WEB SERVER DENGAN LOAD BALANCING DAN FAILOVER
Sumarna Sumarna (1*)

Sistem Informasi STMIK Nusa Mandiri

Hafis Nurdin (2)

Sistem Informasi STMIK Nusa Mandiri

Felix Wuryo Handono (3)

Sistem Informasi Universitas Bina Sarana Informatika


(*) Corresponding Author

Keywords:
Clustering, High Availability, Web Server
Abstract
Web merupakan media yang dijadikan sarana dalam penyampaian suatu informasi maupun dijadikan sebagai media uji kompentensi di berbagai bidang. Pertumbuhan di bidang teknologi informasi yang semakin canggih dan bertambahnya yang mengakses web menjadi suatu kebutuhan peningkatan kinerja dari web server. Semakin banyak suatu web diakses maka waktu yang dibutuhkan akan semakin lambat dikarenakan penggunaan sumber daya yang tinggi. Jika hal tersebut berlangsung secara terus menerus maka web servertersebut akan kelebihan beban trafik dan menyebabkan layanan web terhenti. Clustering merupakan salah satu solusi untuk mencegah terjadinya kelebihan beban trafik pada web server. Dengan sistem cluster beban akan dibagi dengan beberapa server yang nantinya akan bekerja secara bersamaan tapi merupakan dari satu kesatuan sistem tunggal. Ada dua metode yang terdapat pada sistem cluster, yaitu load balancing dan failover. Metode load balancing akan bekerja dengan membagi beban trafik secara merata kepada server-server yang tergabung dalam cluster.  Sedangkan metode failover bekerja disaat ada kegagalan sistem pada server utama, maka trafik akan dialihkan ke server cadangan sehingga layanan web tetap dapat diakses. Setelah diterapkannya metode tersebut beban trafik berkurang karena dibagi ke beberapa server sehingga waktu akses web server menjadi lebih cepat walau diakses banyak klien secara bersamaan
Downloads
Download data is not yet available.
References
Hasim, M., & Riadi, I. (2013). ANALISIS PERBANDINGAN KINERJA SERVER PADA DATA CENTER IIX DAN INTERNATIONAL MENGGUNAKAN TEKNOLOGI CLOUD SERVER. Sarjana Teknik Informatika, 1(2). https://doi.org/10.1017/CBO9781107415324.004

Juliharta, I. G. P. K., Supedana, W., & Hostiadi, D. P. (2015). High Availability Web Server Berbasis Open Source dengan Failover Clustering. Seminar Nasional Teknologi Informasi Dan Multimedia 2015, 3(1), 6–8.

Kahanwal, B., & Singh, T. P. (2012). The Distributed Computing Paradigms: P2P, Grid, Cluster, Cloud, and Jungle. International Journal of Latest Research in Science and Technology, 1(2), 183–187.

Lubis, Y. H., Kurniawan, M. T., & Yunan, U. (2018). ANALISIS DAN PERANCANGAN POWER DISTRIBUTION DALAM RANCANGAN SUB DATA CENTER DI DISKOMINFOKABUPATEN BANDUNG DENGAN MENGGUNAKAN STANDAR EN 50600 DAN METODOLOGI PPDIOO LIFE-CYCLE APPROACH. E-Proceeding of Engineering, 5(2), 3130–3139.

Mondéjar, R., García-López, P., Pairot, C., & Pamies-Juarez, L. (2013). CloudSNAP: A transparent infrastructure for decentralized web deployment using distributed interception. Future Generation Computer Systems, 29(1), 370–380. https://doi.org/10.1016/j.future.2011.08.013

Moniruzzaman, Waliullah, & Rahman, S. (2014). A High Availability Clusters Model Combined with Load Balancing and Shared Storage Technologies for Web Servers. International Journal of Scientific & Engineering Research, 5(12). https://doi.org/10.1108/eb057387

Noviyanto, A. B., Kumalasari, E., & Hamzah, A. (2015). Jurnal JARKOM Vol . 3 No . 1 Desember 2015 ISSN : 2338-6313 Jurnal JARKOM Vol . 3 No . 1 Desember 2015 ISSN : 2338-6313. Jarkom, 3(1), 21–31.

NPR. (2018). Solution. Retrieved from http://www.nprsolutions.com/solutions.html

Rosalia, M., Munadi, R., & Mayasari, R. (2016). LOAD BALANCING DAN FAILOVER PADA VIRTUAL WEB SERVER CLUSTER IMPLEMENTATION OF HIGH AVAILABILITY SERVER USING LOAD BALANCING AND. EProceesings of Engineering, 3(3).

Sakul, A. S., Rumagit, A. M., & Sugiarso, B. A. (2014). Studi Performa PC Cluster. Teknik Elektro Dan Komputer, 3(5).

Sumarna, S., Nurdin, H., & Handono, F. W. (2019). Laporan Akhir Penelitian - Perancangan N-Clustering High Availability Web Server Dengan Load Balancing Dan Failover. Jakarta.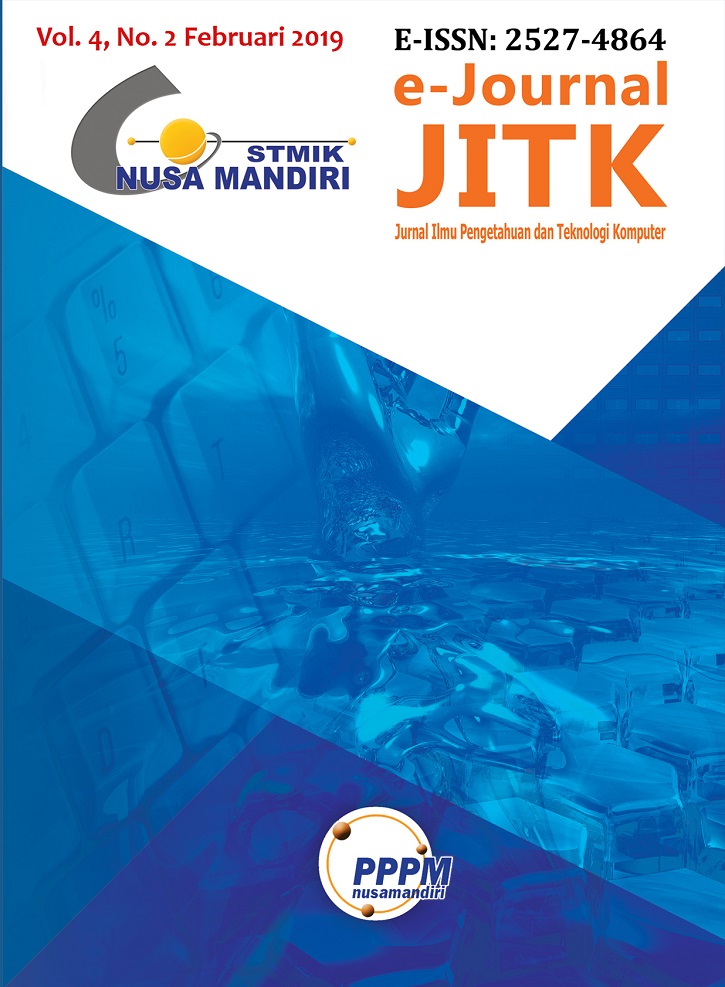 How to Cite
[1]
S. Sumarna, H. Nurdin, and F. Handono, "PERANCANGAN N-CLUSTERING HIGH AVAILABILITY WEB SERVER DENGAN LOAD BALANCING DAN FAILOVER", jitk, vol. 4, no. 2, pp. 149-154, Feb. 2019.
Article Metrics

Abstract viewed = 438 times

PDF downloaded = 391 times