IMPLEMENTASI ALGORITMA CONSTRAINT SATISFACTION PROBLEMS PADA SISTEM PENJADWALAN MATA KULIAH
Rosmasari Rosmasari (1*)

Teknik Informatika Universitas Mulawarman


(*) Corresponding Author

Keywords:
Course Scheduling, Constraint Satisfaction Problems, Algoritma CSP
Abstract
Penjadwalan mata kuliah seringkali dilakukan secara manual sehingga membutuhkan banyak tenaga dan waktu serta terdapat kemungkinan untuk terjadi bentrok antar mata kuliah. Salah satu algoritma yang dapat diterapkan untuk menyusun jadwal perkuliahan adalah algoritma Constraint Satisfaction Problems (CSP). Algoritma CSP merupakan algoritma pendekatan untuk menyelesaikan suatu masalah dengan menemukan keadaan atau objek yang memenuhi sejumlah persyaratan atau kriteria. Penjadwalan mata kuliah di Fakultas Ilmu Komputer dan Teknologi Informasi masih dilakukan secara manual sehingga terdapat kemungkinan terjadinya bentrok antar mata kuliah akibat penjadwalan mata kuliah secara acak. Hasil pembangunan aplikasi penjadwalan mata kuliah di Fakultas Ilmu Komputer dan Teknologi Informasi dapat mengoptimalkan penggunaan ruang dan waktu sebanyak 12 jam 30 menit per minggu sehingga kegiatan perkuliahan berjalan tanpa ada bentrok antar mata kuliah dan terjadwal secara optimal.
Downloads
Download data is not yet available.
References
Albar, M. A. (2013). ALGORITMA GENETIK TABU SEARCH DAN MEMETIKA PADA PERMASALAHAN PENJADWALAN KULIAH. SEMNASTEKNOMEDIA ONLINE, 1(1), 18–45. Retrieved from https://ojs.amikom.ac.id/index.php/semnasteknomedia/article/view/609

Gunawan, C. A., & Toba, H. (2016). Pembangkitan Solusi Penjadwalan Berprioritas Melalui Penerapan Constraint Satisfaction Problem (Studi Kasus: Laboratorium Fakultas Teknologi Informasi Universitas XXX). Jurnal Teknik Informatika Dan Sistem Informasi, 2(1), 43–52. Retrieved from http://journal.maranatha.edu/index.php/jutisi/article/view/607

Nuraisyah, N., Permana, I., & Salisah, F. N. (2017). SISTEM PENJADWALAN OTOMATIS TEMPAT KHUTBAH JUM'AT MUBALIGH. Jurnal Ilmiah Rekayasa Dan Manajemen Sistem Informasi, 3(1), 59–64. Retrieved from http://ejournal.uin-suska.ac.id/index.php/RMSI/article/view/3127

Rachman, R., Dengen, N., & Chandra, F. (2018). Laporan Akhir Penelitian - Implementasi Algoritma Constraint Satisfaction Problems Pada Sistem Penjadwalan Mata Kuliah. Samarinda.

Siswanto, A. (2017). PERANCANGAN SISTEM OTOMATIS PENJADWALAN PENGAWAS UJIAN AKHIR SEMESTER (UAS) (STUDI KASUS : STIKOM DINAMIKA BANGSA JAMBI). Jurnal Processor, 11(2), 783–797. Retrieved from http://ejournal.stikom-db.ac.id/index.php/processor/article/view/169

Syarif, A. C., & Gunawan, F. H. (2013). Penerapan Algoritma Evolusi Dengan Metode Generation Replacement Pada Aplikasi Penjadwalan Mata Kuliah. TEMATIKA, Journal of Informatics and Information Systems, 1(2), 10–23. Retrieved from http://tematika.uajm.ac.id/index.php/tematika/article/view/12

Sylvi, P. (2017). PENJADWALAN TUTORIAL TATAP MUKA MENGGUNAKAN SISTEM PENDUKUNG KEPUTUSAN. Jurnal Pendidikan, 13(2), 77–88. Retrieved from http://www.ilp.ut.ac.id/index.php/JP/article/view/153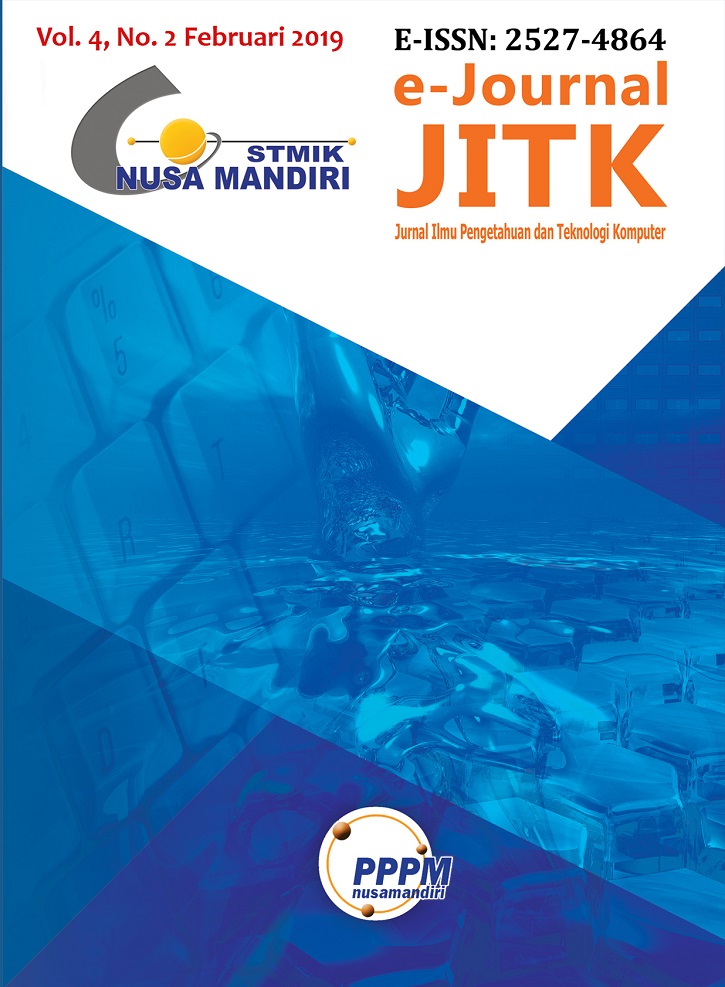 How to Cite
[1]
R. Rosmasari, "IMPLEMENTASI ALGORITMA CONSTRAINT SATISFACTION PROBLEMS PADA SISTEM PENJADWALAN MATA KULIAH", jitk, vol. 4, no. 2, pp. 169-176, Feb. 2019.
Article Metrics

Abstract viewed = 1548 times

PDF downloaded = 875 times