USER CENTERE DESIGN (UCD) UNTUK RANCANG BANGUN SISTEM INFORMASI PENGOLAHAN DATA SIMPAN PINJAM PADA KOPERASI
Laela Kurniawati (1)

Sistem Informasi STMIK Nusa Mandiri

Adriani Safitri (2)

Komputerisasi Akuntasi AMIK BSI Jakarta

Dudi Duta Akbar (3*)

Manajemen Informatika AMIK BSI Jakarta


(*) Corresponding Author

Keywords:
Information System, User Center Design, Data Processing, Cooperative
Abstract
The use of technology in support of corporate or organizational activities is currently growing, one of which is in the operational data processing company or organization. Technology that is currently widely used for data processing is a computerized system, with a computerized data processing system, can be done quickly and accurately. Women Empowerment Cooperative Prima Resources Jakarta is a cooperative savings and loan, currently processing transaction data is still done manually, both for savings transactions, loans, and reporting, so that allows errors in the recording, paper easily lost and torn because it is still in the form of archives, the limitations in search of necessary data, and less accurate reports made. with the design of computerized saving and loan system is expected to be a solution in solving the existing problems in this cooperative, in this design the author uses the user center design (UCD) as a method to analyze how the design of savings and loan information systems viewed from the user or user, so that system designed in accordance with the needs of users, the results of this study is the application of savings and loan information system accompanied by a database that has been tailored to the needs of users, then tested against the system that has been created using the method black box
Downloads
Download data is not yet available.
References
Albani L, (FIMI) GL. 2010. User Centred Design for EASYREACH., p 1–45.

Ali E. 2016. SATIN – Sains dan Teknologi Informasi Metode User Centered Design ( UCD ) dalam Membangun Aplikasi Layanan. Sains dan Teknol. Inf. 2: 1–6.

Ariansyah, Josi A. 2017. Pengembangan Framework Yii Dalam Pembangunan Sistem Inventaris Stmik Prabumulih Dengan Konsep User Centered Design ( UCD ). J. Inform. J. Pengemb. IT 03: 26–30.

Aris, Fadillah MA, Muttaqin FZ, Marbun AMVB. 2016. Aplikasi Sistem Informasi Simpan Pinjam Pada Koperasi Usaha Bersama Syari ' Ah At-Tahwil Kota Tangerang. In: Seminar Nasional Teknologi informasi dan Multimedia 2016., p 6–7.

Handarkho YD. 2014. IMPLEMENTASI SISTEM INFORMASI BANK SAMPAH PADA USAHA KECIL MENENGAH (STUDI KASUS BANK SAMPAH GEMAH RIPAH BADEGAN, BANTUL). In: Konferensi Nasional Ilmu Komputer., p 1–8.

Karmawan IGM. 2014. PERANCANGAN SISTEM INFORMASI SERBA USAHA PADA KOPERASI TANGERANG. Comtech 5: 963–972.

Nasikin K. 2011. Pengembangan Sistem Informasi Akademis Dan Keuangan Di Man 2 Pati. J. Speed - Sentra Penelit. Eng. dan Edukasi - ijns.org 3: 20–26.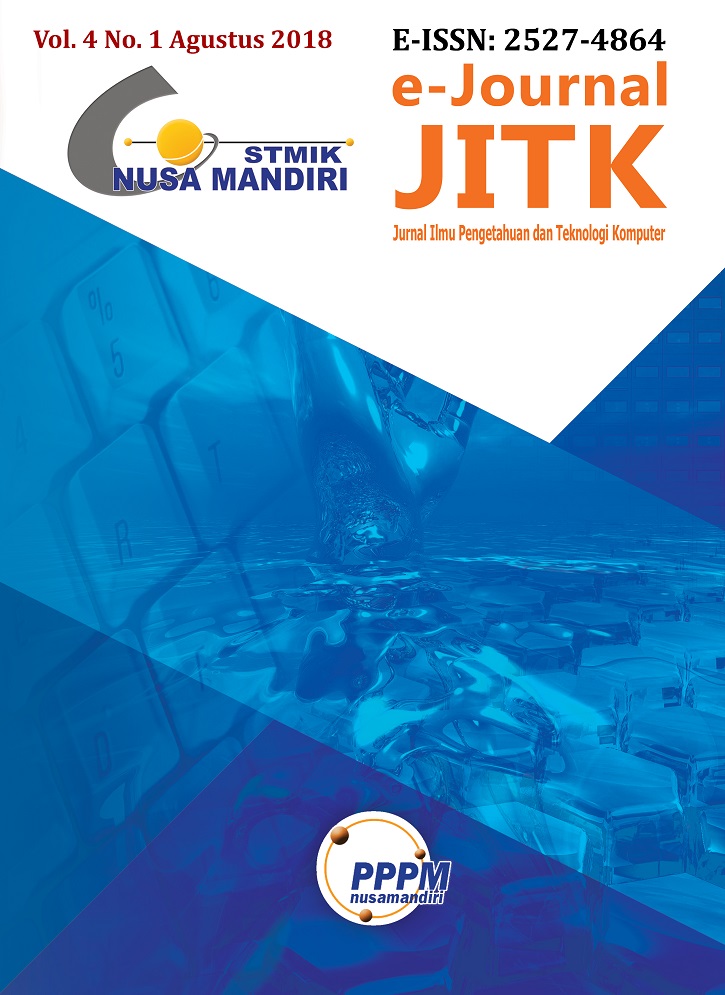 How to Cite
[1]
L. Kurniawati, A. Safitri, and D. Akbar, "USER CENTERE DESIGN (UCD) UNTUK RANCANG BANGUN SISTEM INFORMASI PENGOLAHAN DATA SIMPAN PINJAM PADA KOPERASI", jitk, vol. 4, no. 1, pp. 1-8, Aug. 2018.
Article Metrics

Abstract viewed = 254 times

PDF downloaded = 532 times