KONSEP RUMAH PINTAR DAN PENERAPANNYA DALAM PERANCANGAN SISTEM KEAMANAN DENGAN IP CAMERA
Miftah Faroq Santoso (1*)

Program Studi Ilmu Komputer STMIK Nusa Mandiri


(*) Corresponding Author

Keywords:
Camera IP, Smarthome, Surveillance systems.
Abstract
Pemantauan merupakan salah satu bagian dari tindakan pengamanan, pemantauan rumah dapat dilakukan dengan menggunakan jaringan internet. Teknologi CCTV (Closed Circuit Television) semakin mempermudah seorang pengguna dalam melakukan pengawasan dan pemantauan suatu ruangan. Penelitian  ini  mengajukan  arsitektur pemantauan  rumah  dengan  menggunakan  IP  Kamera  melalui  jaringan  internet (smarthome). Metode uji coba dan pengujian dilakukan secara langsung dengan  menggunakan perangkat (tools) berupa IP Kamera, Modem, Komputer dan Smartphone. Untuk uji coba sementara dilakukan pemasangan di satu titik pantau. Penelitian ini bertujuan untuk merancang suatu sistem keamanan yang mampu melakukan pendeteksian gerakan objek yang dapat bekerja secara kontinyu dan berkesinambungan menggunakan kamera pemantau. Kamera pemantau yang digunakan untuk melakukan pemantauan tersebut adalah Internet Protocol Camera (IP Camera). Hasil dari penelitian ini membangun sebuah sistem keamanan pendeteksian gerakan menggunakan IP Kamera berbasis web sehingga dengan mudah dapat diakses kapan saja dan di mana saja. Sistem yang dihasilkan memiliki kemampuan mendeteksi gerakan, sistem juga mampu menyimpan gambar dan video ketika terdeteksi gerakan yang mencurigakan.
Downloads
Download data is not yet available.
References
A. Kurdi, H. (2014). Review of Closed Circuit Television (CCTV) Techniques for Vehicles Traffic Management. International Journal of Computer Science and Information Technology, 6(2), 199–206. https://doi.org/10.5121/ijcsit.2014.6216

Hadi S, Dommara; Santhika, E. (2016, May). Menciptakan Rumah Pintar Sederhana. CHIP, 117. https://doi.org/1412-4963

Kadam, R., Mahamuni, P., & Parikh, Y. (2015). Smart Home System. International Journal of Innovative Research in Advanced Engineering.

Luo, J. (2017). A ZigBee and Sip-Based Smart Home System Design and Implementation. International Journal of Online Engineering. https://doi.org/10.3991/ijoe.v13i01.6258

Malche, T., & Maheshwary, P. (2017). Internet of things (IoT) for building smart home system. In 2017 International Conference on I-SMAC (IoT in Social, Mobile,Analytics and Cloud) (I-SMAC). https://doi.org/10.1109/I-SMAC.2017.8058258

izvi, A. H., Jamil, A., Sadiq, T., & Samad, M. (2015). Low-Cost IP Camera for Traffic Monitoring, 109(7), 30–35.

Rosslin, J. R., & Tai-hoon, K. (2010). Applications, Systems and Methods in Smart Home Technology : A Review. International Journal of Advanced Science and Technology.

Santoso, M. F. (2018). Laporan Akhir Penelitian Mandiri. Jakarta.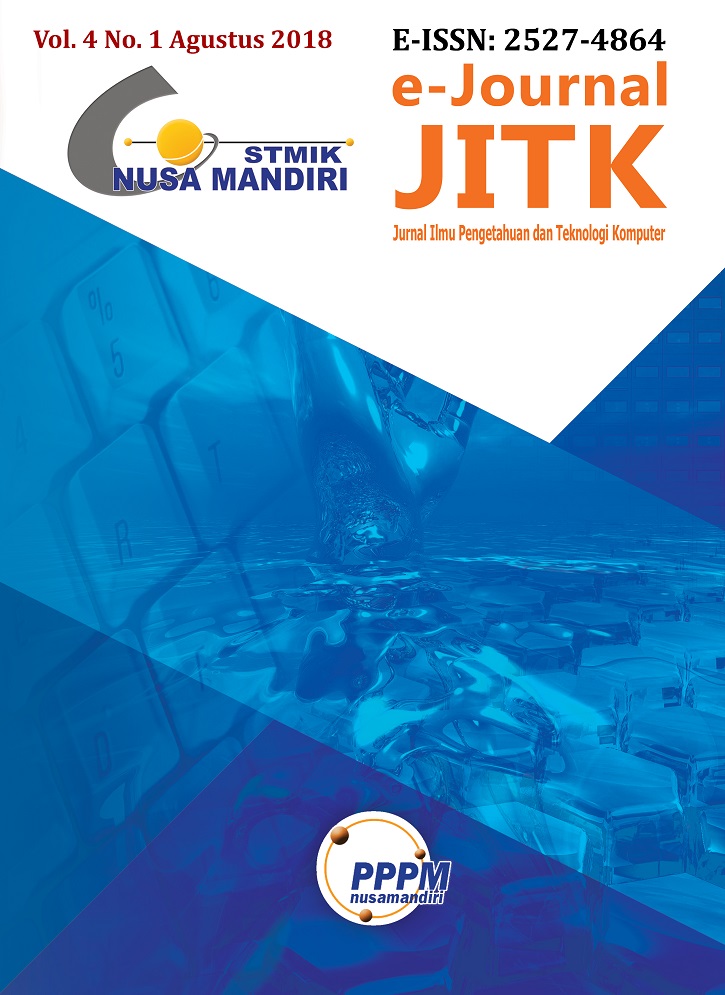 How to Cite
[1]
M. Santoso, "KONSEP RUMAH PINTAR DAN PENERAPANNYA DALAM PERANCANGAN SISTEM KEAMANAN DENGAN IP CAMERA", jitk, vol. 4, no. 1, pp. 55-62, Aug. 2018.
Article Metrics

Abstract viewed = 165 times

PDF downloaded = 1015 times