PENGUKURAN KUALITAS WEBSITE BADAN NASIONAL PENANGGULANGAN BENCANA MENGGUNAKAN METODE WEBQUAL 4.0
Fathur Rohman (1*)

Manajemen Informatika AMIK BSI Jakarta

Didik Kurniawan (2)

Sistem Informasi STMIK Nusa Mandiri Jakarta


(*) Corresponding Author

Keywords:
Website Quality, Webqual 4.0, BNPB
Abstract
This research is based on the extent to which the National Disaster Management Agency website (BNPB) can be useful and accepted by internet users, therefore it is necessary to hold an assessment to measure the quality of the website is well received or not, so the quality of the website based on the user perception Is an important thing to know and be used as feedback to the provider. And can optimize the features and menus contained therein in order to accommodate the needs of users. The author uses the WebQual 4.0 method of usability, information quality, interaction quality, and overall impression. The result, 51.9% user satisfaction is supported by these three factors and the hypothesis in this study is accepted which is shown by correlation technique and multiple linear regression.
Downloads
Download data is not yet available.
References
Alhidayah Jamalludin Sulistiowati Julianto Lemantara. 2016.Analisis Pengaruh Kualitas Website Terhadap Kepuasan Pengguna Berdasarkan Metode Webqual 4.0 Pada Website Stikom Career Center (Scc) Surabaya, Jurnal Sistem informasi & Komputer Akuntansi Volume 5 No. 1. 2016

CNET/Builder dan Yudono, Doni. Profesi Web - Sebuah Web Site yang Baik,Diambil dari :http://sarerea.tripod.com/profesiweb.htm, 11 Juni 2008.

Elangovan, N. 2013. Evaluating Perceived Quality of B-School Websites, IOSR Journal of Business and Management e-ISSN: 2278-487X, p-ISSN: 2319-7668. Volume 12, Issue 1.

Fraenkel, Jack R. dan Norman E.Wallen. 1993. How to Design and Evalute Researche in Education. New York: Mc Graw-Hill Inc.

Fristanto, Hendria Tony. 2014. Pembuatan Website Promosi Dan Pemesanan Produk Pada Home Industri Agro Santoso Jamur Punung Pacitan, Indonesian Journal on Networking and Security Volume 3 No.3.

Hair, J.F. JR., Anderson, R.E, Tatham, R.L. & Black, W.C. (2006). Multivariate Data Analysis. Six Edition. New Jersey : Pearson Educational, Inc.

Hasanov, Jasur dan Haliyana Khalid. 2015. The Impact of Website Quality on Online Purchase Intention of Organic Food in Malaysia: A WebQual Model Approach, Procedia Computer Science 72 : 382 – 389.

Medyawati, Henny dan Ahsin Mabruri. 2012. Website Quality: Case Study on Local Government Bank and State Own Bank in Bekasi City, Procedia - Social and Behavioral Sciences 65 : 1086 – 1091.

Nada, Noora Qotrun dan Setyoningsih Wibowo. 2015. Pengukuran Kualitas Layanan Sistem Informasi Akademik Menggunakan Metode Webqual 4.0, Jurnal Informatika UPGRIS Volume 1 Nomor 2.

Nazir, Moh. 2003. Metode Penelitian. Jakarta : Penerbit Ghalia Indonesia.

Supranto, J. 2001. Statistik: Teori dan Aplikasi Edisi Keenam. Jakarta : Penerbit Erlangga.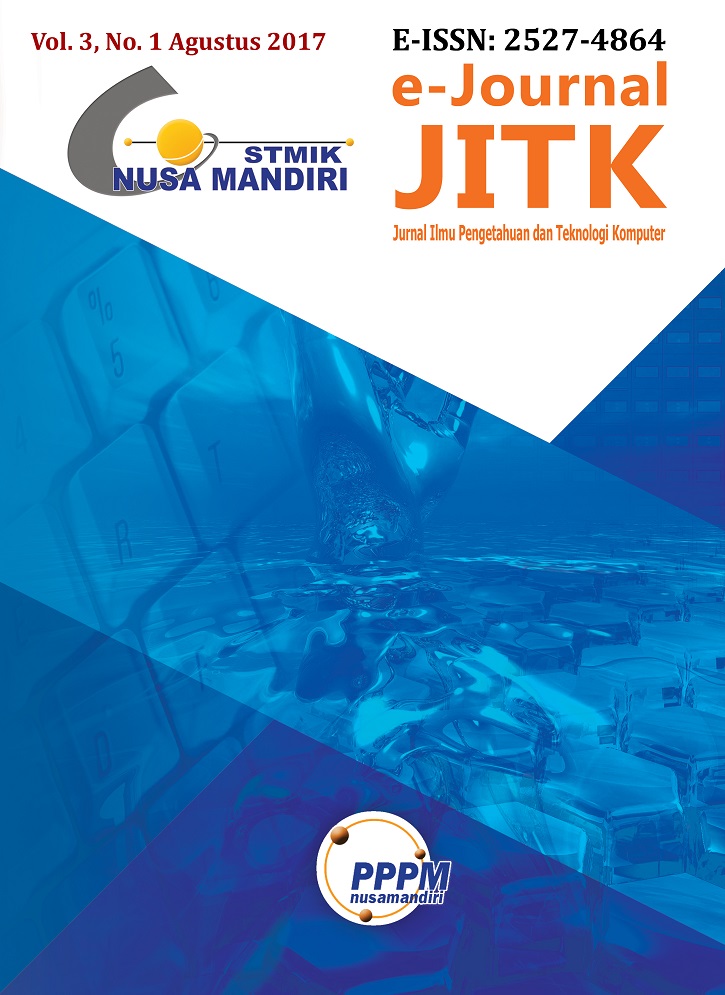 How to Cite
[1]
F. Rohman and D. Kurniawan, "PENGUKURAN KUALITAS WEBSITE BADAN NASIONAL PENANGGULANGAN BENCANA MENGGUNAKAN METODE WEBQUAL 4.0", jitk, vol. 3, no. 1, pp. 31-38, Aug. 2017.
Article Metrics

Abstract viewed = 3038 times

PDF downloaded = 3147 times