SISTEM PENUNJANG KEPUTUSAN PEMILIHAN NOTEBOOK DENGAN MENGGUNAKAN METODE TOPSIS
Heru Purwanto (1*)

Manajemen Informatika AMIK BSI Bekasi


(*) Corresponding Author

Keywords:
TOPSIS, Sistem Penunjang Keputusan, Pemilihan Netbook
Abstract
Technology developments so rapidly that thinking about a lot of feature and the choice of models on offer. A notebook is a piece of technology equipment that has been chosen to assist in the execution of tasks from school or duties of the office. The form is simple and practical, and comes with some interesting features make Notebook users increasingly more freely given the freedom to be more creative in their ideas of creative -ide owned. Currently, there are some interesting deals offered by many electronics companies primarily engaged in the business of selling Notebook. Notebook many choices often makes prospective consumers confused to choose one of the many options offered. The author intends to give recommendations to consumers about the election Notebook. In the selection of twelve criteria, namely, the design includes colors, models and extrinsic value. The next criteria are memory, connectors, data transfer and performance criteria being part of the supporting technology. Display and Audio is the next criteria include graphics, sound, and Pixel. The size and position of choice for media input criteria. There are four alternatives used in sorting Notebook, they are Toshiba, Asus, Samsung and HP Method used in the study is Technic for Order Preference by Similarity to Ideal Solution (TOPSIS). With this method is expected to assist in decision making Notebook election. Based on the data obtained through the questionnaire and performed the data processing can be seen from the four alternatives the maximum to meet the set criteria is Toshiba with a value of 0.569
Downloads
Download data is not yet available.
References
Kusrini,2007,Konsep dan Aplikasi sistem pendukung keputusan,Andi Publisher, Yogyakarta

Sihotang Freklin ,2013, SISTEM PENDUKUNG KEPUTUSAN PENERIMA BEASISWA DENGAN METODE TOPSIS (Studi Kasus : SMA Negeri 1 Parlilitan), STMIK Budi Darma Medan Jl. Sisingamangaraja No. 338 Sp. Limun Medan

Sukarto Haryono,2006, Pemilihan Model transportasi di DKI Jakarta dengan analisis kebijakan "Proses Hirarki Analitik", Universitas Pelita Harapan, Lippo Karawaci,Tangerang Banten

Wicaksana Kesuma Dali,2015, Analisis sesitivitas dan karakteristik masyarakat di kota Palembang dalam memilih moda transportasi dengan metode analytical Hierarchy Prosess (AHP), Universitas Sriwijaya, Sumatra selatan

Fitriana Nur Amelia , dkk, 2015, Sistem Pendukung Keputusan untuk menentukan prestasi akademik siswa dengan metode TOPSIS, Citec,Vol2No:2

Marsono, dkk, 2015, Sistem Pendukung Keputusan Pemiihan Menu Makanan pada penderita Obesitas dengan menggunakan metode TOPSIS, Saintikom,Vol14,No:3

Wardhani Kusuma Indira, dkk,2012, Seleksi bahan baku dengan metode TOPSIS Fuzzy MADM (Studi Kasus PT.Giri Sekar Kedaton Gresik), Sains dan Seni POMITS,Vol1,No:1

Gustriansah Rendra , 2016, Sistem Pendukung Keputusan Pemiiahan Dosen Berprestasi dengan metode ANP dan TOPSIS, Sentika

Hidayat Nur Luthfi Fitria Nur Amelia, 2016, METODE TOPSIS UNTUK MEMBANTU PEMILIHAN JURUSAN PADA SEKOLAH MENENGAH ATAS, http://eprints.dinus.ac.id/13097/1/jurnal_13486.pdf

Fitriana Nur Amelia , dkk, 2015, Sistem Pendukung Keputusan untuk menentukan prestasi akademik siswa dengan metode TOPSIS, Citec,Vol2No:2

Azmi Meri, 2013, Sistem Pendukung keputusan Pemilihan usaha waralaba makanan dengan menggunakan metode TOPSIS, kampus Unan Limau Manis, Padang, Vol.5 no:2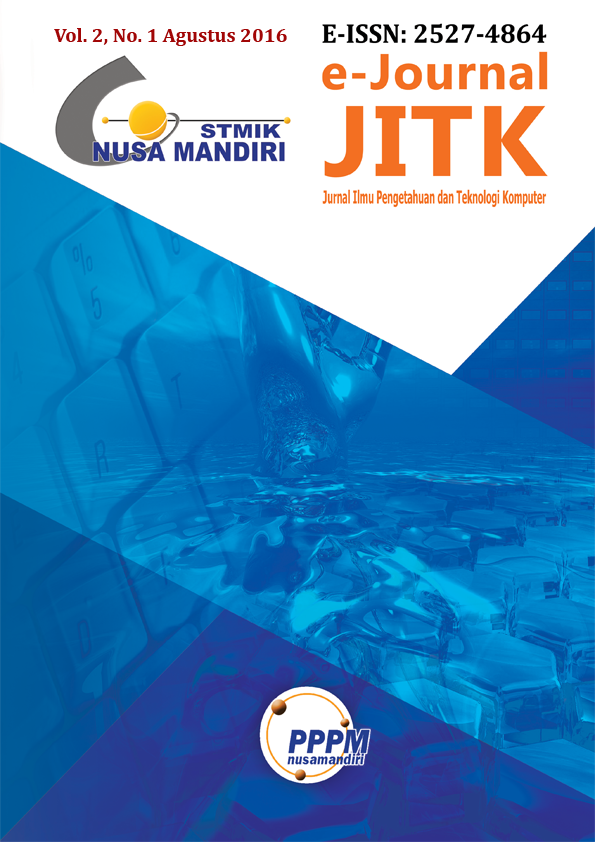 How to Cite
[1]
H. Purwanto, "SISTEM PENUNJANG KEPUTUSAN PEMILIHAN NOTEBOOK DENGAN MENGGUNAKAN METODE TOPSIS", jitk, vol. 2, no. 2, pp. 55-59, Feb. 2017.
Article Metrics

Abstract viewed = 206 times

PDF downloaded = 0 times