ANALISIS MANAJEMEN TI MENGGUNAKAN METODE GOAL QUESTION METRIC
Vito Triantori (1*)

Sistem Informasi STMIK Nusa Mandiri Jakarta


(*) Corresponding Author

Abstract
The more computer education in schools needed to make-not only in terms of education but reliable computer support is needed. In order to maximize the computer to the precision and accuracy of the data is as well very important. Similarly, the Institute of Computer Education PesonaEdu learning school that has many partners and grow more led to the Division of Information and Technology PesonaEdu iLearning continue to develop techniques to improve the quality management system so as to the future can be the data to support decision-making at the management Appropriate levels and handling. In this case, study to discuss the management related to the management of computers is in school partner PesonaEdu iLearning. By using the IT Infrastructure Library (ITIL) as a basis for improving the quality management system. The methodology covers Among other things produced comparative analysis before and after implementation of improvement, based on the method Goal Question Metric.
Downloads
Download data is not yet available.
References
Basili, V. R., Caldiera, G., & Rombach, H. D. (1994). The Goal Question Metric Approach. Encyclopedia of Software Engineering.

Briand, L.C., Differding, C. M., & Rombach, H. D. (1997). Practical Guidelines for Measurement-Based Process Improvement. Process Improvement and Practice Journal.

Brooks, P. (2006). Metrics for IT Service Management. 1 st ed. Zaltbommel: VanHaren Publishing.

Cartlidge, A., Hanna, A., Rudd, C., Macfarlane, I., Windebank, J., & Rance, S. (2007). An Introductory Overview of ITIL® V3 Version 1.0., The UK Chapter of the ITSMF.

Klosterboer, L. (2007). Implementing ITIL configuration management. Boston: Pearson Education, Inc.

Liroulet, D. (2007). OCS Next Generation Inventory Installation and Administration Guide. Version 1.9.

The Office of Government Commerce (2007). The Official Introduction to the ITIL Service Lifecycle.1 st ed. United Kingdom: The Stationery Office.

Fisher, C. (2006). Manage digital assets with ITIL: Improve product configurations and service management. Journal of Digital Asset Management.

Fisher, C. (2008). Opportunity-driven IT service management. Journal of Digital Asset Management.

Gacenga, F., Cater-Steel, A., & Toleman M. (2010). An International Analysis of IT Service Management Benefits and Performance Measurement. Journal of Global Information Technology Management.

Pedersen, K., Kræmmergaard, P., Lynge, B. C., & Schou C. D. (2010) ITIL Implementation: Critical Success Factors A Comparative Case Study. Journal of Information Technology Case and Application Research.

Zeng, J. (2007). Improving IT Service Delivery Quality: A Case Investigation. Journal of American Academy of Business.

Sharifi, M. (2008). Implementing ITIL-based CMDB in the Organizations to Minimize or Remove Service Quality Gaps. Second Asia International Conference on Modelling & Simulation.

Internet (artikel dalam jurnal online):

OCS Inventory Team (2011). OCS Next Generation Inventory, [Electronic version]. Available: http://www.ocsinventory-ng.org/en/ [2011, August 23]

Shang, S. S. C. (2010). Barriers to Implementing ITIL-A Multi-Case Study on the Service-based Industry. Contemporary Management Research.

IT Governance Institute (2004), Aligning CobiT® 4.1, ITIL® V3 and ISO/IEC 27002 for Business Benefit.

Gupta, R. (2009). Automating ITSM incident Management Process. IEEE.

Strategy in ITIL V3 as a Framework for IT Governance. IEEE.

Axel Hochstein, D. R. (2010). ITIL as Common Practice Reference Model for IT Service Management: FormalAssessment and Implications for Practice. IEEE.

Akbar Nabiollahi, S. b. (2008). Considering Service

Alain Wegmann, G.R.A. (2008). Specifying Services for ITIL Service Management. IEEE.

Sven Graupner, S.B. (2008). Collaboration Environment for ITIL. IEEE.

Shaohua Zhang, P. W. (2009). Organization ITIL Process Integration based on Web Services. IEEE.

Lowry, P. B. (2006). A theoretical model and empirical results linking website interactivity and usability satisfaction. IEEE.

Ayat, M. (2009). Adoption Factors and Implementation Steps of ITSM in the Target Organizations. IEEE.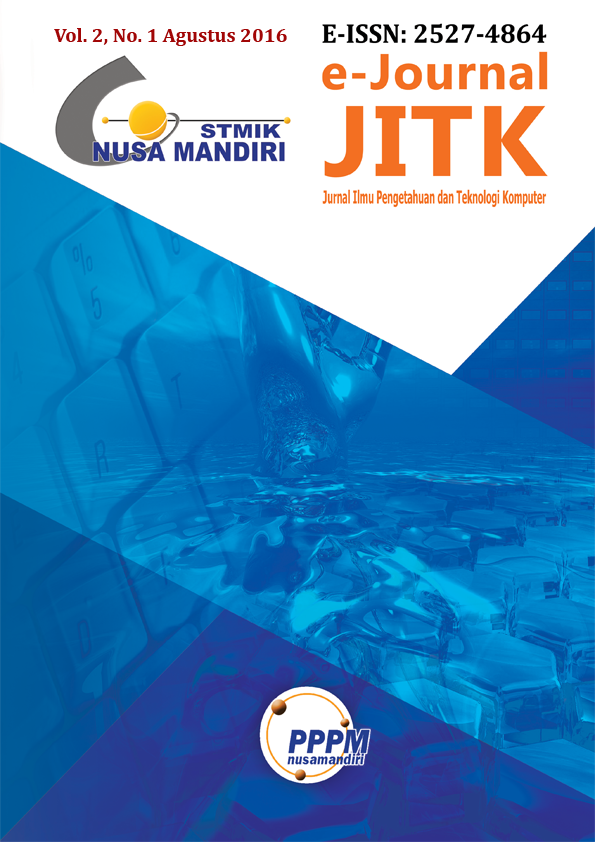 How to Cite
[1]
V. Triantori, "ANALISIS MANAJEMEN TI MENGGUNAKAN METODE GOAL QUESTION METRIC", jitk, vol. 2, no. 2, pp. 80-88, Feb. 2017.
Article Metrics

Abstract viewed = 333 times

PDF downloaded = 140 times