PERANCANGAN SISTEM INFORMASI DATA REKAM MEDIS PASIEN RAWAT JALAN PADA KLINIK UTAMA AL-BASYARIAH CITAYAM
Noprizal Tanjung (1*)

Sistem Informasi STMIK Nusa Mandiri

Rachman Komarudin (2)

STMIK Nusa Mandiri Jakarta


(*) Corresponding Author

Keywords:
Waterfall Model, Sistem Informasi, Data Rekam Medis
Abstract
The data of the patient's medical record greatly influence health workers in making decisions for subsequent actions taken to the patient. In managing the patient's medical record data, a medical staff of the North Sumatra Muhammadiyah Hospital will experience difficulties and require considerable time due to the data presented in the form of physical sheets that are not integrated so that report making is done manually. Recording medical record data still uses paper media. To deal with this problem can be done by developing a medical record information system at Muhammadiyah General Hospital. This application can be used in managing patient data, patient status data in, doctor's visite data, nurse's vision, prescription data, drug administration data, and patient resume data software development model using the Waterfall Model. The purpose of this study is to make medical record data safer because it is stored on the server, making medical record data easier and faster to access.
Downloads
Download data is not yet available.
References
Cahyanti, A. N., & Purnama, B. E. (2012). Pembangunan Sistem Informasi Manajemen Puskesmas Pakis Baru Nawangan. Speed - Sentra Penelitian Engineering Dan Edukasi, 4(4). Retrieved from http://speed.web.id/ejournal/index.php/speed/article/view/222
Djoni, D., Salim, R. R. M., Ayundari, A., & Miftahurrahmi, M. (2016). Pengembangan Sistem Informasi Rekam Medis Berbasis Web pada RSU Muhammadiyah SUMUT. Teknomatika, 6(2). Retrieved from http://ojs.palcomtech.ac.id/index.php/teknomatika/article/view/5
Frieyadie, F. (2007). Belajar Sendiri Pemrograman Database Menggunakan FoxPro 9.0. Jakarta: Elex Media Komputindo.
Oktarino, A. (2015). PERANCANGAN SISTEM NFORMASI REKAM MEDIS PASIEN PADA KLINIK BERSALIN KASIH IBU MENGGUNAKAN METODE WATERFALL | SCIENTIA JOURNAL. SCIENTIA JOURNAL, 4(3), 239–247. Retrieved from http://ejournal.unaja.ac.id/index.php/SCJ/article/view/270
Pressman, R. S. (2010). Software Engineering : A Practicioner's Approach, 7th Edition. New York: McGraw-Hill Inc.
Sukamto, R., & Salahudin, M. (2016). Rekayasa Perangkat Lunak Terstruktur dan Berorientasi Objek. Bandung: Informatika.
Syaifudin, A. H. (2014). Sistem Informasi Rekam Medis Persalinan Menggunakan Chips Rfid sebagai Kartu Pasien. Jurnal Mahasiswa STEKOM Semarang, 1(1).
Tanjung, N. (2018). Laporan Akhir Penelitian: Perancangan Sistem Informasi Data Rekam Medis Pasien Rawat Jalan Pada Klinik Utama Al-Basyariah Citayam. Jakarta.
Utami, L. A. (2015). SISTEM INFORMASI ADMINISTRASI PASIEN PADA KLINIK KELUARGA DEPOK. Konferensi Nasional Ilmu Pengetahuan Dan Teknologi, 1(1), 33–38. Retrieved from http://konferensi.nusamandiri.ac.id/prosiding/index.php/knit/article/view/27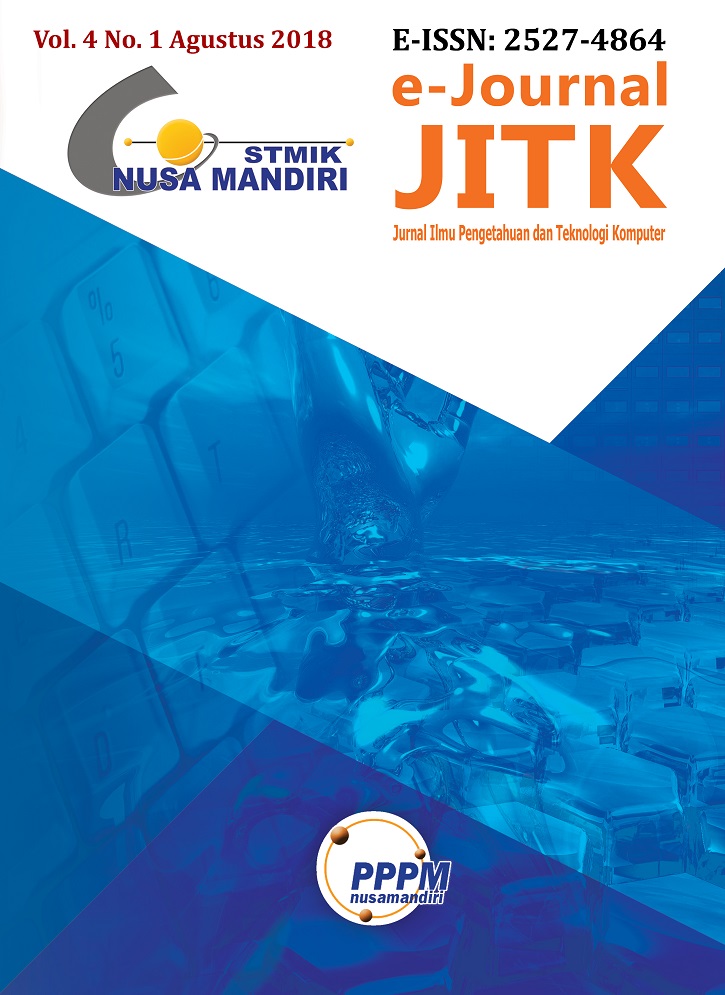 How to Cite
[1]
N. Tanjung and R. Komarudin, "PERANCANGAN SISTEM INFORMASI DATA REKAM MEDIS PASIEN RAWAT JALAN PADA KLINIK UTAMA AL-BASYARIAH CITAYAM", jitk, vol. 4, no. 1, pp. 119-124, Aug. 2018.
Article Metrics

Abstract viewed = 150 times

PDF downloaded = 258 times