ANALISIS PENGGUNAAN SISTEM BARCODE UNTUK MENDUKUNG PAPERLESS DALAM MENINGKATKAN KEUNTUNGAN FINANSIAL DAN OPERASIONAL
Danny Ong (1*)

Universitas Bina Sarana Informatika


(*) Corresponding Author

Keywords:
Analysis of Barcode Systems, Non Physical Documents, Company Operations
Abstract
The use of physical paper in the business world today has become a consideration as a waste that can affect the company's financial cycle. The saving of using documents without using physical paper is one way to reduce the company's operating costs, especially for companies that have offices and also some factories in running their businesses. The operational process of non-physical documents is supported by the use of barcodes so that the use of paper is very minimal and management can reduce the company's operational costs to the maximum. This study aims to make observations and analysis of barcode usage related to the effectiveness and efficiency in terms of employee performance and especially financial savings. The results of the study show that in terms of operational expenses of the company that there are benefits of cost savings on physical paper purchases and also employee performance is quite significantly increased in carrying out daily operations because entering data can be done semi-automatically.
Downloads
Download data is not yet available.
References
Bassignani, M. J., Dierolf, D. A., Roberts, D. L., & Lee, S. (2010). Paperless protocoling of CT and MRI requests at an outpatient imaging center. Journal of Digital Imaging, 23(2), 203–210.
Burnham. (2009). Clients Helped to Reduce Costs Associated with Paper Consumption. International Journal of Micrographics & Optical Technology, 27(3), 17–18.
Carr, M. R. (2005). An analysis of the feasibility of a paperless environment - the case of the Mona School of Business. Management of Environmental Quality: An International Journal, 16(4), 286–290.
Gogan, J. L., & Rao, A. (2010). Barcodes, RFIDS, lemonade and conversation. Journal of Information Technology, 25(4), 450–456.
Luse, A., Mennecke, B., & Townsend, A. (2017). Electronic Forms-Based Computing for Evidentiary Analysis. Journal of Digital Forensics, Security and Law, 4(3), 17–35.
Ong, D. (2019). Analisa Penggunaan Sistem Barcode untuk Mendukung Paperless dalam Meningkatkan Keuntungan Finansial dan Operasional Pada PT SANGRA RATU BOGA.
Prokopovic, K., Prokopovic, T., & Jelic, M. (2016). Information technologies in integrated logistics. Ekonomika, 62(1), 175–186.
Rotchanakitumnuai, S. (2013). Assessment of e-procurement auction with a balanced scorecard. International Journal of Physical Distribution and Logistics Management, 43(1), 39–53.
加藤真也, 小林千秋中西優子. (2014). No Title小児発熱性疾患におけるプロカルシトニンの臨床的意義の検討 ~川崎病を中心に~, 4(4), 561–565.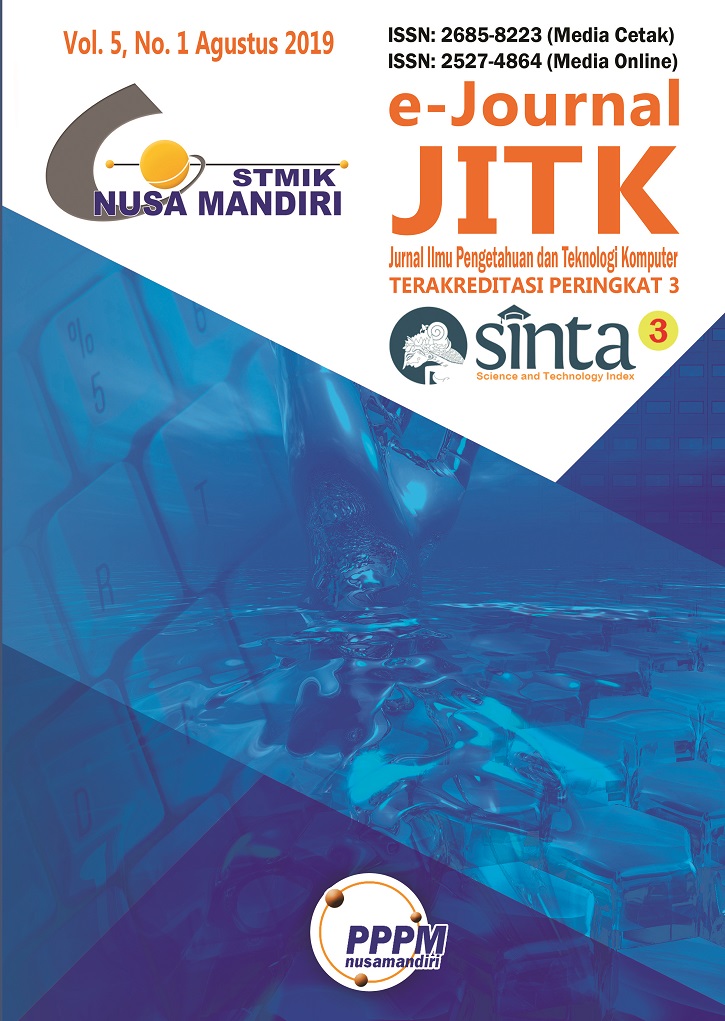 How to Cite
[1]
D. Ong, "ANALISIS PENGGUNAAN SISTEM BARCODE UNTUK MENDUKUNG PAPERLESS DALAM MENINGKATKAN KEUNTUNGAN FINANSIAL DAN OPERASIONAL", jitk, vol. 5, no. 1, pp. 1-6, Aug. 2019.
Article Metrics

Abstract viewed = 506 times

PDF downloaded = 675 times