SISTEM INFORMASI APLIKASI PELAYANAN PANTI SOSIAL
Roida Pakpahan (1*)

BSI

Yuni Fitriani (2)

Sistem Informasi Universitas Bina Sarana Informatika

Mahdiyyah Mahdiyyah (3)

Sistem Informasi Universitas Bina Sarana Informatika


(*) Corresponding Author

Keywords:
Social Institution, Service System, Assisted Citizens
Abstract
Social institutions function to provide skills training to women who were previously commercial sex workers to have skills so they are able to find decent jobs or able to build independent businesses. At present the Harapan Mulia Social Institution has used an information system to manage the data of the assisted citizens but the use of its information system still has several disadvantages including; the program does not have a data search facility that has been fostered so that the search for data of the assisted citizens will take a long time, the certificate of the assisted citizens is not systemic so that the printed certificate will take a long time because the staff will manually retrieve the data again. This study aims to design information systems using software development using the waterfall method by adding data searches on applications and storing certificates in the system to speed up the work process of employees.
Downloads
Download data is not yet available.
References
Afrizal, A. S. (2017). Rancang Bangun Aplikasi Pembelajaran Dasar Pemrograman Berbasis Mobil Phone. TIPS Politeknik Sekayu , VI No.1, 1-19.
Aprianti, W., & Maliha, U. (2016). Sistem Informasi Kepadatan Penduduk Kelurahan atau Desa Studi Kasus pada Kecamatan Bati-bati Kabupaten Tanah Laut. Sains dan Informatika , 2, 21-28.
Destrianti, F., & Harnani, Y. (2018). Studi Kualitatif Pekerja Seks (PSK) di Daerah Jondul Kota Pekanbaru. Endurance , 3(2), 302-312.
Harison, & Syarif, A. (2016). Sistem Informasi Geografis Sarana Pada Kabupaten Pasaman Barat. Teknoif , 4 (2), 40-50.
Setiawan, A. B. (2015). Ekosistem Penyelenggaraan Sertifikat Elektronik dalam Sistem Perdagangan Elektronik. Jurnal Penelitian dan Pengembangan Komunikasi dan Informatika , 6(2), 15-27.
Simarmata. (2007). Perancangan Basis Data. Jogjakarta: Andi.
Soebijoto, H. (2018). Begini Suasana Pelatihan Ketrampilan warga Binaan di PSBKW Harapan Mulya Kedoya. Diambil dari : https://wartakota.tribunnews.com/2018/09/27/begini-suasana-pelatihan-keterampilan-warga-binaan-di-psbkw-harapan-mulya-kedoya?page=2. (27 September 2018).
Sukamto, R., & Shalahudin, M. (2016). Rekayasa Perangkat Lunak. Bandung: Informatika.
Susetyo, D. B., & Sudiantara, Y. (2015). Konsep Diri Pada Pekerja Seks Komersial. Psikodimensia , 14/2, 27-40.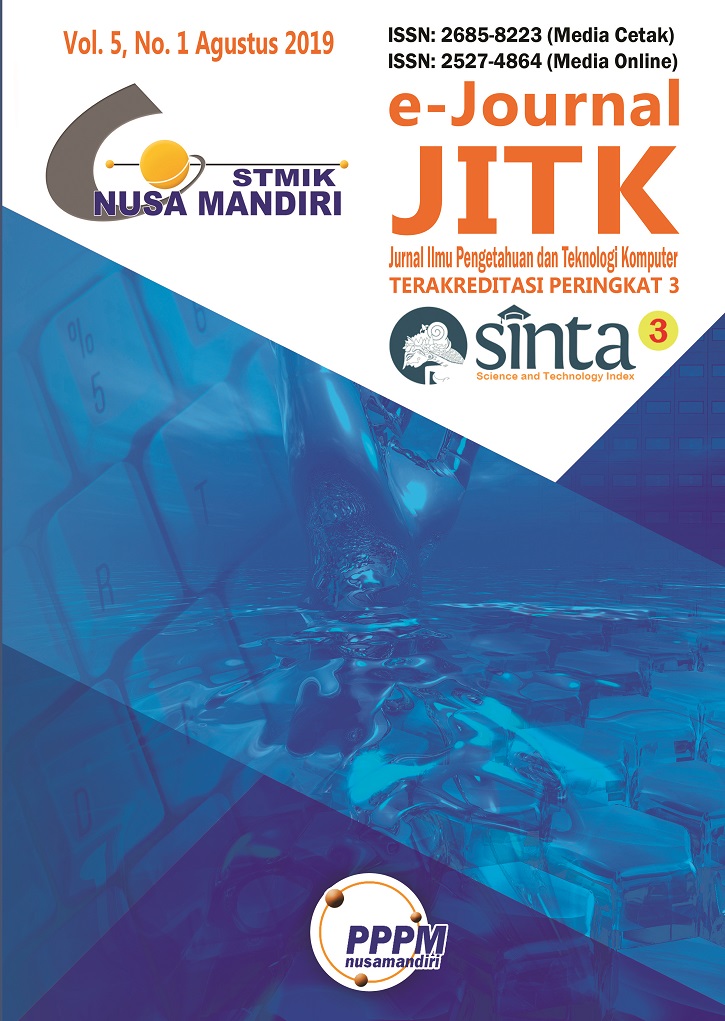 How to Cite
[1]
R. Pakpahan, Y. Fitriani, and M. Mahdiyyah, "SISTEM INFORMASI APLIKASI PELAYANAN PANTI SOSIAL", jitk, vol. 5, no. 1, pp. 43-48, Aug. 2019.
Article Metrics

Abstract viewed = 436 times

PDF downloaded = 462 times