RANCANG BANGUN INFORMATION RETRIEVAL SYSTEM (IRS) KAMUS BAHASA-SUNDA.COM DENGAN METODE VECTOR SPACE MODEL (VSM)
Sujiliani Heristian (1*)

Teknik Informatika STMIK Nusa Mandiri

Hanggoro Aji Al Kautsar (2)

Sistem Informasi Akuntansi Universitas Bina Sarana Informatika

Asep Sayfulloh (3)

Sistem Informasi Akuntansi Universitas Bina Sarana Informatika


(*) Corresponding Author

Keywords:
Bahasa Sunda, Information Retrieval, Vector Space Model
Abstract
Sundanese language is no longer the mother tongue / first language in its own area, but it has become the second language after the Indonesian language. The need for preservation of the Sundanese language in the form of online that can be accessed for its users so it will facilitate the searching of text documents especially sunda documents IRS Software is designed to provide the optimal document search results using VSM method, so users will get fast and accurate search results. The VSM method will weight every document in the database so that the documents have different weights to determine which documents are most similar to queries, the highest-weighted documents are ranked in the search results. The evaluation of IRS search results is done by recall and precision tests. Cosine calculation results known that Document 1 (D1) has the highest level of similarity and then followed by D3 and D2 documents is a point or vector in this space. It proves each query that is given has a different level of closeness to the existing documents, it can be Draw the conclusion dkumen which has a high level of similatas influenced by the given query
Downloads
Download data is not yet available.
References
Erk, K., Padó, S., & Padó, U. (2010). A Flexible , Corpus-Driven Model of Regular and Inverse Selectional Preferences, (June).
Heristian, S., Al Kautsar, H. A., & Sayfulloh, A. (2019). Laporan Akhir Penelitian Mandiri.
INFORMATION RETRIEVAL SYSTEM PADA PENCARIAN FILE DOKUMEN BERBASIS TEKS DENGAN METODE VECTOR SPACE MODEL DAN ALGORITMA ECS STEMMER. (2016). Jurnal Insand Comtech, 1(1).
Kom, M., & Setiawan, D. (2015). Rancang Bangun Information Retrieval System (IRS) Bahasa Jawa Ngoko pada Palintangan Penjebar Semangad dengan Metode Vector Space Model (VSM), 0624097401.
Lopes, C. T., & Ribeiro, C. (2010). Using Local Precision to Compare Search Engines in, 835–836.
Mao, W., & Chu, W. W. (2007). The phrase-based vector space model for automatic retrieval of free-text medical documents q, 61, 76–92. https://doi.org/10.1016/j.datak.2006.02.008
Pujiatin, D., Lestari, U., Susanti, E., & Informatika, T. (2018). 3 1,2,3. Aplikasi Transliterasi Bahasa Sunda The Application Sundanese Language Transliteration, 5(2), 1–7.
Roshdi, A., & Roohparvar, A. (2015). Review : Information Retrieval Techniques and Applications, 3(9), 373–377.
Singh, V. K., Singh, V. K., Vishwavidyalaya, G., Programmer, S. A., & Vishwavidyalaya, G. G. (2015). VECTOR SPACE MODEL : AN INFORMATION RETRIEVAL, 141–143.
Yulianto, B., Budiharto, W., & Kartowisastro, I. H. (2017). The Performance of Boolean Retrieval and Vector Space Model in Textual Information, 11(1), 33–39.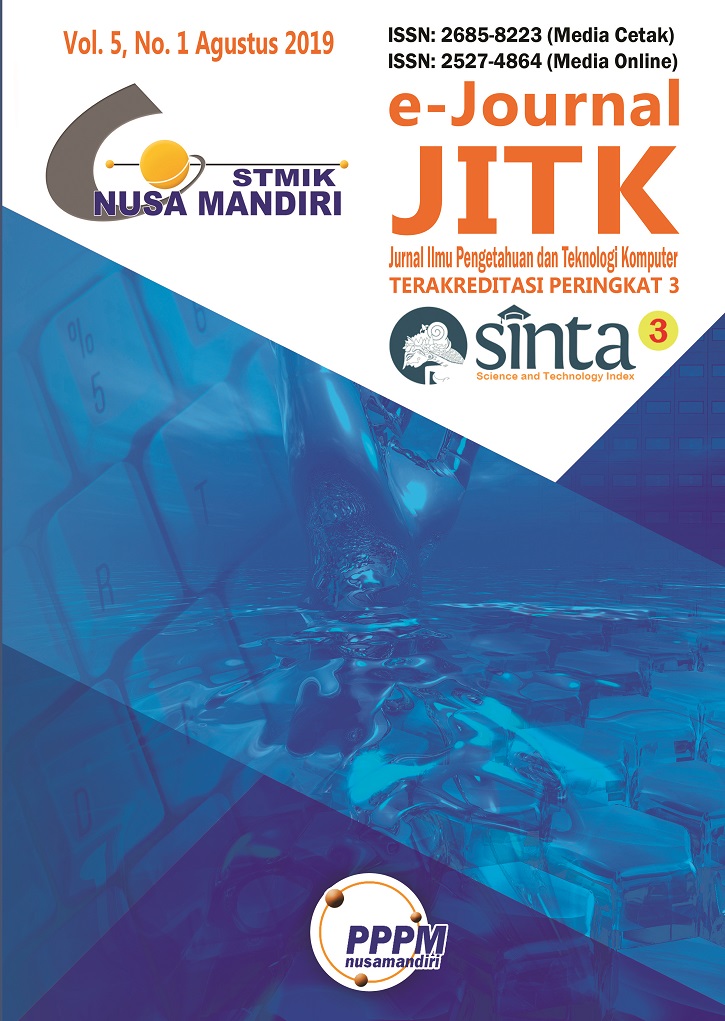 How to Cite
[1]
S. Heristian, H. Al Kautsar, and A. Sayfulloh, "RANCANG BANGUN INFORMATION RETRIEVAL SYSTEM (IRS) KAMUS BAHASA-SUNDA.COM DENGAN METODE VECTOR SPACE MODEL (VSM)", jitk, vol. 5, no. 1, pp. 65-72, Jul. 2019.
Article Metrics

Abstract viewed = 447 times

PDF downloaded = 355 times