PENERAPAN MODEL WATERFALL PADA APLIKASI PENJUALAN ONLINE KOPERASI RANCAGE KAMPUNG KALENG BOGOR
Fitria Ramdani (1*)

instagram.com/refitriaramdani

Laila Septiana (2)

Sistem Informasi STMIK Nusa Mandiri


(*) Corresponding Author

Keywords:
Sistem Informasi, Model Waterfall, Koperasi
Abstract
Indonesian e-commerce transactions are the highest in Southeast Asia. one of them is a type of business that must maximize the use of the internet, namely small and medium micro businesses. in Bogor district, the place where the village of RT 003/01 is located in the Pasir Mukti village of Citeruep sub-district, where the surrounding community groups to make handicrafts from aluminum in a cooperative called Rancage business cooperative. the main problem faced by micro, small and medium enterprises is marketing, marketing with conventional methods requires high costs. the development of the internet has become an efficient means of opening new marketing channels for micro, small and medium enterprises. in addition to the relatively low cost, utilizing the internet information dissemination will be faster and broader in scope. so that online or e-commerce buying and selling transactions make it easier to reach the public. the author observes and interviews the chairman of the all-business cooperative rancage whose sales are still using conventional methods.
Downloads
Download data is not yet available.
References
Handayani, R. (2017). Analisis Peran Perbankan , Perluasan Pasar dan Quality Kontrol Dalam Upaya Mengembangkan UMKM Berdaya Saing : Studi Kasus UMKM di Kecamatan Medan Denai Kota Medan Analysis of Role of Banking , Market Expansion and Quality Control in Efforts to Develop UMK, 17(2), 174–184.
Irawan, H., & Rizalul, A. (2017). Penerapan E-Commerce Berbasis Website Untuk Meningkatkan Pangsa Pasar Penjualan Kripik Ud Aduhai Gampong Karangnyar Kecamatan Langsa Baro Kota Langsa, 13–14.
Ramdani, F., & Septiana, L. (2019). Laporan Akhir Penelitian Sistem Informasi Penjualan Online Berbasis Web Pada Koperasi Serba Usaha Rancage Citeureup Kabupaten Bogor. Jakarta.
Sukamto, R. A., & Shalahuddin, M. (2018). Rekayasa perangkat lunak terstruktur dan berorientasi objek (edisi revi). Bandung: Bandung: Informatika.
Sutarsih, T., Utoyo, S., Hasyyati, A. N., Rozama, N. A., & Siswahyu, G. (2018). Statistik Telekomunikasi Indonesia 2017. (M. Wardhin, T. Sujono, & E. Sari, Eds.). Jakarta: Badan Pusat Statistik. Retrieved from https://www.bps.go.id/publication/2018/11/30/e0597f06233100ccdab076c1/statistik-telekomunikasi-indonesia-2017.html
Ummah, L. D. (2018). Rancang Bangun E-Commerce Pada Toko Kerudung Nuri Collection Berbasis Customer Relationship Management. Nuansa Informatika, 12(2), 10–17.
Yusuf, O. (2014). Pengguna Internet Indonesia Nomor Enam Dunia. Retrieved May 3, 2019, from https://tekno.kompas.com/read/2014/11/24/07430087/Pengguna.Internet.Indonesia.Nomor.Enam.Dunia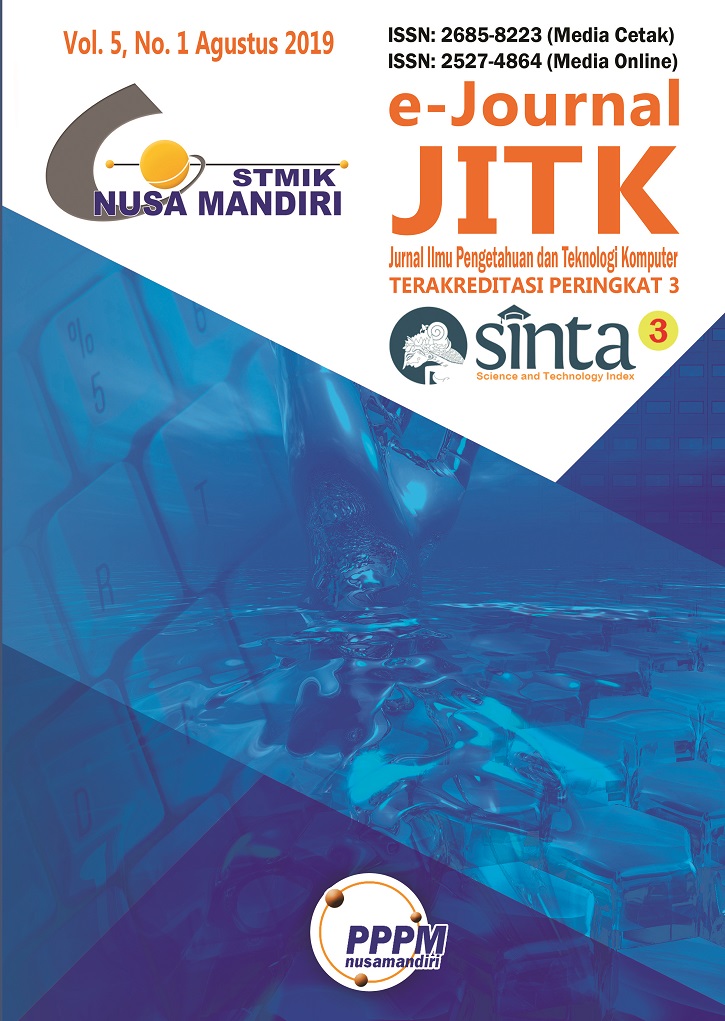 How to Cite
[1]
F. Ramdani and L. Septiana, "PENERAPAN MODEL WATERFALL PADA APLIKASI PENJUALAN ONLINE KOPERASI RANCAGE KAMPUNG KALENG BOGOR", jitk, vol. 5, no. 1, pp. 145-150, Sep. 2019.
Article Metrics

Abstract viewed = 389 times

PDF downloaded = 286 times