MEASUREMENT OF VALIDITY AND RELIABILITY OF CUSTOMER SATISFACTION QUESTIONER in E-BOARDING APPICATIONS
Sisilia Thya Safitri (1*)

Institut Teknologi Telkom Purwokerto, Indonesia

Dwi Mustika Kusumawardani (2)

Institut Teknologi Telkom Purwokerto, Indonesia

Citra Wiguna (3)

Institut Teknologi Telkom Purwokerto, Indonesia

Didi Supriyadi (4)

Institut Teknologi Telkom Purwokerto, Indonesia

Intan Yulita (5)

Institut Teknologi Telkom Purwokerto, Indonesia


(*) Corresponding Author

Keywords:
E-Boarding, Customer Satisfaction, Validity, Reliability
Abstract
PT. Kereta Api Indonesia (Persero) is the largest company in Indonesia which is engaged in railroad transportation. One of the technological innovations carried out by PT KAI (Persero) is to make the KAI Access application with the latest feature is e-boarding. Through the e-boarding feature provided by PT KAI, KAI seeks to provide excellent service to customers. Not many customers use the e-boarding application as a gap between PT KAI's vision and train customers. The gap that exists between the vision and customer acceptance of information technology needs to be measured to determine the extent to which the implementation of the information technology is accepted by the customer. One method used to measure customer satisfaction is to use the use questionnaire. Before measuring customer satisfaction using the Use questionnaire, each item of questions must be tested for validity and reliability. The purpose of measuring the validity and reliability of this research is to ensure the accuracy and reliability of each question on the questionnaire as a test tool. The validity test results used by using the construct validity technique are valid. The reliability test results using the split-half reliability technique have a value of 0.9896 or equivalent to the very high-reliability criteria.
Downloads
Download data is not yet available.
References
APJII. (2019). Penetrasi & Profil Perilaku Pengguna Internet Indonesia Tahun 2018. Apjii, 51.
Arikunto, P. D. S. (2010). Prosedur Penelitian: Suatu Pendekatan Praktik. Rineka Cipta.
Biesok, G., & Wyród-Wróbel, J. (2011). Customer satisfaction - Meaning and methods of measuring. Marketing and Logistic Problems in the Management of Organization, (June), 23–41.
Deniz, M. S., & Alsaffar, A. A. (2013). Assessing the validity and reliability of a questionnaire on dietary fibre-related knowledge in a Turkish student population. Journal of Health, Population and Nutrition, 31(4), 497–503. https://doi.org/10.3329/jhpn.v31i4.20048
Mohajan, H. K. (2017). Two Criteria for Good Measurements in Research: Validity and Reliability. Annals of Spiru Haret University. Economic Series, 17(4), 59–82. https://doi.org/10.26458/1746
PT. Kereta Api Indonesia. (2019). Company Profile PT. Kereta Api Indonesia 2019. Bandung.
Safitri, S. T. (2019). Customer Satisfaction pada fitur e-boarding di aplikasi kereta api Indonesia (KAI). Purwokerto.
Sedgwick, P. (2015). Multistage Sampling. BMJ (Online), 351(August). https://doi.org/10.1136/bmj.h4155
Triana, D., & Oktavianto, W. O. (2013). Relevansi Kualifikasi Kontraktor Bidang Teknik Sipil Terhadap Kualitas Pekerjaan Proyek Konstruksi Di Provinsi Banten. Jurnal Fondasi, 2(2), 182–190.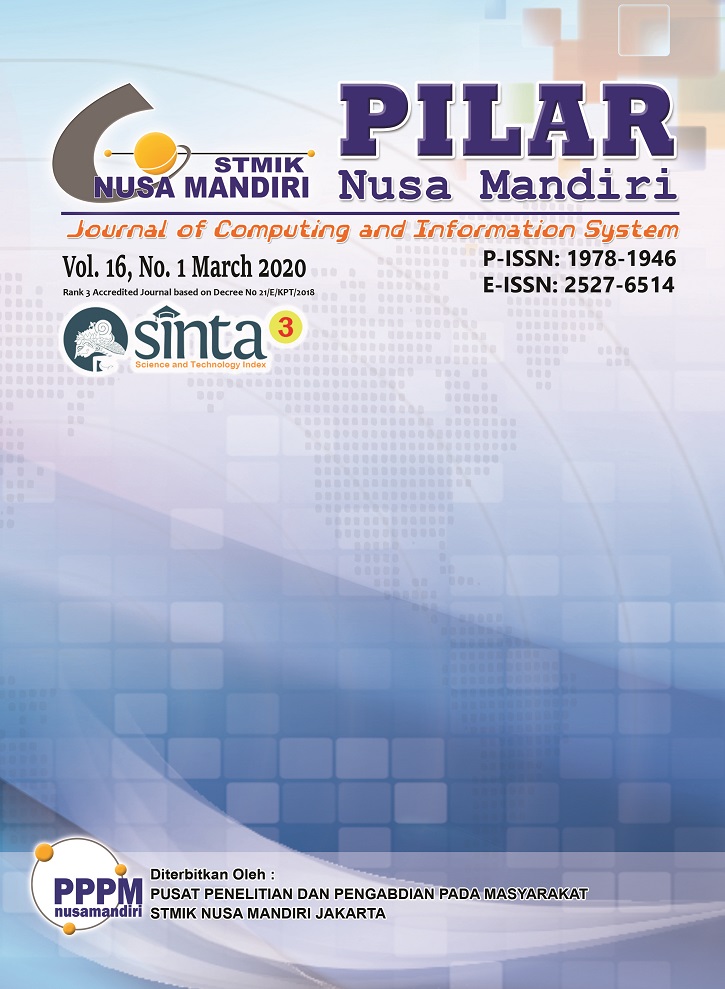 How to Cite
Safitri, S., Kusumawardani, D., Wiguna, C., Supriyadi, D., & Yulita, I. (2020). MEASUREMENT OF VALIDITY AND RELIABILITY OF CUSTOMER SATISFACTION QUESTIONER in E-BOARDING APPICATIONS. Jurnal Pilar Nusa Mandiri, 16(1), 1-6. https://doi.org/10.33480/pilar.v16i1.1069
Article Metrics

Abstract viewed = 393 times

PDF downloaded = 243 times
Copyright (c) 2020 Sisilia Thya Safitri, Dwi Mustika Kusumawardani, Citra Wiguna, Didi Supriyadi
This work is licensed under a Creative Commons Attribution-NonCommercial 4.0 International License.
The Authors submitting a manuscript do so on the understanding that if accepted for publication, copyright of the article shall be assigned to the PILAR Nusa Mandiri journal as the publisher of the journal, and the author also holds the copyright without restriction.
Copyright encompasses exclusive rights to reproduce and deliver the article in all form and media, including reprints, photographs, microfilms, and any other similar reproductions, as well as translations. The reproduction of any part of this journal, its storage in databases, and its transmission by any form or media, such as electronic, electrostatic and mechanical copies, photocopies, recordings, magnetic media, etc. , are allowed with written permission from the PILAR Nusa Mandiri journal.
PILAR Nusa Mandiri journal, the Editors and the Advisory International Editorial Board make every effort to ensure that no wrong or misleading data, opinions, or statements be published in the journal. In any way, the contents of the articles and advertisements published in the PILAR Nusa Mandiri journal are the sole and exclusive responsibility of their respective authors and advertisers.