PENERAPAN ANALYTIC HIERARCHY PROCESS UNTUK PEMILIHAN SCOOTER MATIC
Santoso Setiawan (1*)

Manajemen Informatika AMIK BSI Jakarta


(*) Corresponding Author

Keywords:
Analytical Hierarchy Process method, strategic alternatives, scooter matic
Abstract
Urban road congestion and rising fuel prices make transportation mode users think hard to deal with this situation. This problem makes motor vehicle manufacturers, especially motorbikes, make superior products called scooter matic. This vehicle has the shape and capacity of the engine that is not too large and automatic coupling so that it is fuel efficient and very agile to maneuver in dense urban areas. At present each manufacturer of two-wheeled motorized vehicles has superior scooter matic products to attract consumers. This certainly can confuse ordinary consumers who want to have an automatic scooter. This study aims to give consideration to consumers so that they can help take the right decisions using the Analytical Hierarchy Process method. The results of the research are described in the form of percentage values adjusted to general objectives, criteria, sub-criteria, and strategic alternatives.
Downloads
Download data is not yet available.
References
Laksmana, Dimas Indra. 2005. Faktor-Faktor Yang Mempengaruhi Pemilihan Kendaraan Roda Dua Berdasarkan Psikografis (Studi Kasus Pada Kota Warga Malang). Malang. Jurnal IlmuIlmu Teknik - Sistem , Vol. 5 No.2.

Marimin. 2004. Teknik dan aplikasi pengambilan keputusan kriteria majemuk. Jakarta. Grasindo.

McLeod Jr, Raymond 2004. Sistem informasi manajemen. Jakarta. Prenhallindo.

Parapat, Renward. 2006. Analisis prioritas faktor-faktor yang mempengaruhi efektifitas terminal amplas, Thesis, Fakultas Pasca Sarjana Teknik Arsitektur. Medan Universitas Sumatera Utara.

Saaty, Thomas L. 1994. Fundamentals of decision making and priority theory with Analytic hierarchy process. RWS Publications. Pittsburgh PA 15260, USA.

Turban, Efraim, Jay E. Aronson, Ting-Peng Liang. 2005. Decision support system and intelligent system (Sistem pendukung keputusan dan sistem cerdas). (Dwi Prabantini, Penerjemah). Yogyakarta. ANDI.

Wahyudi, Imam. 2006. Analisis Preferensi Konsumen Kendaraan Bermotor Roda Dua Di Kota Bogor. Bogor. Institut Pertanian Bogor.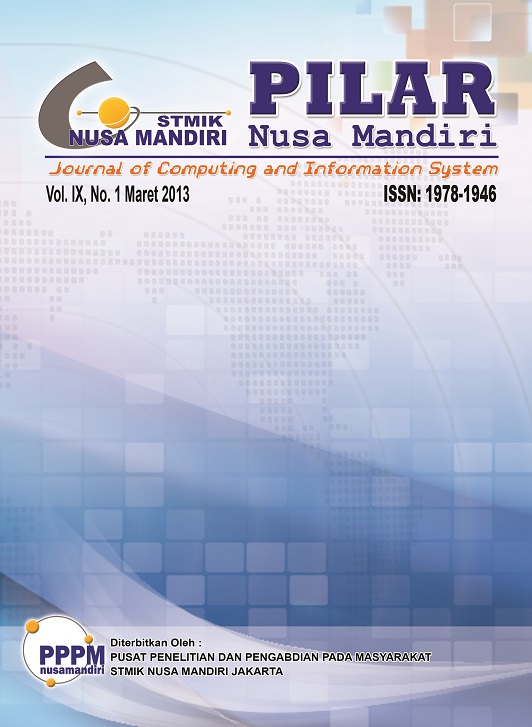 How to Cite
Setiawan, S. (2013). PENERAPAN ANALYTIC HIERARCHY PROCESS UNTUK PEMILIHAN SCOOTER MATIC. Jurnal Pilar Nusa Mandiri, 9(1), 9-14. https://doi.org/10.33480/pilar.v9i1.118
Article Metrics

Abstract viewed = 82 times

PDF downloaded = 62 times
The Authors submitting a manuscript do so on the understanding that if accepted for publication, copyright of the article shall be assigned to the PILAR Nusa Mandiri journal as the publisher of the journal, and the author also holds the copyright without restriction.
Copyright encompasses exclusive rights to reproduce and deliver the article in all form and media, including reprints, photographs, microfilms, and any other similar reproductions, as well as translations. The reproduction of any part of this journal, its storage in databases, and its transmission by any form or media, such as electronic, electrostatic and mechanical copies, photocopies, recordings, magnetic media, etc. , are allowed with written permission from the PILAR Nusa Mandiri journal.
PILAR Nusa Mandiri journal, the Editors and the Advisory International Editorial Board make every effort to ensure that no wrong or misleading data, opinions, or statements be published in the journal. In any way, the contents of the articles and advertisements published in the PILAR Nusa Mandiri journal are the sole and exclusive responsibility of their respective authors and advertisers.