ANALISIS KEPUASAN PELAYANAN MUTASI PEGAWAI MENGGUNAKAN METODE FUZZY SERVICE QUALITY (SERVQUAL)
Elly Indrayuni (1*)

Manajemen Informatika AMIK BSI Pontianak


(*) Corresponding Author

Keywords:
Sistem Informasi, Fuzzy Service Quality, Servqual, Analisis Kepuasan
Abstract
Mutation is a change of position the post, a place or employment inside an organization or company that can occur over my own request or  request of the company. But there were several problems in the service of mutation employees placement of them is the position of civil servants is in accordance with capacity so that may affect employee motivation work and also the effectiveness of our performance on the company. The purpose of this research is to find satisfaction service employees whether a mutation is according to competence of employees. Methods used in this research is fuzzy service quality (servqual). The results of the analysis method servqual consisting of 52 variables with 5 dimensions that the variable that need undergoing repair namely empathy (emphaty), physical evidence (tangible) and dependability (reliability). The highest the gap shown in dimension sensibility (responsivess) namely 0,034 there is a positive influence and the lowest gap shown in dimension dependability (reliability) namely -0,054 is the negative to the quality of services and satisfaction employees to mutation service employees.
Downloads
Download data is not yet available.
References
Djati, S. P., & Khusaini, M. K. M. (2004). KAJIAN TERHADAP KEPUASAN KOMPENSASI, KOMITMEN ORGANISASI, DAN PRESTASI KERJA. Jurnal Manajemen Dan Kewirausahaan, 5(1),

Harto, B., Jurusan, D., Informasi, S., Tinggi, S., Informatika, M., & Komputer, D. (2015). ANALISIS TINGKAT KEPUASAN PELANGGAN DENGAN PENDEKATAN FUZZY SERVQUAL DALAM UPAYA PENINGKATAN KUALITAS PELAYANAN (Studi Kasus Di Bengkel Resmi BAJAJ Padang), 3(1).

Indrayuni, Elly. (2017). Laporan Akhir Penelitian. Jakarta: STMIK Nusa Mandiri

Surya, U., Program, M. K., Magister, S., Universitas, M., Sultan, I., & Semarang, A. (2016). PERAN KNOWLEDGE SHARING DALAM MEPERKUAT PENGARUH KOMPETENSI DAN ROTASI KERJA UNTUK MENINGKATKAN KINERJA SDM (Studi pada Dinas Koperasi dan UMKM Provinsi Jawa Tengah). In SEMNAS FEKON (pp. 263–269). Jakarta:

YOSSA, S., & . Z. (2013). ANALISIS PENGARUH KEMAMPUAN KARYAWAN, PEMBAGIAN TUGAS, DAN MOTIVASI TERHADAP KINERJA KARYAWAN PADA PT. PELABUHAN INDONESIA II (PERSERO) CABANG PALEMBANG. JURNAL MANAJEMEN DAN BISNIS SRIWIJAYA, 11(4), 263–286.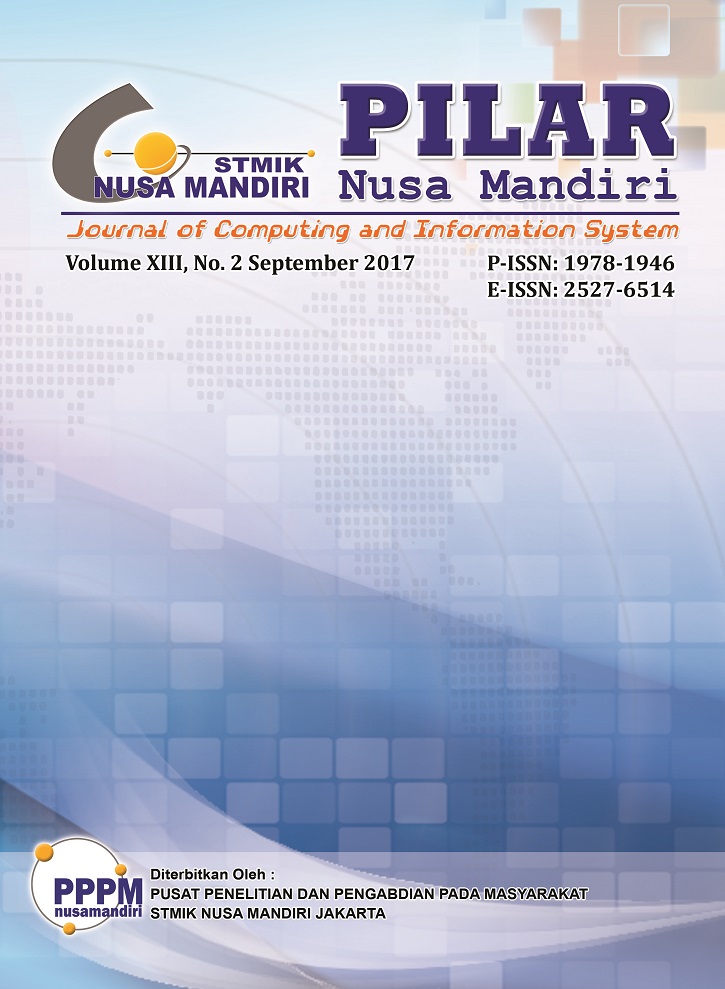 How to Cite
Indrayuni, E. (2017). ANALISIS KEPUASAN PELAYANAN MUTASI PEGAWAI MENGGUNAKAN METODE FUZZY SERVICE QUALITY (SERVQUAL). Jurnal Pilar Nusa Mandiri, 13(2), 157-166. Retrieved from https://ejournal.nusamandiri.ac.id/index.php/pilar/article/view/232
Article Metrics

Abstract viewed = 136 times

PDF downloaded = 162 times
The Authors submitting a manuscript do so on the understanding that if accepted for publication, copyright of the article shall be assigned to the PILAR Nusa Mandiri journal as the publisher of the journal, and the author also holds the copyright without restriction.
Copyright encompasses exclusive rights to reproduce and deliver the article in all form and media, including reprints, photographs, microfilms, and any other similar reproductions, as well as translations. The reproduction of any part of this journal, its storage in databases, and its transmission by any form or media, such as electronic, electrostatic and mechanical copies, photocopies, recordings, magnetic media, etc. , are allowed with written permission from the PILAR Nusa Mandiri journal.
PILAR Nusa Mandiri journal, the Editors and the Advisory International Editorial Board make every effort to ensure that no wrong or misleading data, opinions, or statements be published in the journal. In any way, the contents of the articles and advertisements published in the PILAR Nusa Mandiri journal are the sole and exclusive responsibility of their respective authors and advertisers.