PERAMALAN PERSEDIAAN BARANG MENGGUNAKAN METODE WEIGHTED MOVING AVERAGE DAN METODE DOUBLE EXPONENTIAL SMOOTHING
Ratih Yulia Hayuningtyas (1*)

Teknik Informatika STMIK Nusa Mandiri Jakarta


(*) Corresponding Author

Keywords:
Weighted Moving Average, Double Exponential Smoothing, Prediction Products
Abstract
Arga Medical adalah toko yang bergerak dibidang penjualan alat kesehatan. Banyaknya transaksi penjualan akan mempengaruhi persediaan barang, sebagai usaha dibidang penjualan sering mengalami masalah dalam memprediksi jumlah produk yang harus tersedia untuk bulan berikutnya. Oleh karena itu penelitian ini membuat peramalan persediaan menggunakan metode Weighted Moving Average dan metode Double Exponential Smoothing, data yang digunakan untuk penelitian ini yaitu data penjualan selama satu tahun 2016. Metode Weighted Moving Average yaitu metode yang memberikan bobot yang berbeda untuk setiap historis sedangkan metode Double Exponential Smoothing yaitu metode yang memiliki nilai pemulusan pada waktu sebelum data sebenarnya,dari kedua metode ini menghasilkan peramalan persediaan untuk periode berikutnya 52 dengan Weighted Moving Average dan 60 dengan Double Exponential Smoothing. Kedua metode ini memiliki nilai Mean Square Error. Dimana nilai error Weighted Moving Average yaitu 0,114 dan nilai error Mean Square Error 6,12, nilai error terkecil adalah metode yang terbaik untuk peramalan persedian
Downloads
Download data is not yet available.
References
Alfarisi, S. (2017). Sistem Prediksi Penjualan Gamis Toko Qitaz Menggunakan Metode Single Exponential Smoothing. JABE (Journal of Applied Business and Economic), 4(1), 80-95.

Anisya, A., & Wandyra, Y. (2016). Rekayasa Perangkat Lunak Pengendalian Inventori Menggunakan Metode Sma (Single Moving Average) Berbasis Ajax (Asynchronous Javascript And Xml)(Studi Kasus: Ptp Nusantara Vi (Persero) Unit Usaha Kayu Aro). Jurnal TeknoIf ISSN 2338-2724, 4(2).

Gofur, A. A. (2015). Sistem Peramalan Untuk Pengadaan Material Unit Injection di PT. XYZ. Komputa: Jurnal Ilmiah Komputer dan Informatika, 2(2).

Hayuningtyas, Ratih Yulia. (2017). Laporan Akhir Penelitian Mandiri. Jakarta: STMIK Nusa Mandiri Jakarta.

Heizer, J., & Render, B. (2015). Manajemen Operasi: Manajemen Keberlangsungan dan Rantai Pasokan Edisi 11. Jakarta: Salemba Empat.

Imbar, R. V., & Andreas, Y. (2015). 10. Aplikasi Peramalan Stok Barang Menggunakan Metode Double Exponential Smoothing. Jurnal Sistem Informasi, 7(2).

Margi, K., & Pendawa, S. (2015). Analisa Dan Penerapan Metode Single Exponential Smoothing Untuk Prediksi Penjualan Pada Periode Tertentu (Studi Kasus: Pt. Media Cemara Kreasi). Prosiding SNATIF, 2.

Raphella, S. A., Nathan, S. G., & Chitra, G. (2014). Inventory Management-A Case Study. International Journal of Emerging Research in Management &Technology ISSN, 2278-9359.

Saputra, A. 2016. Pengembangan Sistem Pendukung Keputusan Peramalan Persediaan Barang Menggunakan Metode Weihted Moving Average. Seminar Nasional Teknologi Informasi, Bisnis, dan Desain. Palembang: STMIK/POLTEK PalcomTech.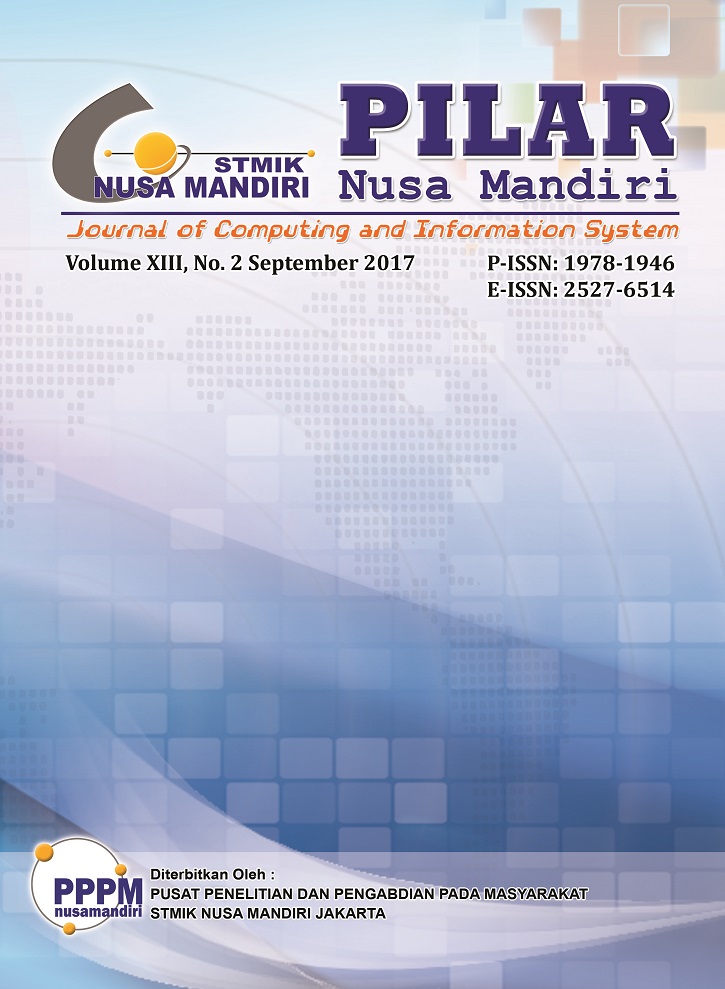 How to Cite
Hayuningtyas, R. (2017). PERAMALAN PERSEDIAAN BARANG MENGGUNAKAN METODE WEIGHTED MOVING AVERAGE DAN METODE DOUBLE EXPONENTIAL SMOOTHING. Jurnal Pilar Nusa Mandiri, 13(2), 217-222. Retrieved from https://ejournal.nusamandiri.ac.id/index.php/pilar/article/view/240
Article Metrics

Abstract viewed = 1052 times

PDF downloaded = 2776 times
The Authors submitting a manuscript do so on the understanding that if accepted for publication, copyright of the article shall be assigned to the PILAR Nusa Mandiri journal as the publisher of the journal, and the author also holds the copyright without restriction.
Copyright encompasses exclusive rights to reproduce and deliver the article in all form and media, including reprints, photographs, microfilms, and any other similar reproductions, as well as translations. The reproduction of any part of this journal, its storage in databases, and its transmission by any form or media, such as electronic, electrostatic and mechanical copies, photocopies, recordings, magnetic media, etc. , are allowed with written permission from the PILAR Nusa Mandiri journal.
PILAR Nusa Mandiri journal, the Editors and the Advisory International Editorial Board make every effort to ensure that no wrong or misleading data, opinions, or statements be published in the journal. In any way, the contents of the articles and advertisements published in the PILAR Nusa Mandiri journal are the sole and exclusive responsibility of their respective authors and advertisers.