FAKTOR YANG MEMPENGARUHI NASABAH UNTUK TETAP MENGGUNAKAN FASILITAS INTERNET BANKING PADA BANK CENTRAL ASIA
Anggi Oktaviani (1*)

Teknik Informatika STMIK Nusa Mandiri Jakarta

Dahlia Sarkawi (2)

ASM BSI Jakarta


(*) Corresponding Author

Keywords:
Pengaruh Nasabah, Fasilitas Internet Banking, Trust, Feature Avaibility, Value for Money
Abstract
Bank Central Asia (BCA) merupakan salah satu bank di Indonesia yang mengimplementasikan sistem internet banking pada layanan jasa perbankan dan dikenal dengan nama Klik BCA. Pelanggan yang ada merupakan aset berharga bagi penyedia layanan. Dari sudut pandang bank, memelihara dan mempertahankan basis pelanggan mereka yang telah ada selalu lebih menguntungkan daripada mencoba untuk mendapatkan pelanggan baru. Tujuan penelitian ini adalah untuk mengetahui faktor yang mempengaruhi nasabah untuk tetap menggunakan internet banking pada Bank Central Asia. Data yang digunakan adalah data primer yang diperoleh melalui kuesioner yang disebarkan kepada 100 pengguna internet banking di kantor cabang utama Thamrin Jakarta. Variabel independen yang digunakan adalah kenyamanan, kepercayaan, ketersediaan fitur dan nilai uang, sementara variabel dependen adalah kelanjutan penggunaan internet banking. Analisa data dalam penelitian ini menggunakan SPSS V.21 Hasil dari penelitian ini adalah semua variabel independen yaitu kenyamanan, kepercayaan, ketersediaan fitur, dan nilai uang berpengaruh secara signifikan positif terhadap variabel dependen kelanjutan penggunaan internet banking.
Downloads
Download data is not yet available.
References
Adapa, S., & Cooksey, R. (2013). Factors affecting consumer's continued use of Internet banking: Empirical Evidence from Australia. Australasian Journal of Information Systems, 18(1).

Bank Indonesia. (2012). Mengenal Electronic Banking. Tersedia: http://www.bi.go.id/id/perbankan/edukasi/Documents/dc7234f4b0dc48de965532fb6400bc1fMengenalElectronicBanking.pdf

Irmadhani, I., & Nugroho, M., A. (2012). Pengaruh Persepsi Kebermanfaatan, Persepsi Kemudahan Penggunaan Dan Computer Self Efficacy, Terhadap Penggunaan Online Banking Pada Mahasiswa S1 Fakultas Ekonomi Universitas Negeri Yogyakarta. Kajian Pendidikan Akuntansi Indonesia, 1(3).

Pranidana, S. A. (2011). Analisis Faktor-Faktor yang Mempengaruhi Minat Nasabah Bank BCA untuk Menggunakan Klik-BCA (Doctoral dissertation, Universitas Diponegoro).

Zumar, D. (2013). Awareness & penetrasi mobile banking melonjak tinggi. Tersedia: http://www. marsindonesia. com/newsletter/awarenesspenetrasi-mobile-banking-melonjak-tinggi.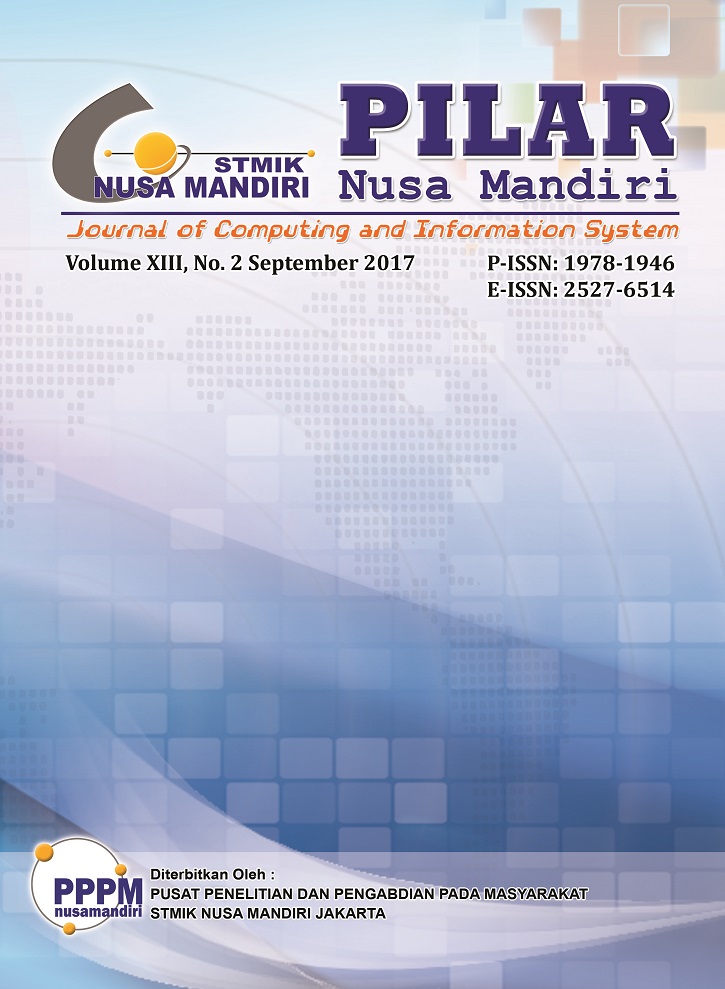 How to Cite
Oktaviani, A., & Sarkawi, D. (2017). FAKTOR YANG MEMPENGARUHI NASABAH UNTUK TETAP MENGGUNAKAN FASILITAS INTERNET BANKING PADA BANK CENTRAL ASIA. Jurnal Pilar Nusa Mandiri, 13(2), 267-274. Retrieved from https://ejournal.nusamandiri.ac.id/index.php/pilar/article/view/249
Article Metrics

Abstract viewed = 78 times

PDF downloaded = 123 times
The Authors submitting a manuscript do so on the understanding that if accepted for publication, copyright of the article shall be assigned to the PILAR Nusa Mandiri journal as the publisher of the journal, and the author also holds the copyright without restriction.
Copyright encompasses exclusive rights to reproduce and deliver the article in all form and media, including reprints, photographs, microfilms, and any other similar reproductions, as well as translations. The reproduction of any part of this journal, its storage in databases, and its transmission by any form or media, such as electronic, electrostatic and mechanical copies, photocopies, recordings, magnetic media, etc. , are allowed with written permission from the PILAR Nusa Mandiri journal.
PILAR Nusa Mandiri journal, the Editors and the Advisory International Editorial Board make every effort to ensure that no wrong or misleading data, opinions, or statements be published in the journal. In any way, the contents of the articles and advertisements published in the PILAR Nusa Mandiri journal are the sole and exclusive responsibility of their respective authors and advertisers.