COMPARISON OF PORTERS STEMMING ALGORITHM AND NAZIEF & ADRIANI'S STEMMING ALGORITHM IN DETERMINING INDONESIAN LANGUAGE LEARNING MODULES
Siti Tuhpatussania (1*)

Universitas AMIKOM Yogyakarta

Ema Utami (2)

Universitas AMIKOM Yogyakarta

Anggit Dwi Hartanto (3)

Universitas AMIKOM Yogyakarta


(*) Corresponding Author

Keywords:
indonesian stemming, porter algorithm, nazief & adriani algorithm
Abstract
One of the methods used to improve the performance of text summarization to obtain complete information in a learning module is by transforming the words in a module into basic words or, in other words, through a steaming process. The steaming process in Indonesian language texts is more complicated/complex because there are word affixes that must be removed to get the root word (root word) of a word, so this research will compare the two stemming algorithms of Porter and stemming Nazief & Adriani in the learning module at Mataram University of Technology. The test results of the Nazief & Adriani stemming algorithm on an average process duration of 51.8 seconds with an average accuracy of 74.175%. In Porter's Algorithm, the average processing time is 16.875 seconds, with an accuracy of 73.225%.
Downloads
Download data is not yet available.
References
Aprilliwanto, R. E., Sanjaya, A., & Widodo, D. W. (2021). Identifikasi Pola Kalimat Bahasa Indonesia Pada Siswa Sekolah Dasar Menggunakan Metode LALR dan Stemming, Seminar Nasional Inovasi Teknologi PGRI Kediri, , e-ISSN: 2549-7952, p-ISSN: 2580-3336, 119-129. https://proceeding.unpkediri.ac.id/index.php/inotek/article/view/915/615
Damayanti, A. (2022). Pendeteksi Untuk Tingkat Kemiripan Kata Pada Karya Tulis Ilmiah dengan Menggunakan Metode Nazief Adriani. Bulletin of Information System Research (BIOS), 1(1), 30-38. https://journal.grahamitra.id/index.php/bios
Firman, S., Desena, W., Wibowo, A., Komputer, M. I., & Luhur, U. B. (2022). Penerapan Algoritma Stemming Nazief & Adriani Pada Proses Klasterisasi Berita Berdasarkan Tematik Pada Laman (Web) Direktorat Jenderal HAM Menggunakan Rapidminer. In Syntax: Jurnal Informatika, 11(2), 10-21. . https://doi.org/10.35706/syji.v11i02.7192
Harja Susetya, D. S., & Harja Susetya, H. H. (2022). Kesalahan Morfologi Bahasa Indonesia Pada Buletin Aktualita Lembaga Pers Mahasiswa Aspiratif Unzah. Bahtera Indonesia; Jurnal Penelitian Bahasa Dan Sastra Indonesia, 7(2), 308–319. https://doi.org/10.31943/bi.v7i2.208
Jatikusumo, D., & Derajad Wijaya, H. (2021). Pendeteksi Lokasi Kejadian Covid-19 Menggunakan Social Media dengan Kombinasi Algoritma Stemming Bahasa Indonesia. In IJCIT (Indonesian Journal on Computer and Information Technology), 6(1), 308-319. https://doi.org/https://doi.org/10.31294/ijcit.v6i1.10591
Joergensen Munthe, C. E., Astuti Hasibuan, N., & Hutabarat, H. (2022). RESOLUSI: Rekayasa Teknik Informatika dan Informasi Penerapan Algoritma Text Mining Dan TF-RF Dalam Menentukan Promo Produk Pada Marketplace. Media Online, 2(3), 110–115. http://djournals.com/resolusi/article/view/309/223
Laurensius Setyabudhi, A., & Sanusi. (2019). Perancangan Modul Menggambar Teknik Berbasiskan Kompetensi Untuk Program Studi Teknik Industri Fakultas Teknik Ibnu Sina, . Jurnal Teknik Ibnu Sina, 4(2), 19-25. https://doi.org/10.3652/jt-ibsi.v4i2.41
Mandar, G., Muhamamd, A. H., Sudin, S., & Hamid, M. (2020). Klasifikasi Berita Indonesia Menggunakan Naïve Bayes dengan Porter Stemmer. Jurnal Teknik Informatika (J-Tifa), 3(2), 17–22. https://doi.org/10.52046/j-tifa.v3i2.1121
Maulidia Sari, Y., & Siti Fatonah, N. (2021). Teks Otomatis pada Modul Pembelajaran Berbahasa Indonesia Menggunakan Metode Cross Latent Semantic Analysis (CLSA), JEPIN (Jurnal Edukasi dan Penelitian Informatika) Peringkasan, 7(2), 153-159. http://dx.doi.org/10.26418/jp.v7i2.47768
Merta Wirayasa, I. P., Agus Wirawan, I. M., & Ardi Pradnyana, I. M. (2019). Algoritma Bastal: Adaptasi Algoritma Nazief & Adriani Untuk Stemming Teks Bahasa Bali, Jurnal Nasional Pendidikan Teknik Informatika, 8(1), 60-69. https://doi.org/10.23887/janapati.v8i1.13500
Normawati, D., & Prayogi, S. A. (2021). Implementasi Naïve Bayes Classifier Dan Confusion Matrix Pada Analisis Sentimen Berbasis Teks Pada Twitter. In Jurnal Sains Komputer & Informatika (J-SAKTI), 5(2), 697-711.http://dx.doi.org/10.30645/j-sakti.v5i2.369
Rahman Isnain, A., Indra Sakti, A., Alita, D., & Satya Marga, N. (2021). ), Sentimen Analisis Publik Terhadap Kebijakan Lockdown Pemerintah Jakarta Menggunakan Algoritma SVM, Jurnal Data Mining dan Sistem Informasi, 2(1), 31-37. https://ejurnal.teknokrat.ac.id/index.php/JDMSI/article/view/1021
Ridwansyah, T. (2022). KLIK: Kajian Ilmiah Informatika dan Komputer Implementasi Text Mining Terhadap Analisis Sentimen Masyarakat Dunia Di Twitter Terhadap Kota Medan Menggunakan K-Fold Cross Validation Dan Naïve Bayes Classifier. Kajian Ilmiah Informatika dan Komputer, 2(5), 178–185. http://djournals.com/klik/article/view/362/266
Rosidin, M., Fadlil, A., & Yudhana, A. (2019). Sistem Kelas Kata Berimbuhan menggunakan Algoritma Porter Stemmer Sebagai Pembelajaran Bahasa Indonesia, Telematika, 16(1), 11-17. https://doi.org/10.31315/telematika.v16i1.2988.g2439
Saragih, I. J., & Situmorang, Z. (2019). Perancangan Sistem Pelayanan Informasi Berbasis Android dengan Algoritma Nazief Andriani (StudiKasus :Universitas Katolik Santo Thomas), JUKI:Jurnal Komputer dan Informatika, 1(2), 66-77. https://ioinformatic.org/index.php/JUKI/article/view/19/16
Simanjuntak, I. Z. (2022). Analisa Kombinasi Algoritma Stemming Dan Algoritma Soundex Dalam Pencarian Kata Bahasa Indonesia. Informasi Dan Teknologi Ilmiah (INTI) , 10(1), 24–30. http://ejurnal.stmik-budidarma.ac.id/index.php/inti/article/view/5040
Tuhpatussania, S., Utami, E., & Dwi Hartanto, A. (2022). Comparison Of Lexrank Algorithm And Maximum Marginal Relevance In Summary Of Indonesian News Text In Online News Portals, Jurnal Pilar Nusa Mandiri, 18(2), 187-192. https://doi.org/10.33480/pilar.v18i2.3190
Zaluchu, S. E. (2021). Metode Penelitian di dalam Manuskrip Jurnal Ilmiah Keagamaan. Jurnal Teologi Berita Hidup, 3(2), 249-266. https://doi.org/10.38189/jtbh.v3i2.93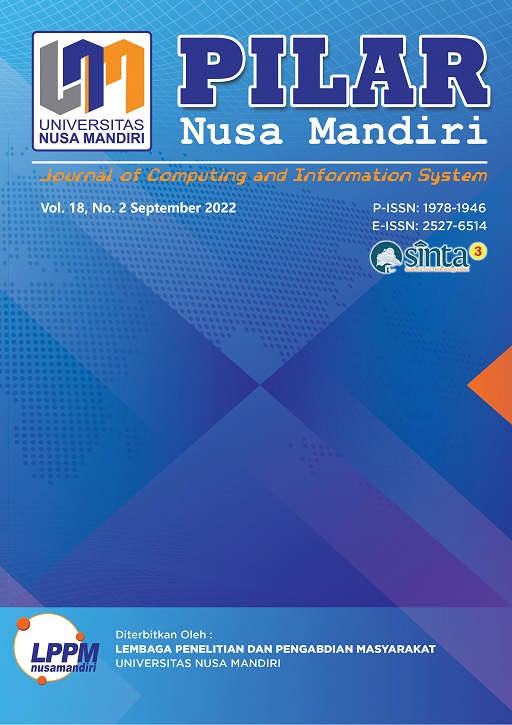 How to Cite
Tuhpatussania, S., Utami, E., & Hartanto, A. (2022). COMPARISON OF PORTERS STEMMING ALGORITHM AND NAZIEF & ADRIANI'S STEMMING ALGORITHM IN DETERMINING INDONESIAN LANGUAGE LEARNING MODULES. Jurnal Pilar Nusa Mandiri, 18(2), 203-210. https://doi.org/10.33480/pilar.v18i2.3940
Article Metrics

Abstract viewed = 59 times

PDF downloaded = 37 times
Copyright (c) 2023 Siti Tuhpatussania, Ema Utami, Anggit Dwi Hartanto
This work is licensed under a Creative Commons Attribution-NonCommercial 4.0 International License.
An author who publishes in the Pilar Nusa Mandiri: Journal of Computing and Information System agrees to the following terms:
Author retains the copyright and grants the journal the right of first publication of the work simultaneously licensed under the Creative Commons Attribution-NonCommercial 4.0 License that allows others to share the work with an acknowledgement of the work's authorship and initial publication in this journal
Author is able to enter into separate, additional contractual arrangements for the non-exclusive distribution of the journal's published version of the work (e.g., post it to an institutional repository or publish it in a book) with the acknowledgement of its initial publication in this journal.
Author is permitted and encouraged to post his/her work online (e.g., in institutional repositories or on their website) prior to and during the submission process, as it can lead to productive exchanges, as well as earlier and greater citation of the published work (See The Effect of Open Access).
Read more about the Creative Commons Attribution-NonCommercial 4.0 Licence here: https://creativecommons.org/licenses/by-nc/4.0/.