FAKTOR-FAKTOR YANG MEMPENGARUHI PENGGUNAAN NYATA E-COMMERCE SEBAGAI MEDIA PENJUALAN BARANG STUDI KASUS USAHA PENGRAJIN SEPATU SANDAL DAN TAS DI KOTA BOGOR
Enok Tuti Alawiah (1*)

Manajemen Informatika AMIK BSI Karawang


(*) Corresponding Author

Keywords:
E-commerce, Sale of Goods Media, Technology Acceptance Model, Structural Equation Model
Abstract
Factors Affecting the Use of Real E-commerce For Sale of Goods Media. This study aims to determine the Factors Affecting Interests Using E-commerce For Sale of Goods Media. The model used is the Technology Acceptance Model. Factors thought to have an influence on actual usage is Computer Self Efficacy, Perceived Usefulness, Perceived Ease of Use, Attitude Toward Using, Intention to Use and Actual Usage. This study aimed to measure the actual usage of e-commerce in enterprises craftsmen Shoes and Bags in Bogor. All variables influence hypothesis, but there are some indicators that lost in the final model due to no more valid results valid. For longer needed another indicator as a supporter.
Downloads
Download data is not yet available.
References
Aisyah, Siti (2011). "Kajian Model dan Persepsi Penerimaan/Penggunaan Student Information Services : Studi Kasus Perguruan Tinggi Raharja". Program Studi Magister Ilmu Komputer, Universitas Budi Luhur.

Aditya Rendragraha (2011), "Faktor-faktor yang mempengaruhi minat pengguna e-commerce dengan metode TAM. Skripsi. STIE Perbanas.Surabaya.

Addelia Rosarindry Poetri. "Adopsi e-commerce dengan pendekatan TAM. Skripsi. Universitas Sebelas Maret.

Surakarta.

Ainur Rofiq (2007), "Pengaruh Dimensi Kepercayaan (Trust) Terhadap Partisipasi Pelanggan e-commerce". Tesis. Universitas Brawijaya, Malang.

Asing-Cashman, Joyce Georgina; Obit, Joe Henry; Bolongkikit, Jetol dan Geoffrey Harvey Tanakinjal (2004), "An Exploratory Research of the Usage Level of E-commerce among Small and Medium Enterprises

(SMEs) in the West Coast of Sabah, Malaysia", http://www.handels.gu.se/ifsam/Streams/etmisy/175final.pdf.

Bachrudin, Achmad & Harapan L Tobing. 2003. Analisis Data untuk Penelitian Survey dengan Menggunakan Lisrel 8. FMIPA UNPAD. Bandung.

Compeau, D.R. and Higgins, C.A. .Computer Self-Efficacy: Development of a Measure and Initial Test., MIS Quarterly (19:2), 1995, pp. 189-211.

Davis, FD (1989). Perceived Usefulness, Perceived Ease of Use, and User Acceptance of Information Technology. MIS Quarterly, 73(3), 319-340.

Davis, Fred D., 1986, "Measurement Scales for Perceived Usefulness and Perceived Ease of Use", http://wings.buffalo.edu/mgmt/courses /mgtsand/success/davis.html, (retrieved 23Desember 2005)

Fajar Wati, Embun, 2012. Pengaruh Kualitas Sistem, Kualitas Informasi, Kualitas Layanan terhadap Kepuasan dan Loyalitas Pelanggan Warnet : Studi Kasus Warnet Sarang Bangsawan, Parung Serab. STMIK Nusa Mandiri. Jakarta.

Fatimah, Fety. 2011. Faktor-faktor yang mempengaruhi intention to use ejournal studi kasus Universitas Ibnu Khaldun Bogor. STMIK Nusa Mandiri. Jakarta.

Ghozali, Imam & Fuad. 2005. Struktural Equation Modelling: Pengantar. Badan Penerbit Universitas Diponegoro. Semarang

Indarti, I. (2014). IMPLEMENTASI E-LEARNING DENGAN METODE ASYNCHRONOUS UNTUK MENINGKATKAN MOTIVASI PEMBELAJARAN DENGAN PENDEKATAN TAM STUDI KASUS PADA SMK INSAN KREATIF. Jurnal Pilar Nusa Mandiri, 10(1), 30-39.

Muschlihah, dkk. 2012. Penggunaan Teknologi Internet dalam Sistem Penjualan Online untuk Meningkatkan

Kepuasan dan Pembelian Berulang Produk Batik pada Usaha Kecil dan Menengah di Jawa Timur. Universitas

Bhayangkara, Surabaya.

Onno W Purbo dan Aang Arif Wahyudi (2001), "Mengenal eCommerce", PT. Elex Media Komputindo, Jakarta.

Perpres No. 112 Tahun 2007, Tentang Penataan dan Pembinaan Pasar Tradisional, Pusat Perbelanjaan, dan

Toko Modern, Lembaran Negara Presiden Republik Indonesia, 2007.

Sugiyono . 2008. Metode Penelitian Kombinasi Mixed Methods. Bandung. Alpabeta.

Utami, Christina Whidya, 2006, Manajemen Ritel, Strategi dan Implementasi Ritel Modern, Jakarta, Salemba Empat.

Wijanto, Setyo Hari (2008), Structural Equation Model Dengan Lisrel 8.8. Yogyakarta. Graha Ilmu.

Vidi Arini Yulimar (2006), "Analisa faktor-faktor yang mempengaruhi pengadopsian electronic commerce

dan pengaruhnya terhadap kinerja perusahaan". Tesis. Universitas Diponegoro, Semarang.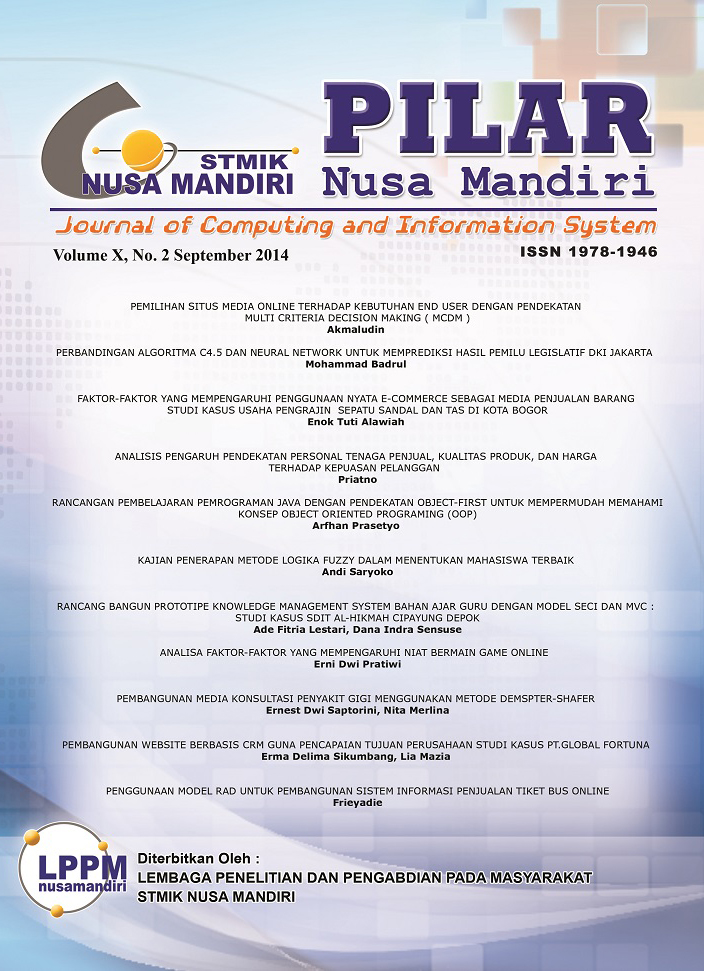 How to Cite
Alawiah, E. (2014). FAKTOR-FAKTOR YANG MEMPENGARUHI PENGGUNAAN NYATA E-COMMERCE SEBAGAI MEDIA PENJUALAN BARANG STUDI KASUS USAHA PENGRAJIN SEPATU SANDAL DAN TAS DI KOTA BOGOR. Jurnal Pilar Nusa Mandiri, 10(2), 139-148. https://doi.org/10.33480/pilar.v10i2.471
Article Metrics

Abstract viewed = 255 times

PDF downloaded = 173 times
An author who publishes in the Pilar Nusa Mandiri: Journal of Computing and Information System agrees to the following terms:
Author retains the copyright and grants the journal the right of first publication of the work simultaneously licensed under the Creative Commons Attribution-NonCommercial 4.0 License that allows others to share the work with an acknowledgement of the work's authorship and initial publication in this journal
Author is able to enter into separate, additional contractual arrangements for the non-exclusive distribution of the journal's published version of the work (e.g., post it to an institutional repository or publish it in a book) with the acknowledgement of its initial publication in this journal.
Author is permitted and encouraged to post his/her work online (e.g., in institutional repositories or on their website) prior to and during the submission process, as it can lead to productive exchanges, as well as earlier and greater citation of the published work (See The Effect of Open Access).
Read more about the Creative Commons Attribution-NonCommercial 4.0 Licence here: https://creativecommons.org/licenses/by-nc/4.0/.