APLIKASI PENGOLAHAN DATA PENERIMAAN DAN PENGELUARAN KAS PADA SMK CAHAYA BANGSA KABUPATEN KUBU RAYA
Nanda Diaz Arizon (1*)

Akuntansi Kampus Kota Pontianak Universitas Bina Sarana Informatika

Yulia Yulia (2)

Akuntansi Kampus Kota Pontianak Universitas Bina Sarana Informatika

Riyadi Saputro (3)

Akuntansi Kampus Kota Pontianak Universitas Bina Sarana Informatika


(*) Corresponding Author

Keywords:
Application, Data Processing, Cash Receipts and Expenditures
Abstract
Penelitian ini membahas mengenai aplikasi pengolahan data penerimaan dan pengeluaran kas SMK Cahaya Bangsa Kabupaten Kubu Raya, dimana sering terjadinya kesalahan dalam pencatatan transaksi kas masuk dan kas keluar, lambat dan kurang akuratnya laporan yang disajikan. Aplikasi yang dirancang untuk dikelola oleh Bendahara ini dapat mengolah, data siswa-siswi, pegawai, pengguna, tahun ajaran, kelas, jenis penerimaan, jenis pengeluaran, transaksi penerimaan kas, transaksi pembayaran SPP Siswa, transaksi penegluaran kas, transaksi pembayaran gaji pegawai, serta mencetak laporan. Laporan yang dihasilkan aplikasi ini antara lain, laporan pembayaran SPP siswa, laporan penerimaan kas, laporan pembayaran gaji pegawai, laporan pengeluaran kas dan laporan kas umum. Penerapan aplikasi pengolahan data penerimaan dan pengeluaran kas adalah solusi yang dapat mengatasi permasalahan yang ada saat pencatatan transaksi penerimaan maupun pengeluaran kas pada SMK Cahaya Bangsa Kabupaten Kubu Raya sehingga dapat memberikan hasil laporan yang lebih cepat dan akurat.
Downloads
Download data is not yet available.
References
Abdullah, G., Kastaman, & Arnan, S. G. (2012). Aplikasi Pengelolaan Kas Masuk dan Kas Keluar Berbasis Web pada Perusahaan xyz. Jurnal Teknologi Informasi Politeknik Telkom, 1(4), 131–138.

Arizona, N. D., Yulia, Y., & Saputro, R. (2018). Laporan Akhir Penelitian - Aplikasi Pengolahan Data Penerimaan Dan Pengeluaran Kas Pada Smk Cahaya Bangsa Kabupaten Kubu Raya. Pontianak.

Astuti, D. S. P. (2012). PERLUNYA PENERAPAN SISTEM AKUNTANSI PADA USAHA KECIL MENENGAH. Jurnal Ekonomi Dan Kewirausahaan, 10(2). Retrieved from http://ejurnal.unisri.ac.id/index.php/Ekonomi/article/view/362

Faqieh, M., Kotjoprayudhi, Boing, R., & Yanuar, Y. (2016). Aplikasi Berbasis Web Untuk Pengelolaan Kas Masuk , Kas Keluar dan Laporan Laba Rugi. ISSN : 2442-5826 e-Proceeding of Applied Science : Vol.2, No.3 December 2016 | Page 1262, 2(3), 1262–1268.

Frieyadie, F. (2014). PENGGUNAAN MODEL RAD UNTUK PEMBANGUNAN SISTEM INFORMASI PENJUALAN TIKET BUS ONLINE. Jurnal Pilar Nusa Mandiri, 10(2), 204–208. Retrieved from http://ejournal.nusamandiri.ac.id/ejurnal/index.php/pilar/article/view/359

Hendini, A. (2016). Pemodelan UML Sistem Informasi Monitoring Penjualan dan Stok Barang (Stuidi Kasus: Distri Zhezha Pontianak). Jurnal Khatulistiwa Informatika, IV(2), 107–116. https://doi.org/10.2135/cropsci1983.0011183X002300020002x

Hernandez, M. Y., Informasi, S., Indonesia, U. T., Akuntansi, S. I., & Indonesia, U. T. (2018). Sistem informasi akuntansi penerimaan dan pengeluaran kas pada kpri andan jejama kabupaten pesawaran, 12(2), 57–61.

Kurniawan, T. A. (2018). Pemodelan Use Case (UML): Evaluasi Terhadap beberapa Kesalahan dalam Praktik. Jurnal Teknologi Informasi Dan Ilmu Komputer, 5(1), 77. https://doi.org/10.25126/jtiik.201851610

Larasati, H., & Masripah, S. (2017). ANALISA DAN PERANCANGAN SISTEM INFORMASI PEMBELIAN GRC DENGAN METODE WATERFALL. Jurnal Pilar Nusa Mandiri, 13(2), 193–198. https://doi.org/10.33480/PILAR.V13I2.504

Mahdiana, D. (2016). Analisa dan Rancangan Sistem Informasi Pengadaan Barang dengan Metodologi Berorientasi Obyek : Studi Kasus PT. Liga Indonesia. Telematika MKOM, 3(2), 36–43. Retrieved from https://journal.budiluhur.ac.id/index.php/telematika/article/view/192

Mulyadi. (2016). Sistem Akuntansi (Edisi Keem). Jakarta: Salemba Empat.

Sukamto, R., & Salahudin, M. (2015). Rekayasa Perangkat Lunak Terstruktur dan Berorientasi Objek. Bandung: Informatika.

Supriyati. (2016). Audit Laporan Keuangan Usaha Kecil dan Menengah Berbasis Akuntansi dan Perpajakan. Yogyakarta: CV. Andi Offset.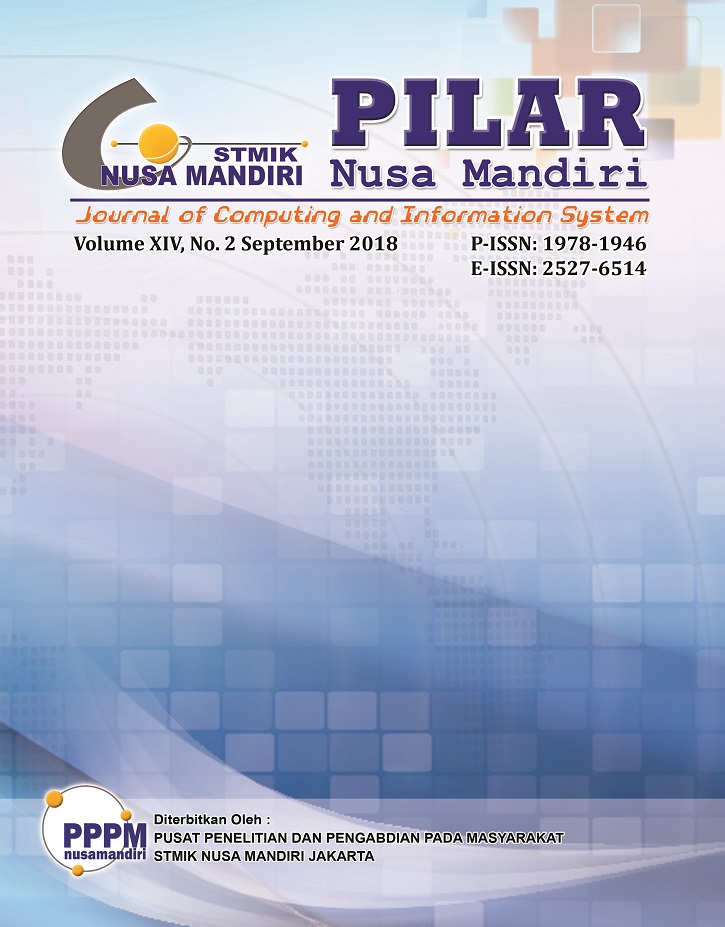 How to Cite
Arizon, N., Yulia, Y., & Saputro, R. (2018). APLIKASI PENGOLAHAN DATA PENERIMAAN DAN PENGELUARAN KAS PADA SMK CAHAYA BANGSA KABUPATEN KUBU RAYA. Pilar Nusa Mandiri: Journal of Computing and Information System, 14(2), 253-260. https://doi.org/10.33480/pilar.v14i2.76
Article Metrics

Abstract viewed = 769 times

PDF downloaded = 1815 times
The Authors submitting a manuscript do so on the understanding that if accepted for publication, copyright of the article shall be assigned to the PILAR Nusa Mandiri journal as the publisher of the journal, and the author also holds the copyright without restriction.
Copyright encompasses exclusive rights to reproduce and deliver the article in all form and media, including reprints, photographs, microfilms, and any other similar reproductions, as well as translations. The reproduction of any part of this journal, its storage in databases, and its transmission by any form or media, such as electronic, electrostatic and mechanical copies, photocopies, recordings, magnetic media, etc. , are allowed with written permission from the PILAR Nusa Mandiri journal.
PILAR Nusa Mandiri journal, the Editors and the Advisory International Editorial Board make every effort to ensure that no wrong or misleading data, opinions, or statements be published in the journal. In any way, the contents of the articles and advertisements published in the PILAR Nusa Mandiri journal are the sole and exclusive responsibility of their respective authors and advertisers.