SELECTION OF EXTRACURRICULAR ACTIVITIES IN SMK INSAN AQILAH 4 JAKARTA USING PROFILE MATCHING METHOD
Pemilihan Kegiatan Ekstrakurikuler Pada SMK Aqilah 4 Menggunakan Metode Profile Matching
Wahyudin Wahyudin (1)

Business Administration, Universitas Bina Sarana Informatika

Andi Saryoko (2)

Informatics Engineering, STMIK Nusa mandiri, Jakarta, Indonesia

Abdul Aziz (3*)

Information System, STMIK Nusa mandiri, Jakarta, Indonesia

Lia Nurmalia (4)

English, Faculty of Communication & Languages, Bina Sarana Informatika University


(*) Corresponding Author

Keywords:
Profile Matching Method, Selection, Extracurricular
Abstract
This research is based on the observations and experiences of researchers, because the many extracurricular activities in schools make it difficult for students to determine extracurricular activities that can develop their personality, talents, and abilities outside the academic field, therefore the system is created to select extracurricular activities. The aim is to help students deal with extracurricular selection problems. The application of the Profile Matching method in the decision support system for the selection of extracurricular activities is expected to help provide recommendations for extracurricular activities to overcome the problem of selecting extracurricular activities and can facilitate students in selecting extracurricular activities.
Downloads
Download data is not yet available.
References
Adhar, D. (2014). Sistem Pendukung Keputusan Pengangkatan Jabatan Karyawan pada PT . Ayn dengan Metode Profile Matching. Jurnal Teknik Informatika Dan Sistem Informasi, 1(1), 16–29.
Hastuti, T. A. (2008). Kontribusi Ekstrakurikuler Bolabasket Terhadap Pembimbitan Atlet dan Peningkatan Kesegaran Jasmani. Pendidikan Jasmani Indonesia, 5(1), 45–50.
Hoiri, A., & Agustina, R. (2014). Sistem Pakar Penentuan Jenis Ekstrakurikuler Siswa dengan Metode Forward Chaining di Sdn Bandungrejosari 1 Sukun Malang. Bimasakti.
Indriyani, F. (2019). PENERAPAN METODE PROFILE MATCHING SEBAGAI PENDUKUNG KEPUTUSAN PEMILIHAN JURUSAN PADA SMK AL HIDAYAH. Jurnal Riset Informatika, 1(2), 35–40. https://doi.org/10.34288/jri.v1i2.31
Inriyani, Y. (2017). Pengaruh kegiatan ekstrakurikuler terhadap prestasi belajar ips melalui motivasi belajar. Jurnal Pendidikan: Teori, Penelitian, Dan Pengembangan Volume: 2 Nomor: 7 Bulan Juli Tahun 2017 Halaman: 955—962, 955–962.
Saputra, W. (2017). EFEK MENGIKUTI EKTRAKURIKULER OLAHRAGA DAN TINGKAT KEBUGARAN JASMANI TERHADAP PEMBENTUKAN SELF-ESTEEM SISWA DI SEKOLAH MENENGAH KEJURUAN (SMK). Didaktik : Jurnal Ilmiah PGSD STKIP Subang, 3(1), 126–145. https://doi.org/10.36989/didaktik.v3i1.59
Sugiyono. (2018). METODE PENELITIA KUANTITATIF, KUALITATIF, DAN R&D (28th ed.). Bandung: Alafabeta.
Wahyudin, W., Saryoko, A., & Aziz, A. (2019). Laporan Penelitian Dosen Yayasan: Pemilihan Kegiatan Ekstrakurikuler Pada SMK Insan Aqilah 4 Jakarta Menggunakan Metode Profile Matching. Jakarta.
Wisnawati, R. D. (2016). Pengelolaan Kegiatan Ekstrakurikuler Berbasis Fullday School Di SDIT Mta Gemolong. Universitas Muhammadiyah Surakarta.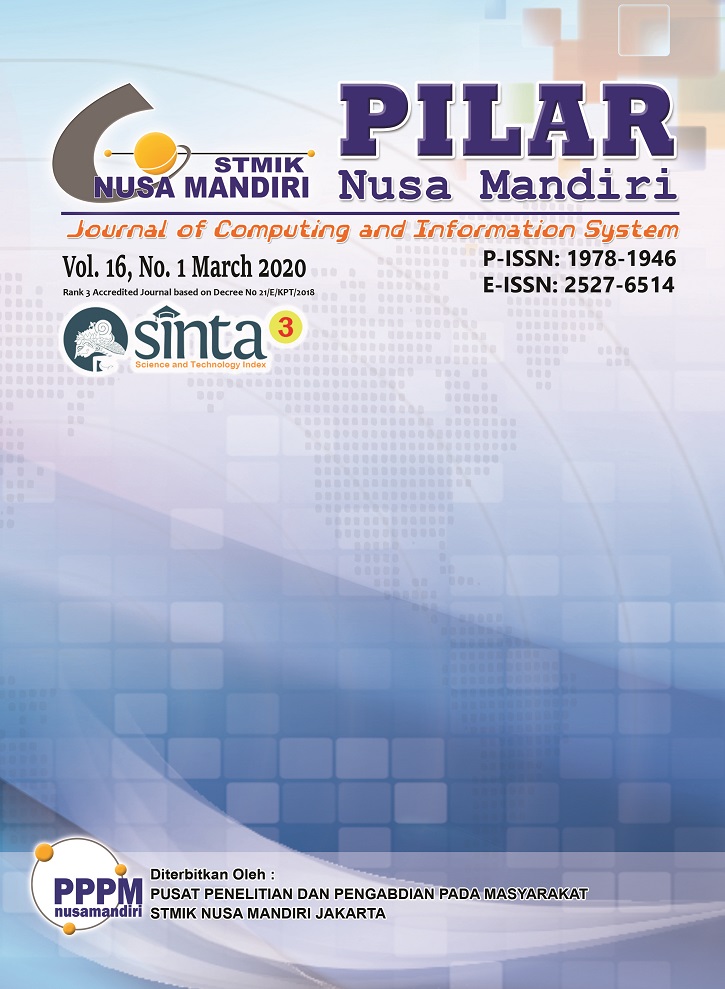 How to Cite
Wahyudin, W., Saryoko, A., Aziz, A., & Nurmalia, L. (2020). SELECTION OF EXTRACURRICULAR ACTIVITIES IN SMK INSAN AQILAH 4 JAKARTA USING PROFILE MATCHING METHOD. Jurnal Pilar Nusa Mandiri, 16(1), 39-44. https://doi.org/10.33480/pilar.v16i1.913
Article Metrics

Abstract viewed = 184 times

PDF downloaded = 106 times
Copyright (c) 2020 Wahyudin Wahyudin, Andi Saryoko, Abdul Aziz, Lia Nurmalia
This work is licensed under a Creative Commons Attribution-NonCommercial 4.0 International License.
The Authors submitting a manuscript do so on the understanding that if accepted for publication, copyright of the article shall be assigned to the PILAR Nusa Mandiri journal as the publisher of the journal, and the author also holds the copyright without restriction.
Copyright encompasses exclusive rights to reproduce and deliver the article in all form and media, including reprints, photographs, microfilms, and any other similar reproductions, as well as translations. The reproduction of any part of this journal, its storage in databases, and its transmission by any form or media, such as electronic, electrostatic and mechanical copies, photocopies, recordings, magnetic media, etc. , are allowed with written permission from the PILAR Nusa Mandiri journal.
PILAR Nusa Mandiri journal, the Editors and the Advisory International Editorial Board make every effort to ensure that no wrong or misleading data, opinions, or statements be published in the journal. In any way, the contents of the articles and advertisements published in the PILAR Nusa Mandiri journal are the sole and exclusive responsibility of their respective authors and advertisers.