MANAGEMENT WIRELESS ACCESS POINT PADA HOTSPOT SERVER MENGGUNAKAN CONTROLLER ACCESS POINT SYSTEM MANAGEMENT
Bakhtiar Rifai (1*)

Teknik Informatika STMIK Nusa Mandiri Jakarta

Aji Sudibyo (2)

Teknik Informatika STMIK Nusa Mandiri Jakarta


(*) Corresponding Author

Keywords:
Controller Access Point, Hotspot Server, Controller Access Point System Management, CAPsMAN
Abstract
Wireless merupakan media yang baik untuk akses internet dan mempunyai jangkuan yang terbatas sehingga diperlukan semua metode untuk dapat mendistibusikan wireless dengan baik merata dan luas serta jangkauan signal, mampu mengelola dengan baik access point serta dibutuhkan keamanan yang baik untuk akses ke dalam wireless yang tersedia permasalahan yang terjadi ialah semakin banyak wireless dan access point serta banyaknya user yang terkoneksi yang tidak dikelola dengan baik dan secara optimal maka akan mengakibatkan kinerja dari access point tersebut akan kurang optimal dan efektif. Controller Access Point System Management (CAPsMAN) merupakan metode yang baik dalam memanajemen access point agar mudah dan dapat di kelol adengan baik dan effesien dan hotspot server diperlukan untuk mengelola banyak user yang terhubung kedalam access point serta dapat menangani ratusan user dalam bersamaan.
Downloads
Download data is not yet available.
References
Arianto, T. (2009). Implementasi Wireless Local Area Network dalam RT / RW Net. Jurnal Teknologi Informasi DINAMIK, XIV(2), 152–157.

Kurniawan, E. (2016). Internet Network Topology with Method Optimal for the Needs of Client. Techno, 17(1), 13–18. Retrieved from http://jurnalnasional.ump.ac.id/index.php/Techno/article/view/74

Mikrotik.com. (2013). MikroTik Wireless Networks. Retrieved March 20, 2018, from https://wiki.mikrotik.com/wiki/Testwiki/MikroTik_Wireless_Networks#Channels_and_frequencies

Mikrotik.com. (2017). CAPsMAN. Retrieved March 22, 2018, from https://wiki.mikrotik.com/wiki/Manual:CAPsMAN#CAPsMAN_Configuration_Concepts

Putra, I. E. (2013). Perancangan Jaringan Hotspot Berbasis Mikrotik Router OS 3.3.0. Jurnal TEKNOIF, 1(1), 36–40.

Ratnasari, S. D., Farida, E., & Firdaus, N. (2017). Implementasi Controller Access Point System Manager (CAPsMAN) Dan Wireless Distribution System (WDS) Jaringan Wireless Di SMK Terpadu Al Ishlahiyah Singosari Malang. In Seminar Nasional Sistem Informasi 2017 Fakultas Teknologi Informasi – UNMER Malang (pp. 624–635). Malang.

S'to. (2014). Wireless Kung Fu : Networking & Hacking. (Jasakom, Ed.) (2015th ed.). Jakarta: Jasakom. Retrieved from www.jasakom.com

Song, S., & Issac, B. (2014). Analysis of Wifi and Wimax and Wireless Network Coexistence. International Journal of Computer Networks & Communications, 6(6), 63–77. https://doi.org/10.5121/ijcnc.2014.6605

Towidjojo, R. (2017). Mikrotik Hotspot Server. (B. Hilika, Ed.) (I). Palu, Indonesia: Ilmu Jaringan Infotama. Retrieved from www.ilmujaringan.com

Towidjojo, R., & Farhan, M. E. (2015). Router Mikrotik : Implementasi Wireless LAN Indoor. (Jasakom, Ed.). Jakarta: Jasakom. Retrieved from www.jasakom.com

Warman, I., & Nofrizal. (2016). Analisa Perbandingan Kinerja Fitur Mikrotik Capsman Dengan Konfigurasi Tunnel dan Tanpa Menggunakan Tunnel pada Router Mikrotik RB951-2N. Vol. 4 No. 2 Oktober 2016, 4(2), 96–105.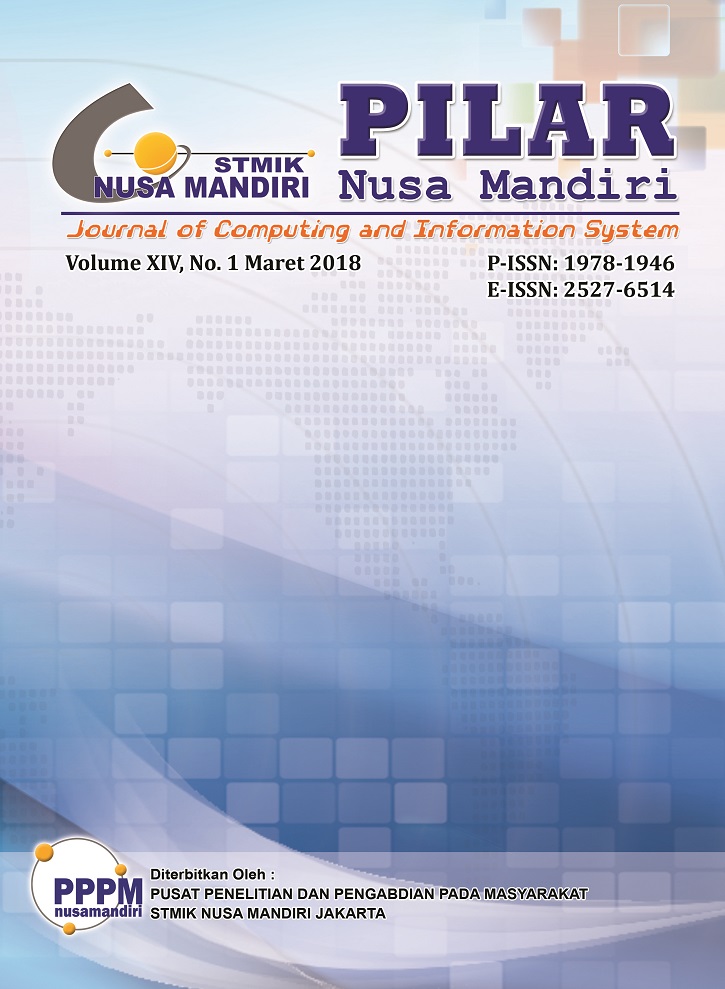 How to Cite
Rifai, B., & Sudibyo, A. (2018). MANAGEMENT WIRELESS ACCESS POINT PADA HOTSPOT SERVER MENGGUNAKAN CONTROLLER ACCESS POINT SYSTEM MANAGEMENT. Pilar Nusa Mandiri: Journal of Computing and Information System, 14(1), 111-116. https://doi.org/10.33480/pilar.v14i1.97
Article Metrics

Abstract viewed = 460 times

PDF downloaded = 528 times
The Authors submitting a manuscript do so on the understanding that if accepted for publication, copyright of the article shall be assigned to the PILAR Nusa Mandiri journal as the publisher of the journal, and the author also holds the copyright without restriction.
Copyright encompasses exclusive rights to reproduce and deliver the article in all form and media, including reprints, photographs, microfilms, and any other similar reproductions, as well as translations. The reproduction of any part of this journal, its storage in databases, and its transmission by any form or media, such as electronic, electrostatic and mechanical copies, photocopies, recordings, magnetic media, etc. , are allowed with written permission from the PILAR Nusa Mandiri journal.
PILAR Nusa Mandiri journal, the Editors and the Advisory International Editorial Board make every effort to ensure that no wrong or misleading data, opinions, or statements be published in the journal. In any way, the contents of the articles and advertisements published in the PILAR Nusa Mandiri journal are the sole and exclusive responsibility of their respective authors and advertisers.